South Carolina-based Giant Cement Holding Inc. will increase its capacity to serve existing and new Southeast concrete accounts with construction of a 60,000-ton import terminal on the Savannah River, set for operation by January 2024. An elongated parcel for a cement storage dome and rail or truck loadout areas was secured through an agreement with Georgia Kaolin Terminals, Inc. of Savannah, Ga.
"Cement demand in the Southeast continues to show strong growth in all sectors," says Tim Kuebler, president and chief executive officer of Elementia USA, Giant Cement parent. "Population growth has spurred new infrastructure projects, expanding the need for housing and commercial projects."
The Savannah investment aligns with growing material requirements from current customers, he adds, while providing redundancy for the Harleysville, S.C. cement operation. The new capacity can likewise serve existing Giant Cement terminals in Spartanburg, S.C. plus Charlotte and Durham, N.C., and augment geographic expansion into other markets. Giant Cement and sister businesses Keystone Cement Co. in Pennsylvania and Dragon Products Co. in Maine, supply portland and masonry cements up and down the Atlantic Coast.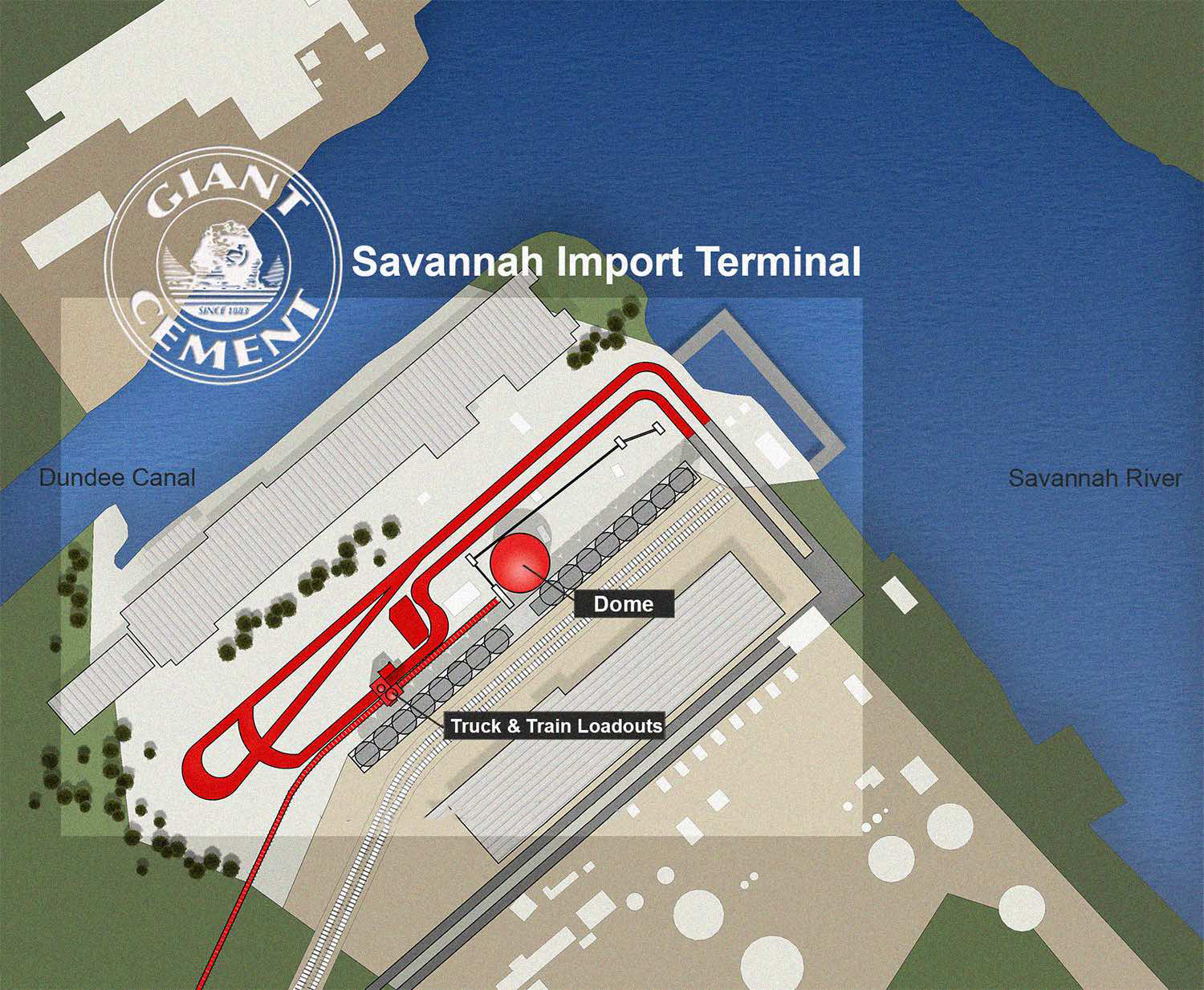 CONTINENTAL CEMENT PLC MIGRATION
Continental Cement Co. LLC, the Missouri subsidiary of Denver-based Summit Materials Inc., has consummated a full conversion from clinker-only to portland-limestone cement (PLC) output at its Hannibal plant—four months after a similar transition at a sister mill up the Mississippi River in Davenport, Iowa. PLC is typically finished at a 90/10 clinker and ground limestone blend.
The Hannibal and Davenport plants shipped a combined 2.1 million tons in 2021, and will realize an embodied carbon reduction of 10 percent in PLC deliveries when measured against legacy output. The conversion from pure clinker powder advances Summit Materials' 2030 and 2050 goals for decarbonizing operations and delivered materials or products.
"A lower carbon future requires the cooperation of the entire cement-concrete-construction value chain, and we are delighted with the quick adoption of PLC by our customers and specifiers who supported this pivotal change at our plants this year," says Continental Cement President and Summit Senior Vice President David Loomes. "In addition to shrinking our carbon footprint through the use of alternative fuels in the manufacturing process, the conversion to PLC reduces concrete embodied carbon by approximately 10 percent while delivering resilient and durable infrastructure to all markets where Hannibal and Davenport cement is supplied." Liquid or solid alternative fuels derived by Continental Cement's Green America Recycling subsidiary and used in place of higher carbon dioxide-emitting coal, he adds, account for more than 40 percent of Hannibal and Davenport cement kiln combustion.