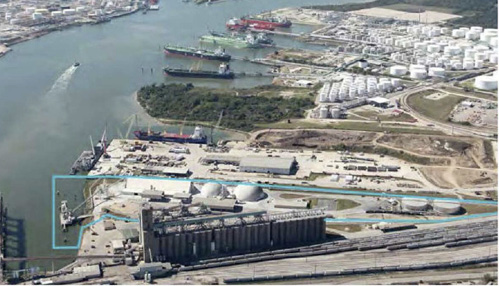 Royal White Cement plans a Houston Ship Channel terminal, equipped for annual transfer of 100,000 tons of cementitious materials to truck tankers or rail cars. Located near the mouth of the channel, the facility will lie on a 23.8-acre site of Industrial Realty Group (IRG), which is repurposing three structures formerly used for fertilizer. Along with deep water vessel access for loading and unloading, the property features approximately 42-ft. draft and 862 feet waterway frontage, plus extensive rail infrastructure for up to 125 railcars. 
"Our investment will upgrade existing buildings for storage and convert the existing infrastructure for highly efficient, bulk cement unloading," says IRG President Stuart Lichter.
The Houston Ship Channel facility augments Royal White Cement's flagship warehouse terminal in Houston, geared to 100,000 tons' throughput annually via truck delivery. The expansion positions the company for improved cementitious materials distribution in Southern and Western markets.
"We have long operated in the Houston market, but this direct access to storage and bulk unloading along the Houston Ship Channel will provide greater efficiencies and flexibility," affirms Royal White Cement principal Marcel Fadi.
GCC UPS TEXAS CEMENT CAPACITY
GCC S.A.B. de C.V. plans to add more than 1 million metric tons of annual capacity to its Odessa, Texas cement plant. The project's $750 million budget will almost surely set a new dollar/ton of output watermark for a cement operation in North America, where recent outlays of comparable clinker capacity have trended below $500 million. 
The investment will position GCC of America to meet growing demand across the Southwest, including Infrastructure Investment and Jobs Act-funded work, and streamline freight costs presently incurred by serving region customers from Odessa, Pueblo, Colo., and Chihuahua and Samalayuca, Mexico plants. GCC officials anticipate a mid-2025 start for the expanded Texas production line, a target factoring current supply chain constraints and project scope.
"We remain strongly committed to delivering strong stakeholder value, while investing in the future growth of our business," says GCC CEO Enrique Escalante. "With the expansion of the Odessa plant we will ensure GCC is prepared for a new phase of the industry cycle."