Gossett Concrete Pipe tests next generation Besser BiDi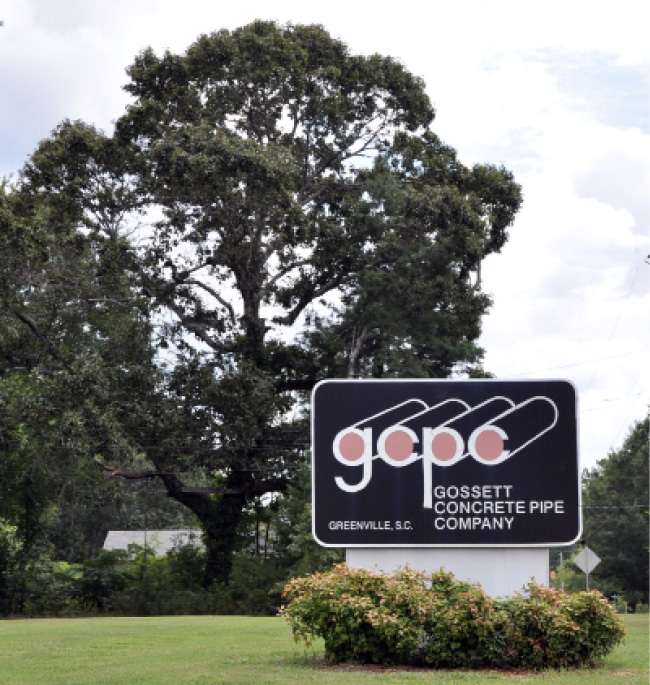 Much like real estate marketability, "location" repeats when measuring the success Gossett Concrete Pipe Co. (GCPC) has realized in South Carolina's Upstate over nearly 80 years, especially the past 30.
Most expansion-minded peer operators in markets of comparable growth have found themselves land locked—compelled to look for larger parcels beyond the towns or cities where they first set up shop. Yet GCPC has had the good fortune of maintaining a strategic location and optioning acreage adjacent to its original Greenville site. Adequate additional land availability and favorable drainage construction market conditions, coupled with disciplined management and capital outlays, have positioned the producer to grow its plant footprint and output tonnage more than five-fold since 1992.
GCPC's latest expansion is a high-bay enclosure for a new BiDi Apex Series A-48 machine (12- to 48-in. diameter pipe), the first in its size class to see field duty. Besser Co. has engineered Apex as a speedy successor to the Advantage Series, but kept signature Bidirectional Rollerhead Systems for exemplary wire-to-concrete bond, compaction properties and product finish. Direct drive variable frequency controls reduce the new series' cycle time and improve turntable positioning accuracy. A rapid crosshead drop feature further boosts throughput.
"At first glance, the turntable movement was so quick that I didn't think the pipe jacket would stay upright," says President A.C. "Bo" Gossett, III, who in 30 years has guided the addition of four production lines to a legacy medium-bore pipe plant, and consummated GCPC's emergence as a complete dry and wet cast drainage structure source. "We are nearing 80 years in operation as of 2024 and intend to stay on top of industry technology. Concrete pipe and precast production has evolved with new and more efficient machinery and methods. Our company is keeping pace with them and market demand."
The Apex Series A-48 production line joins two others running BiDi Advantage Series A-36 (12- to 36-in. diameter pipe) and A-60 (12- to 60-in. diameter pipe) machines—the former set for Apex conversion by year's end. A fourth dry cast line bears on a Besser 12-ft. Vibro-Mac machine (round, elliptical, arch pipe up to 120-in. diameter; box culvert up to 12-ft. square). GCPC's fifth plant is a wet cast line opened in 2019, adding wingwalls, flared end sections plus fittings to augment the concrete pipe and box culvert program. The pipe and precast production lines carry respective American Concrete Pipe Association QCast and National Precast Concrete Association Plant Certifications.
"We standardize product machinery, controls, batch plant configurations, and aggregate storage and handling. The objective is to have all plants running the same: Same parts, maintenance intervals and requirements, and operating basics," says Vice President Prosser D. Carnegie, II, one of two fourth generation family members in GCPC management.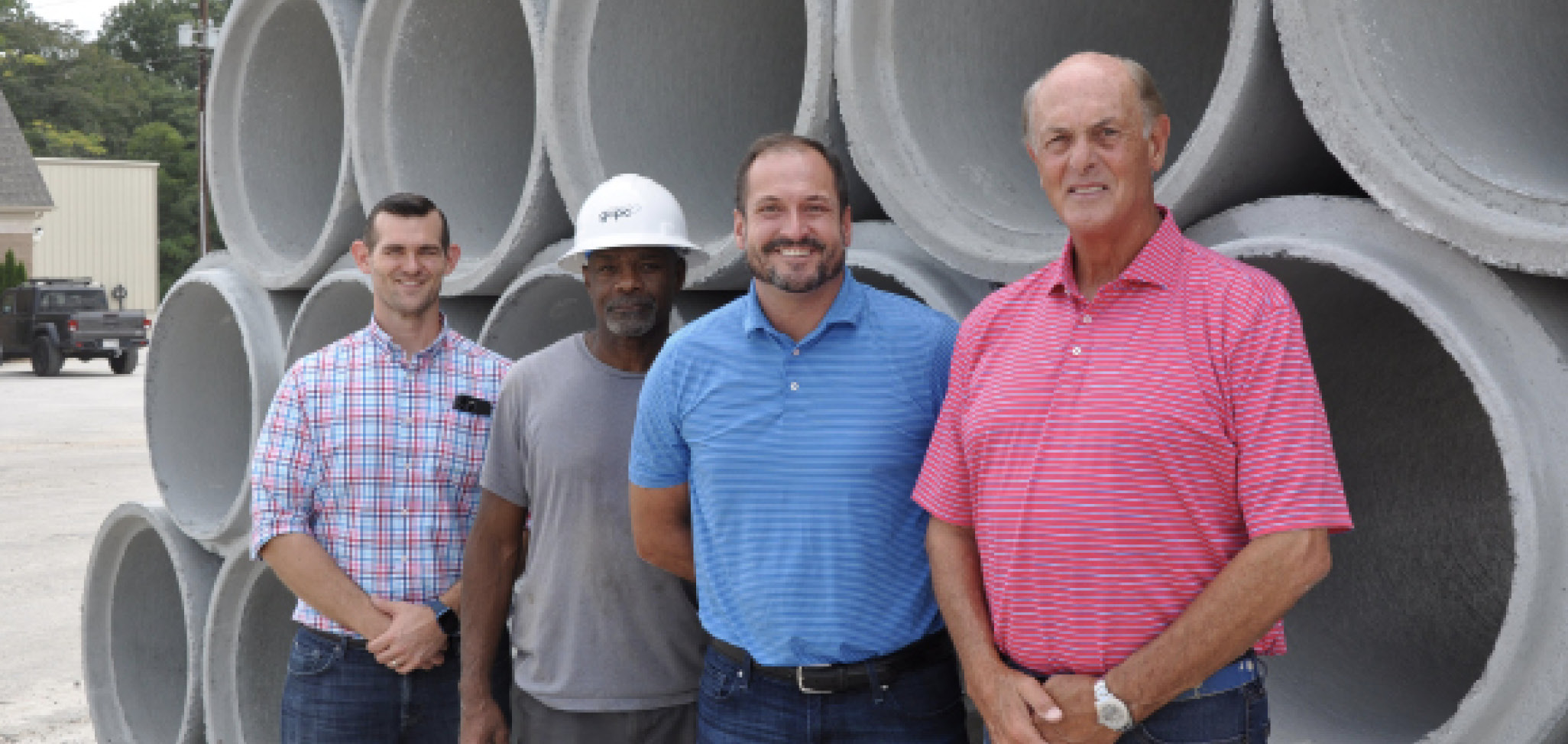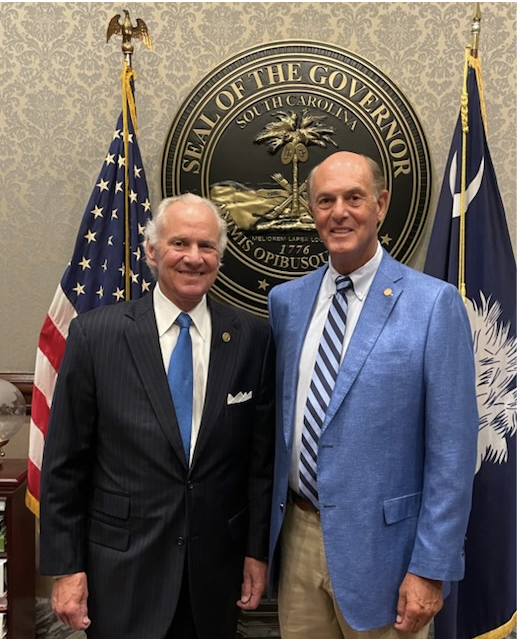 LOCATION SQUARED
Following a land deal with a roadbuilder neighbor, GCPC remains on a site three miles from downtown Greenville, six miles from manufactured sand and 3/8-in. stone source, Hanson Sandy Flats; and, less than 10 miles from the Greenville terminal of principal powder supplier, National Cement Company of Alabama. Location has economized raw material delivery, but sound investment in quality concrete pipe and precast capacity has equipped GCPC to pace one of the most prolific economic development successes in the South.
Upstate South Carolina business dialog from 1994 on begins and ends with BMW North America and its Plant Spartanburg, located along Interstate 85 just north of Greenville. GCPC has grown in tandem with build out of the automaker's campus, swelling to more than 7 million square feet under roof. Assembly lines have yielded upward of 6 million Z3-4 and X3-7 series vehicles to date, while the initial payroll climbed from 2,000 to north of 11,000. Reflecting on the 30th anniversary of a June 1992, BMW Group announcement to build a North American satellite to its home base assembly operations in Germany, Spartanburg Herald-Journal staff labels Plant Spartanburg as "The gift that keeps giving."
U.S. Census figures confirm the positive trendline that Plant Spartanburg, supporting industries and South Carolina's business-friendly environment sow: Greenville, along with flanking Anderson (west) and Spartanburg (east) Counties, have seen a combined population gain of nearly 100,000 since 2010, the 1 million mark eclipsed in 2018. The past decade's growth followed the three counties' combined population gains of 108,000 from 1990-2000 and 125,000 from 2000-2010.
"Greenville and the Upstate region consistently rank on national surveys for business development and quality of life," says GCPC Vice President R. David Marchbanks, II, the second fourth generation family member involved in management. "Growth up and down Interstate 85, from Charlotte to Atlanta, is making our area one of the hottest markets in the country. We are right in the middle of a corridor that is becoming known as 'Charlanta.'"
Outside of BMW Plant Spartanburg contractor deliveries, he adds, GCPC has played a major role in Interstate 26 work from Asheville, N.C. to South Carolina's capital city of Columbia. Recent years' roadway widening and drainage upgrades have spawned a handful of orders hovering or exceeding 100,000 feet of concrete pipe or box culvert. The producer also has a hand in a longer term Columbia project: Realignment of a dated I-26 and Interstate 20 interchange with a target completion later this decade. GCPC continues to book contracts in the 10,000-ft. or larger class for work along I-85. In addition to mainline highway contracts, the producer is among suppliers to contractors upgrading designated escape or evacuation routes for coastal Carolinas towns. Pipe or culvert specifications for such routes are unflinchingly prescriptive: Concrete.
"We are the source of the only drainage product that doesn't burn or float," says Bo Gossett, III. "We are promoting a resilient, sustainable product. No one can refute that. Since our founding in 1944, we haven't had a product failure. That's the reason we are successful and can have such conviction in our industry."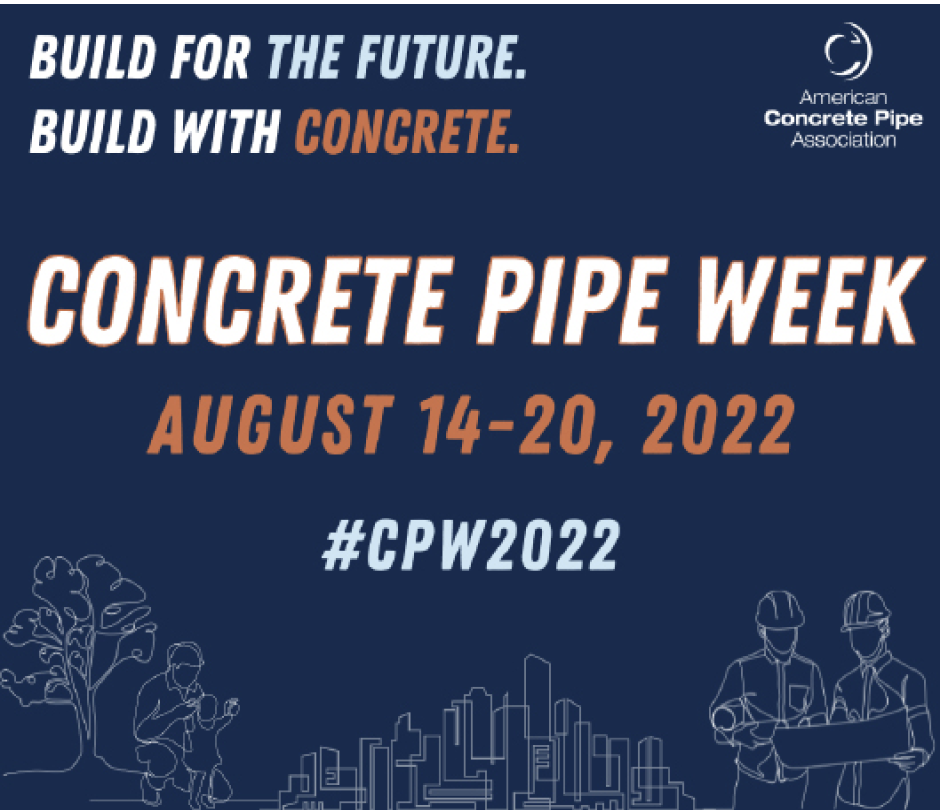 Concrete Products' latest visit to Gossett Concrete Pipe Co. dovetailed Concrete Pipe Week 2022, which A.C. "Bo" Gossett, III observed as past American Concrete Pipe Association Chairman (2016). Leading into the mid-August event, South Carolina Governor Henry McMaster hosted an industry contingent for a formal proclamation acknowledging a) concrete pipe and precast's vital role in Palmetto State infrastructure; and, b) producers and allied suppliers' contribution to the state and local economies.
"Concrete Pipe Week has been a great tool. We are gaining momentum every year," says Bo Gossett, III. "I've made it a practice to stay involved in government affairs since my ACPA Chairman's term. Cultivating relationships is key. It is good for our team, ACPA and the Carolinas."
North Carolina and South Carolina Departments of Transportation actions have benefitted GCPC and peers of late, he adds. Amid materials price spikes, especially steel, NCDOT recently eased project participants' inflation concerns by agreeing to cost escalation provisions on multi-year contracts. SCDOT, on the other hand, has mostly eliminated the types of projects or site conditions where engineers can consider alternatives to reinforced concrete pipe and companion drainage structures.