Source: Concrete Pumping Holdings Inc., Denver
Concrete Pumping Holdings (CPH), a key player in mix placing and Eco-Pan concrete waste management services in the U.S. and U.K., has closed on Coastal Carolina Pumping, Inc. The Carolinas' largest contractor of its kind, Charlotte-based Coastal has additional operations in central Florida and brings 89 units to the CPH fleet.
The deal stands to enhance the suitor's positioning and scale in the fragmented national concrete pumping business; provide increased service offerings and fleet availability to established Coastal accounts plus those of CPH flagship operator Brundage-Bone; and, afford Coastal customers access to Eco-Pan services.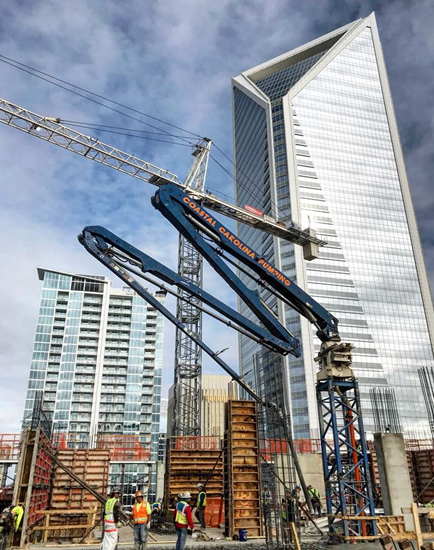 "We continue to successfully execute strategic initiatives to enhance our geographic footprint and responsibly grow our business," says CPH CEO Bruce Young. "The East Coast is an attractive expansion market and we are excited to develop our presence in the region. Coastal Carolina is a well-run and highly respected business with exceptional talent. It also provides the ability to strengthen our recent [greenfield] expansion into the Washington D.C. market, an area that has experienced rapid growth and is expected to grow significantly over the next decade."
"With this acquisition and additional greenfield expansion, we have strengthened our positions in the Carolinas and Florida regions, and can now provide robust pumping services up to Baltimore," adds Chief Financial Officer Iain Humphries. "We are confident in our ability to realize the benefits of this transaction and deliver value creation following the same proven approach we have taken with our previous acquisitions."
Related articles
Pioneer assets extend Concrete Pumping's Georgia, Texas coverage
Brundage-Bone parent adds Texas-sized Capital Pumping