Sources: HaulHub Technologies, Haverhill, Mass.; CP staff
HaulHub Technologies, a developer of digital tools assisting state transportation agency e-Ticketing and e-Construction program management, cites a United States Patent and Trademark Office notice of allowance for a patent application directed to use of a system to reconcile and reformat delivered construction material data with project data between various contract stakeholders.
"In the Covid-era of e-Ticketing, sharing a digital version of the paper ticket with an inspector was the only requirement," says HaulHub CEO and Founder Joe Spinelli. As state transportation agencies and project owners have gained more experience with e-Ticketing, he adds, they have overwhelmingly concluded that integration with their project management systems is essential.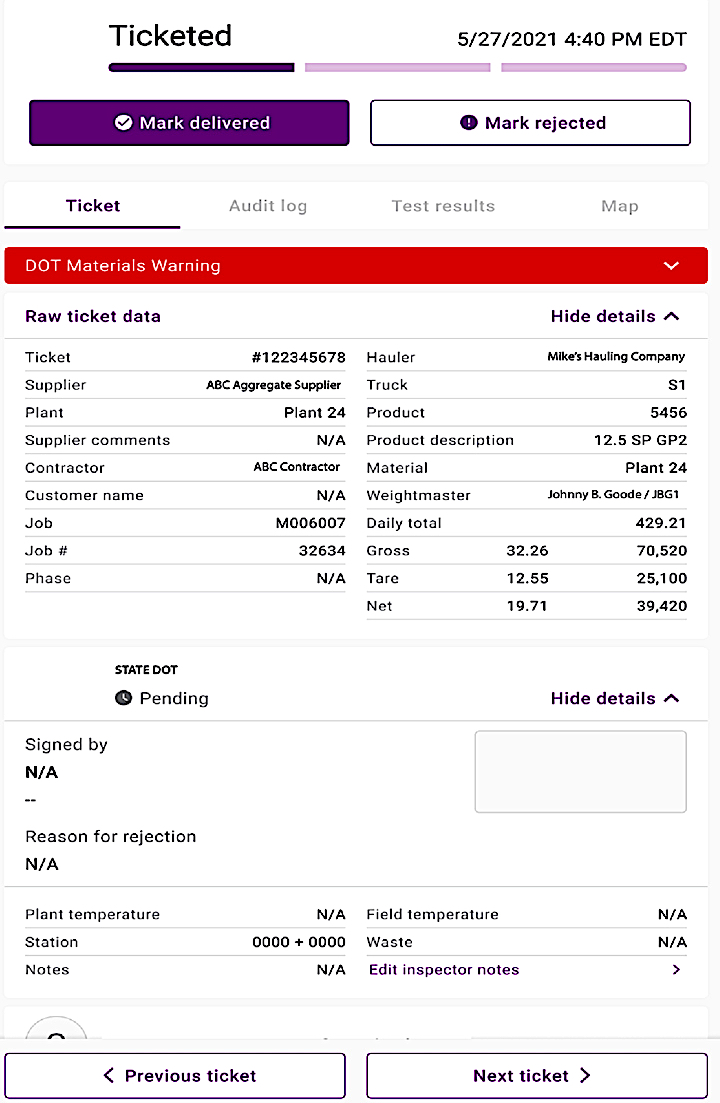 "Agencies would like to assign a contract item to a delivered ticket, using a list of available contract items, but without technology to couple the right tickets to the right projects with the right contract items, staff will continuously have to memorize the contract items and hand-key them in manually on the tickets," Spinelli explains. "Reformatting data into a common data format allows for the mapping of project and material data sets is part of the underlying technology that powers our Agency Portal."
Very early in the process of the initial e-Ticketing rollouts, HaulHub identified the challenge with integrations would be the lack of a common data format, i.e.: How a material supplier ticketed a project, in most cases, was very different from how an owner, such as a department of transportation, stored project data.
"This information was never going to match one-for-one and therefore if a material ticket was printed slightly different than how a project was labeled, those tickets could not be associated without manual intervention," Spinelli observes. "Efforts at a national level to standardize current data models into a single data format were not feasible. We developed this technology to allow the industry to keep their existing systems, formats, and processes, and we would instead adapt our systems to them."
HaulHub's unique approach was driven by the need for an accessible, vendor agnostic, and cost-effective solution that did not require significant change management from the entire supply chain, he adds. Even a seemingly harmless punctuation difference between project names, for example, could stop the integration between two systems from being valuable to the end users. Hence, technology begging to be developed to solve the integration hitch would grind to a halt because of its lack of ability to scale.
The newly allowed patent application is directed towards a database reconciliation system that supports HaulHub's Agency Portal and enhances its ability to bridge that gap between current systems, formats, and processes in place, and help advance modern e-Construction practices for partner states. More specifically, the underlying technology allows HaulHub to ingest, reformat, and reconcile project and/or construction materials data, to provide its partners with a single interoperable source of truth and chain of custody for construction materials.
Developing a single source of truth within a state is an essential baseline to build upon more advanced e-Construction practices and is a requirement to move e-Ticketing beyond long term pilots. "When the data is reformatted, and the varying materials and project systems can properly communicate with each other, they can be automated, provide insights, expedite payments, and record digital as-builts," Spinelli affirms. "HaulHub will continue to invest in technology research and development that drives value for all stakeholders of a construction project."
Related article
The Case for DOT 'E-Info' Standardization