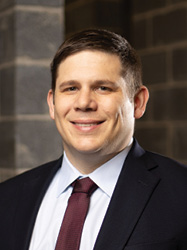 ASTM International has presented ICPI-NCMA Vice President of Engineering, Masonry Nick Lang with the Award of Merit and accompanying title of Fellow for his contributions to Committee C15 on Manufactured Masonry Units. Award of Merit is the highest Society recognition for an individual's distinguished service and committee participation.
Lang joined the National Concrete Masonry Association in 2006 and most recently served as vice president of Business Development, ahead of his current appointment following the Interlocking Concrete Pavement Institute-NCMA unification. C15 members acknowledge his "exceptional engineering background, commitment to quality of masonry products, and ability to bring together diverse points of view to create solutions." The Committee previously honored him with the Alan H. Yorkdale Memorial and James A. Thomas President's Leadership Awards (both 2011), Certificate of Appreciation (2018) and Award of Appreciation (2019).
Also earning the ASTM Award of Merit is Cemex USA Senior Manager of Quality, Masonry Greg Moody for contributions to Committee C09 on Concrete and Concrete Aggregates. The award and accompanying title of ASTM Fellow recognize his technical work, administrative leadership during chair and subcommittee chair terms, plus eye for detail in developing standards. A Society member since 2003, Moody previously received an Award of Appreciation from C09, and is credited with influencing ready mixed and concrete masonry production and construction practice in northern Florida.
Separately, C09 has presented the Award of Merit and accompanying Fellow title to American Concrete Institute Manager of Certification Program Development Michael Morrison. Members recognize his nearly 20 years of active C09 participation, both as a dedicated leader within the committee and expert in developing standards for hydraulic cement mortars, concrete curing and sealing, and self-consolidating mixes. An ASTM International member since 1999, Morrison previously earned four Awards of Appreciation, two each from Committees C09 (2011, 2018) and C01 (2016, 2018).
ASTM has likewise presented the Award of Merit to Portland Cement Association Senior Director of Research & Standards Paul Tennis for contributions to Committee C01 on Cement. The award and accompanying title of Fellow recognize two-plus decades of C01 participation, including a five-year term as chair.
Beyond organizational abilities, members salute Tennis for the technical expertise he has brought to more than 50 Committee work items, along with his role in fostering in sustainable standards for cement. An ASTM member since 1996, Tennis previously earned Bryant Mather (2009), COS Service (2009) and Outgoing Chair (2017) Awards, and Award of Appreciation (2012).
MATHER SCHOLARSHIP
In addition to the Awards of Merit, ASTM has presented Deborah Glosser with the annual Katharine and Bryant Mather Scholarship Award. The Committee C09-administered award is presented to fulltime
undergraduate students completing their second or sophomore year of college, or to graduate students who are pursuing degrees specializing in cement or concrete materials technology, or concrete construction. Recipients are granted up to $7,500 to be used for educational expenses and $1,500 to cover expenses to attend a Committee C09 meeting as part of their professional development.
Glosser's specialization is computational materials science. Her primary work is on thermodynamic and multiphysics models to help inform the development of durable and sustainable materials used in
civil engineering. She completed a master of science in geophysics from University of Pittsburgh in 2013 and Ph.D. in civil engineering from Oregon State University in 2020.
JOURNAL HONOR
ASTM International's flagship Journal of Testing and Evaluation received a Clarivate Analytics impact factor rating of 1.333 for 2021, up 5.5 percent from the previous year. Clarivate calculates the impact factor for journals that appear in its Science Citation Index database.
Launched in 1973, Journal of Testing and Evaluation is a multi-disciplinary forum for the applied sciences and engineering. It presents new technical information, derived from field and laboratory
testing, on the performance, quantitative characterization, and evaluation of materials. Featured papers present new methods and data along with critical evaluations; report users' experience with test methods and results of interlaboratory testing and analysis; and, stimulate new ideas in the fields of testing and evaluation. Along with Science Citation, Journal of Testing is available in Google Scholar and other scientific journal databases.