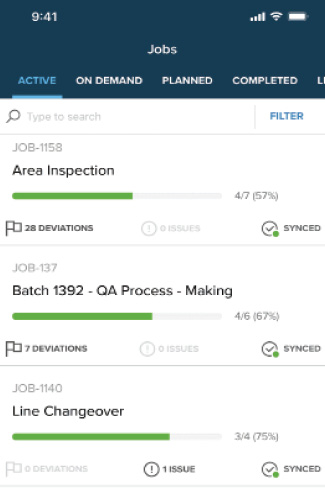 Chicago-based Holcim US will soon complete deployment of the Connected Worker environmental compliance platform throughout cement, aggregate and ready mixed operations. San Francisco software developer Parsable bills Connected Worker as a combination of a no-code platform and easy-to-use mobile app. The technology enables Holcim US to capture, record and analyze environmental work data in near real time, ultimately decreasing compliance deviations and improving environmental performance.
Connected Worker users can collaboratively execute tasks using digital work instructions on mobile devices; analyze new information to identify operational trends; flag incomplete plant jobs or issues; and, create reports to share insights locally or enterprise wide. The software was rolled out to more than 280 Holcim US sites in the first half, with the remaining 70-plus locations set for deployment this month.
"Sustainability and environmental responsibility drive the way we operate across the Holcim US footprint," says Vice President, Environment, Land and Government Affairs Michael LeMonds. "Leveraging a digital tool that creates a cohesive, agile platform for our environmental teams and site management to access inspection data not only helps drive accountability, but ultimately regulatory compliance to support our local permits and environmental, social and corporate governance objectives."
"Our goal is to enhance our environmental compliance program and eliminate potential errors associated with lost or missing inspection data," adds Holcim US Director, Environment and Land Jim Carroll.
"By enabling operators to complete their daily tasks and capture information at every step of the way, we can streamline how data is recorded and reduce the time it takes to complete jobs and document inspections."
MARITIME GREENING INITIATIVE
Holcim US has joined the Blue Sky Maritime Coalition, consistent with the Chicago-based cement, aggregate and ready mixed producer's mission to build a net zero future. As a founding member of the Coalition, Holcim unites with other industry stakeholders to seek ways to achieve zero-carbon emissions through various work streams, including technology, policy, finance and measurement.
"To drive a more sustainable and climate-conscious focus across all our operations, Holcim is always in search of ways to strategically partner with other entities that hold the same values," says Vice President,
Integrated Supply Chain John Stull. "With this in mind, we are proud to be a founding member of the Coalition and collaboratively engaging with the other members to achieve our shared goals to transform maritime transportation."
Blue Sky Maritime Coalition consists of a diverse group of organizations focused on accelerating the North American maritime value chain's pathway to net zero emissions by evaluating, encouraging, and engaging innovation that reduces emissions. Holcim operates maritime assets on the ocean, Great Lakes and inland waterways, making advancements in clean maritime technologies a priority to significantly lower its carbon footprint.