Executives of National Cement Company of Alabama Inc., parent National Cement Company Inc., and ultimate parent Vicat Group, Paris, staged a late-July dedication of a new production line at their Ragland, Ala. plant. A Kiln 2 ribbon cutting capped a two-year, $300 million project that brings annual Ragland capacity above 2 million short tons and assures a sharp reduction in net carbon dioxide emissions when measured against legacy powder output.
The lower CO2 factor turns on a fuel mix sans coal: Ragland Kiln 2 is the first North American portland cement line engineered to run on 100 percent biomass or non-hazardous waste. It has premiered with natural gas fuel, but will transition to a mix of wood waste, tire scrap and readily transferred liquids bearing Btu value equal to rotary kiln demands. Waste-derived fuel will drive preheating and clinker phase CO2 emissions down 30 percent versus those of a coal-fired kiln. A switch from Type I/II to portland-limestone cement, or Type IL, will reduce the CO2 factor in finished Ragland powder another 10 percent upon scheduled 2023 completion.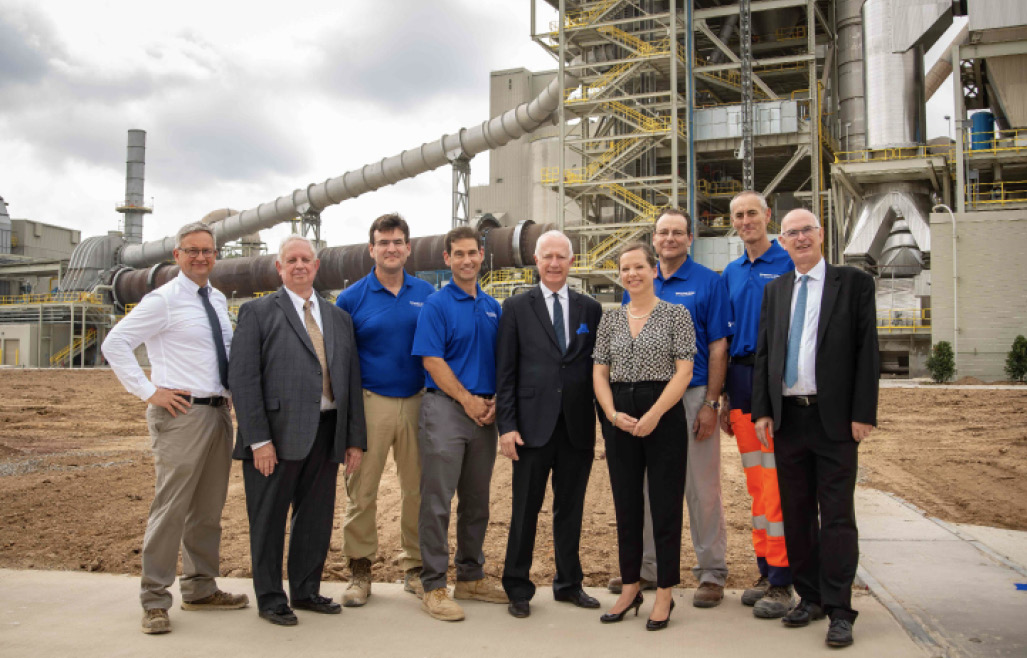 "We are firmly committed to replacing fossil fuel-derived energy with regional recycled wastes, taking an ecological stand today that transitions and reduces our carbon footprint," Vicat Chairman Guy Sidos told a gathering of colleagues and public officials led by Alabama Governor Kay Ivey. "We insist our investments contribute to local development and are extremely proud of the transformation of Ragland."
"This highly energy-efficient operation, combined with our new clinker, will make our cementitious product one of the lower carbon cements in this market," added National Cement of Alabama President R. Spencer Weitman. "This major investment on behalf of Vicat Group vastly improves our environmental impact and is a big step in the entire cement industry's efforts to achieve carbon neutrality across the concrete value chain by 2050."
The Ragland Quarry will serve National Cement of Alabama Kiln 2 and portland-limestone crushing lines well beyond mid-century or carbon neutrality attainment. Linked to the cement operation by a 2.6-mile trough conveyor, it harbors nearly 400 million tons of limestone, shale and clay reserves.
Along with Kiln 2 and companion production equipment, the Ragland operation upgrade includes a new cement lab that expedites the daily transfer and testing of materials from all points: quarry, limestone and clay crushers, raw feed blending silo, plus clinker and finished cement silos. Concurrent with the plant and lab work, National Cement of Alabama is doubling Ragland rail loadout and building two terminals to serve Nashville and middle Tennessee markets. They will join the producer's existing distribution: One South Carolina (Upstate) and four Georgia (three Atlanta) terminals.