Lehigh Hanson Inc. has marked placement of the final segment of the steel stack abutting a new preheater tower at the Lehigh Cement Mitchell Plant in Indiana. Management, construction team members and local dignitaries assembled late last month for a ceremonial topping out.
"We are another step closer to realizing completion of this monumental project," said Lehigh Cement Plant Manager Tracy Crowther. "Thanks to the efforts and support of our employees, contractors, vendors, trade workers and the Mitchell community, this amazing new plant will be ready to begin production in the very near future."
"[This] marks a significant milestone in the construction of the new Lehigh Cement plant," added Congressman Trey Hollingsworth (R-IN-9). "I am excited to see such a major investment in Mitchell taking shape and nearing completion."
The company broke ground on a new cement production line in October 2019, aiming to more than double the potential throughput of a legacy 800,00 ton/year kiln. Following a delay caused by Covid-19 response measures, construction resumed in September 2020 at an accelerated pace, with projected plant start up in early 2023. Advanced equipment and technology will position the new Mitchell line for a substantial capacity increase while significantly reducing energy usage, fuel consumption and carbon dioxide emissions per ton of output.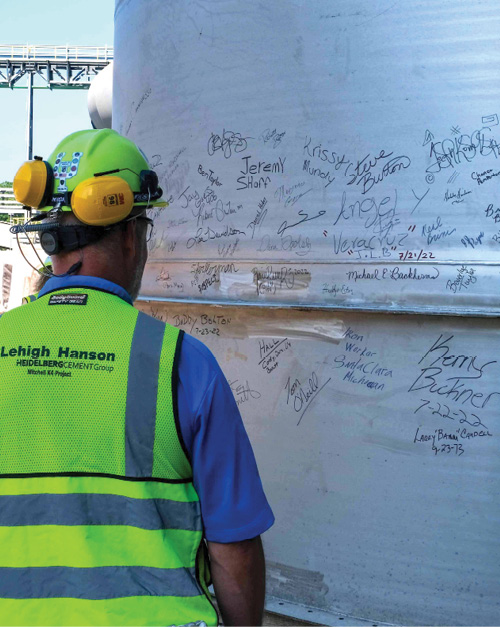 UNION BRIDGE ECOCEM TRANSITION
The Lehigh Cement plant in Union Bridge, Md. will see primary output shift from ordinary portland cement to the branded EcoCem Portland-Limestone Cement—clinker + up to 10 percent finely graded limestone—by no later than January 2023. Union Bridge is presently the producer's largest plant in North America—a title it will yield to the Mitchell, Ind. operation (above) next year. The switch to the branded Type IL cement positions Union Bridge to avoid approximately 126,000 tons of carbon dioxide emissions annually.
The move to EcoCemPLC in Maryland follows similar transitions at the producer's Mason City, Iowa plant and three sister Indiana mills, including Mitchell. In 2021, Lehigh Cement produced more than 2 million tons of EcoCem and is well on its way to more than double that volume in 2022. The addition of limestone in the clinker grinding phase lowers the carbon footprint of the Type IL binder by up to 10 percent versus ordinary Type I/II portland cement. The change reinforces Lehigh Hanson's commitment to carbon footprint reduction and reflects the ambition of parent company, HeidelbergCement AG of Germany, to become the first global producer to offer carbon-free cement and concrete at scale.
"We are excited about the transition to EcoCemPLC at Union Bridge," says Lehigh Hanson Northeast Region President Alex Car. "This switch is the latest example of our push to expand our portfolio of more sustainable products and reduce our CO2 footprint across the cement and concrete value chain." Lehigh Cement will continue to work with customers and key stakeholders such as agencies, architects and engineers to further accelerate the transition to more sustainable solutions, he adds.