Sources: Slag Cement Association, Farmington Hills, Mich.; CP staff'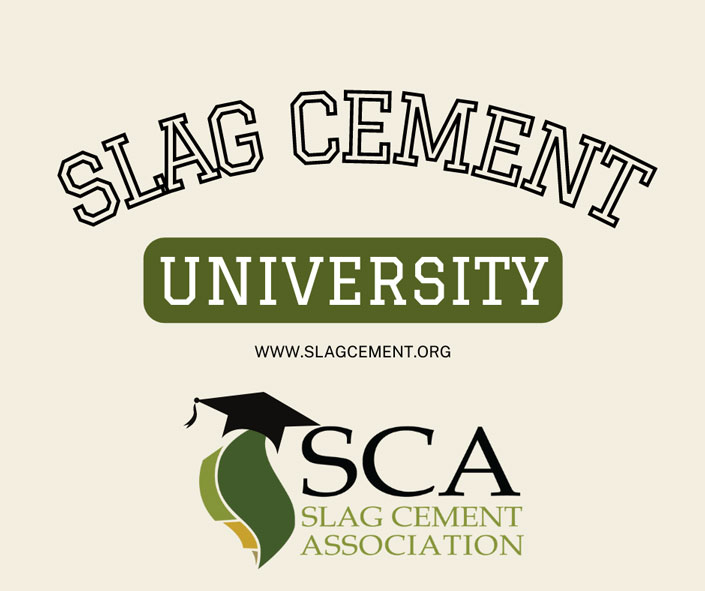 Slag Cement University has premiered as a central repository of educational resources on a key supplementary cementitious material for concrete. The Slag Cement Association designed offerings to make it easy for educators to incorporate candidate course content into existing construction or engineering college degree programs. The University serves to enhance concrete materials instruction with new slag cement information, project reports and tools, including:
• Technical Information Sheets. Nearly 30 one- to two-page documents provide an overview of various applications and topics regarding slag cement use in concrete. Technical Information Sheets are valuable resources for students to review in preparation for exam questions.
• Presentations and Pre-Recorded Webinars. SCA webinars and slide decks afford a well-rounded look at building and nonbuilding applications, plus things to look for when using slag cement in concrete. Curriculum also includes a Slag Cement 101 slide deck and recorded webinar that will help introduce students to material benefits.
• Sustainability Tools. SCA has developed an Industry-Wide Environmental Product Declaration and companion carbon reduction calculator for concrete mixtures that incorporate slag cement—an important material on the industry's journey to carbon neutral concrete.
In addition to the curriculum, SCA has prepared an 80-question exam that provides a testing framework for colleges and universities to easily measure knowledge related to slag cement.
REVISED ACI 211 PROPORTIONING GUIDE INCORPORATES NEW SCM, BINARY AND TERNARY MIXTURE REFERENCES
American Concrete Institute Committee 211–Proportioning Concrete Mixtures has updated its signature publication to include the latest information on supplementary cementitious materials, chemical admixtures, and particle packing. ACI PRC-211.1-22: Selecting Proportions for Normal-Density and High-Density Concrete—Guide offers various examples incorporating binary or ternary mixes, plus key mixture proportioning parameters such as paste-to-void volume and cement efficiency factors. 
ACI 211 members aim to provide to basic mixture proportion guidelines yielding desired concrete performance characteristics, and present PRC-211.1-22—Guide as a convenient, one-stop reference. Committee Chair Ezgi Wilson acknowledges past officers Tim Folks, Gary Knight and Ed McGuire, along with ACI's Jerzy Zemajtis, for help in achieving the "major milestone" the updated guide represents. He will lead Committee 211's next meeting: October 26 at the ACI Concrete Convention in Dallas.