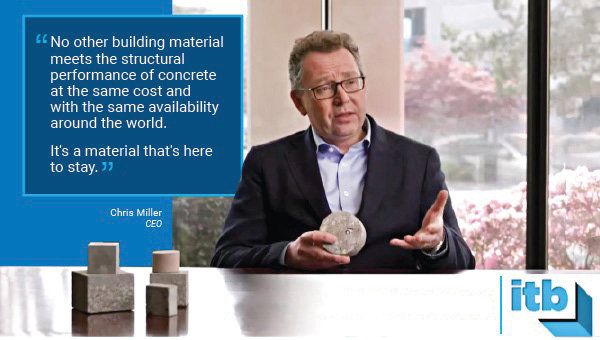 The innovation behind the crystalline waterproofing technology synonymous with Vancouver, B.C.-based Xypex Chemical Corp. is featured in "Concrete Solutions Provided by Admixtures," an Inside the Blueprint series episode airing this month on Bloomberg News and in syndication after. Producers explore how the technology works deep inside the concrete mass to create a permanent waterproof structure that resists extreme hydrostatic pressure and self-heals cracks that can form. Xypex CEO Chris Miller proves that concrete is unrivalled as a building material, used in millions of building projects around the world and—where exposure warrants—protected by crystalline waterproofing methods. 
In this season's "Focus on Innovation," Inside the Blueprint examines critical steps leading to cutting-edge products: Inspiration, the Idea, the Process, and the Impact. Producers trace them with Xypex officials, who explain how their admixture significantly extends the life of concrete structures 50 to 100 years using an environmentally friendly formulation. Beyond concrete and chemistry, they approach construction as a "people business" through extensive customer support and longstanding relationships with architects, engineers and contractors in 90-plus countries.
Xypex chief takes the Inside the Blueprint production crew inside concrete.
SIKA OPENS VIRGINIA ADMIXTURE PLANT
New Jersey-based Sika Corp. has expanded concrete admixture capacity in the growing Mid-Atlantic construction market with a 42,600-sq.-ft. production facility in Stafford, Va. Two 6,000-plus gallon mixers equip the new plant for 50,000 tons' annual capacity. Along with responding to high demand in the region, the operation guarantees optimized logistics, shorter transportation routes for raw materials and finished goods, and carbon dioxide emissions reduction that concrete customers are increasingly tracking in their supply chains. 
"The latest investment in the Mid-Atlantic allows us to further strengthen our position in the region's construction market," says Sika Concrete Admixtures Senior Vice President Thomas Strittmatter. "This is our response to high demand in the region. It allows us to get our products to valued customers quickly and more efficiently, all while reducing our environmental impact."
"Sika is committed to ensuring the production of consistent quality products," adds Vice President of Concrete and Mortars Operations Tim Whitehead. "Customers can be assured that the Stafford facility utilizes the latest manufacturing equipment, systems, and quality standards."