Our annual roundup of innovations from heavy-duty OEM, body builders and niche manufacturers serving mixer, dump, tanker and flatbed fleets.
REMORA | TRUCK EXHAUST CO2 CAPTURE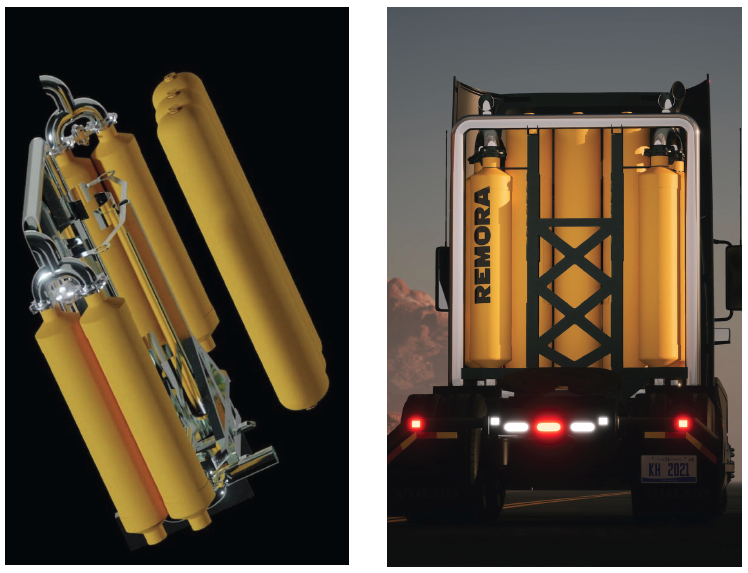 Pittsburgh-based flatbed fleet JLE Industries plans a 90-day pilot for a truck frame-mounted tank assembly that filters and isolates tailpipe carbon dioxide. Tanks capture up to 80 percent of the CO2, which represents about 13 percent of vehicle exhaust.
Michigan-based Remora characterizes the assembly as a giant filter, equipped with scrubbing technology and capable of compressing CO2 for off-loading at the truck's home base or other designated greenhouse gas collection point. If the tanks fill up before the driver has a chance to offload the CO2 gas, the device automatically bypasses exhaust capture so the vehicle can complete the duty cycle.
The Remora pilot is integral to JLE's long-range decarbonization strategy, notes CEO Evan Pohaski, adding, "Our value statement is to exceed the needs and expectations of all stakeholders through accountability, performance and integrity. We consider the environment one of our stakeholders. Our capital investment in Remora's exciting technology is a demonstration of the seriousness of our commitment to continually raising the bar on sustainability." — Remora, Livonia, Mich., 734/744-4862; www.remoracarbon.com
DIESEL TECHNOLOGY FORUM OFFERS FUEL SAVING TIPS
With petroleum prices on the rise, the Diesel Technology Forum (DTF) in Frederick, Md. reminds heavy-duty truck operators of a few basic steps to save fuel:
Watch your speed. Diesel fuel consumption increases for every mile per hour a vehicle runs above 55 mph. Each mile above that threshold decreases fuel economy by 0.1 mpg.
Max gear. Operate the truck in the highest possible gear, and reduce engine RPMs, to lower fuel consumption.
Shut engine down. Don't idle if it isn't necessary. Idling burns about 0.75 gallon of diesel fuel per hour in a Class 8 tractor-trailer, while also accelerating engine wear and tear.
Review routes and trip timing. Take a fuel-efficient route if possible, avoiding construction delays.
Maintain proper tire pressure. For every 10 psi a tire is inflated under recommended settings, a truck loses 1 percent of its fuel economy. Underinflation also leads to diminished tread life and tire failure.
Turn off accessories when they aren't needed.
Perform preventive maintenance on schedule. Proper maintenance such as oil and air filter changes can help maximize fuel efficiency.
Use the right size equipment for the job. Underpowered, smaller tractors and equipment operate at high RPMs; loads will be less fuel efficient than with a larger machine.
Consider vehicle upgrade. New, advanced technology diesel power is more fuel-efficient than older generations.
Utilize blends of high-quality biodiesel fuels when possible. All available diesel models are compatible with blends of up to 20 percent high-quality renewable biodiesel fuels (and 80 percent regular petroleum diesel). These replacement fuels are available at a growing number of locations nationwide, and help reduce greenhouse gas and other emissions.
"Diesel is the lifeblood of the global economy," observes DTF Executive Director Allen Schaeffer. "The newest generation of advanced diesel technology, standard in commercial trucks on the road since 2011 and construction equipment since 2014, achieves near zero emissions and is more fuel efficient."
Butler Concrete taps Empire Hydrogen device to optimize diesel combustion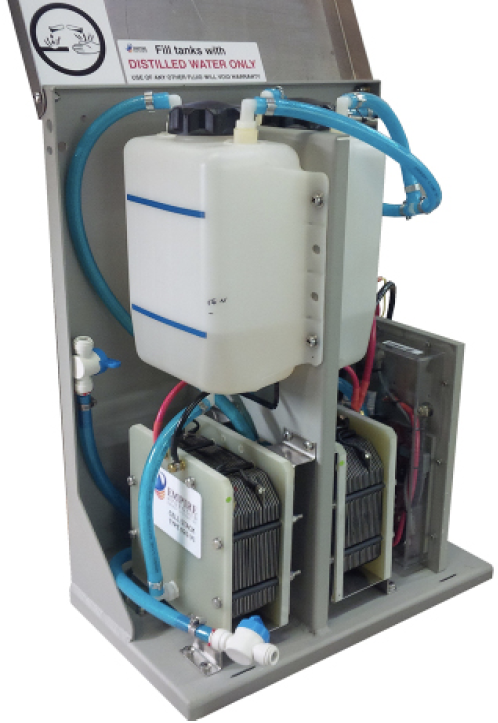 Butler Concrete and Aggregate Ltd. of Victoria, B.C. has deployed a diesel enhancement system on its mixer truck fleet with an eye to improved fuel efficiency, plus lower carbon dioxide and nitrogen oxide emissions. Mounted near the mixer gear box, the 75-lb. Empire Hydrogen system uses stainless steel plate filters and potassium hydroxide to initiate electrolysis, separating the hydrogen and oxygen from distilled water molecules. The system then directs the flammable gases to the engine air intake, where they augment diesel combustion.
We are always examining operational improvements to reduce our carbon footprint," says President Travis Butler. "Our collaboration with Empire Hydrogen shows we can make a net positive difference when we work together and embrace innovation." Operational improvements such as diesel enhancement position Butler Concrete, he adds, to offer "the cleanest and greenest ready mixed to the local construction industry, backed by third-party verified Environmental Product Declarations."
"Our goal to provide green solutions and address the growing requirements for energy consumption makes working with Butler a great fit," affirms Empire Hydrogen CEO Sven Tjelta. "Our organizations realize the potential that technology holds to address global climate concerns. Seeing our technology implemented at Butler reaffirms our mission to partner with industry and make our world a better place for future generations." — Empire Hydrogen Energy Systems Inc., Sidney, B.C., 778/426-0911; www.empirehydrogen.com

CUMMINS | FUEL-AGNOSTIC POWERTRAINS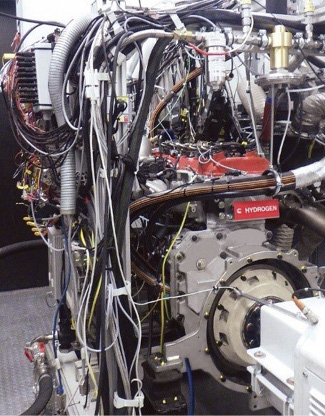 The manufacturer will expand its powertrain platforms through development of the industry's first fuel-agnostic engines, enabling on- and on/off-highway fleets to spec a range of low carbon fuel types. New platforms set for 2024 rollout will feature versions of the manufacturer's B, L and X-Series models derived from a common base engine. Components above the head gasket will differ according to the choice of diesel, natural gas or hydrogen fuel. Component commonality or similarity will apply below the head gasket.
"Having a variety of lower carbon options is particularly important considering the variation in duty cycles and operating environments across the many markets we serve," says Cummins Engine Business President Srikanth Padmanabhan. "There is no single solution or 'magic bullet' that will work for all application types or all end users."
"This is a new way of designing and developing lower emission internal combustion powertrains that meet the unique needs of the transportation industry while leveraging the benefits of a common product architecture and footprint where possible," adds Vice President of Engineering Jonathon White. "This technology approach will allow end users to more seamlessly pick the right powertrain for their application with the lowest carbon dioxide impact."
Digital and connected technologies allow Cummins to extract insights specific to different engine duty cycles, and apply them to reliable fuel-agnostic platforms, he notes, adding: "Customers can be confident in Cummins' unmatched testing and evaluation process ensuring high-performance products. No matter what type of work a fleet does, we'll have an engine powered by lower carbon fuels with diesel-like performance to get the job done."
Parts commonality will offer increased benefits for both truck OEMs and end users, including similar engine footprints, diagnoses and service intervals. This means it will be easier for OEMs to integrate a variety of fuel types across the same truck chassis and there will be minimal costs to train technicians and re-tool service locations, resulting in a lower total cost of ownership for the end user.
The fuel-agnostic powertrain platform abides Destination Zero, a Cummins strategy to go further, faster to reduce equipment greenhouse gas impacts and reach net-zero emissions by 2050 in a sustainable manner serving all stakeholders. Two of the company's sustainability goals for 2030 include reducing scope 3 absolute lifetime greenhouse gas (GHG) emissions from newly sold products by 25 percent and partnering with customers to reduce scope 3 GHG emissions from products in the field by 55 million metric tons.
"Cummins is innovating at every level to find new ways of working that use fewer of the world's resources and the Engine Business is at the center of this exciting innovation," observes Padmanabhan. "Our approach must be a combined effort of using zero emissions power where it's available and using cleaner power where it is not." — Cummins Inc., Columbus, Ind., www.cummins.com
CUMMINS CLEAN FUEL TECHNOLOGIES
Cummins Inc. and leading Class 8 truck dealer Rush Enterprises have formed a joint venture to enhance production of near-zero emissions natural gas powertrains and promote Cummins-branded fuel delivery systems for the North American commercial vehicle market. Compressed natural gas (CNG) fuel system configurations integrate with multiple body OEMs and include back of cab, front of body, plus side, roof or tailgate tank mount options.
The Cummins Clean Fuel Technologies JV will build on the delivery systems of Momentum Fuel Technologies, a Rush Enterprises subsidiary in which Cummins acquired a 50 percent stake earlier this year. "By offering integrated natural gas vehicle systems, we'll be able to provide value to fleets which will help drive wide-scale adoption of lower carbon fuel types like renewable natural gas (RNG)," says Cummins Inc., Natural Gas, General Manager Puneet Jhawar.
"We're able to enhance the service and unique needs of CNG and RNG customers with the combined strength of Cummins' and Rush Truck Centers' nationwide networks, as well as access to a comprehensive vehicle parts inventory," adds Cummins Clean Fuel Technologies General Manager Michael Zimmerman.
Cummins will continue to manufacture ISX12N and future X15N natural gas models at its Jamestown, N.Y. heavy-duty engine plant, and the B6.7Ns and L9Ns at its Rocky Mount, N.C. medium-duty plant. Fuel systems will be manufactured at Momentum Fuel's Texas headquarters. The joint venture will initially offer aftermarket support through Rush Truck dealerships. The Cummins distribution channel is expected to begin offering fuel delivery system service and support later this year. — Cummins Clean Fuel Technologies, Roanoke, Texas, www.momentumfueltech.com
Ozinga Energy mobilizes compressed natural gas fueling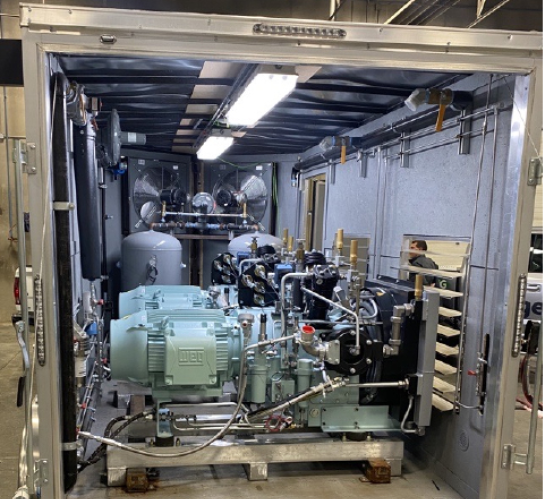 Illinois-based Ozinga Bros. Inc. launched a subsidiary in 2012 to support the compressed natural gas-powered fleet of its flagship business, Ozinga Ready Mix Concrete. Ozinga Energy has since become a leader in CNG fueling infrastructure and fleet solutions for Midwest and West Coast accounts.
Ozinga Energy's latest offering is truly innovative: the Mobile CNG Compressor Trailer. It starts with a 14-ft. enclosed trailer, innocuous on the outside but equipped to compress fuel provided the availability of a 2-in. natural gas service line running at 1-5 psi, plus 150 or 300 amps of 480V 3 Phase power for respective single or dual compressor configurations. The trailer can include up to eight on-board hoses, or tie into an existing CNG time-fill line. Each compressor makes 1 diesel gallon equivalent (DGE) of CNG fuel per minute. With one 75-hp compressor, users can fill 15 Class 8 trucks overnight, or double that amount with the dual compressor package.
The Ozinga Energy Mobile Trailer saves CNG fleet operators time and money on permanent logistics, without limiting them to a single site with fixed fueling infrastructure. Operators can move the trailer with their fleet or have as a backup for multiple sites. Ozinga Energy officials cite their newest offering as a case of "thinking outside the box" and what can be engineered "inside of a box trailer." — Ozinga Energy, Mokena, Ill., 312/432-8126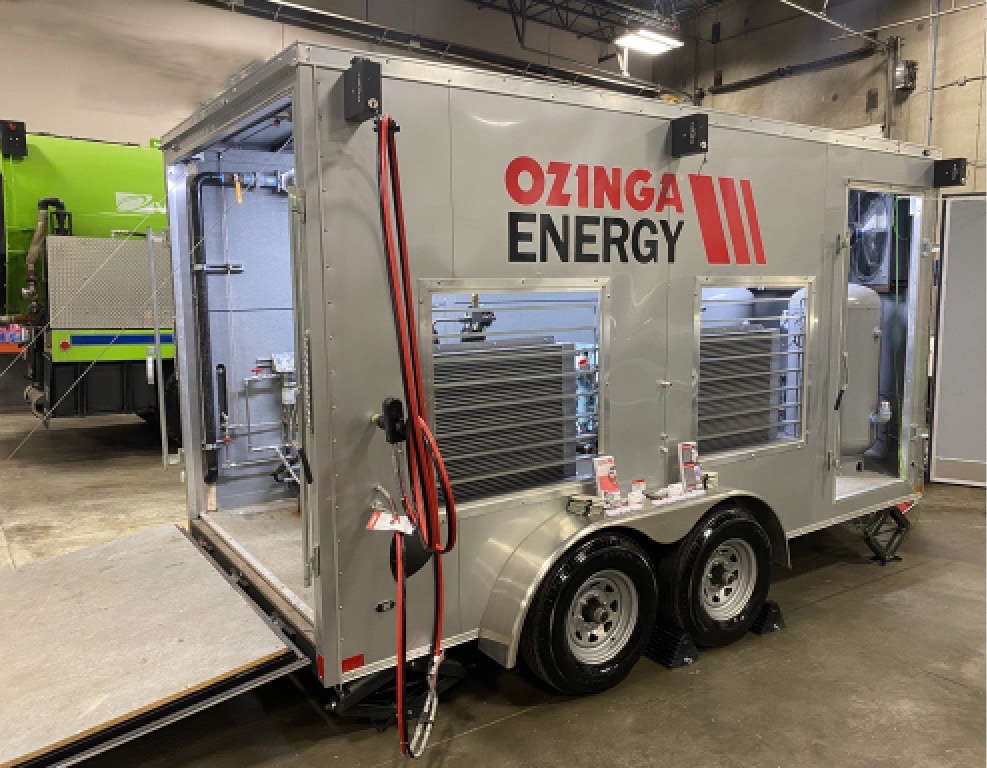 INTERNATIONAL | TELEMATICS PACKAGE

A standard factory-installed telematics device on all new builds of the Class 8 International Truck line will afford stakeholders access to vehicle data, enhanced capabilities with industry partners, and further improved integration for upfitting capabilities with equipment manufacturers. The device broadcasts data to OnCommand Connection, Navistar's connected services platform, which aggregates and converts vehicle health and performance data into actionable information. The platform has 30-plus telematics partner integrations that allow for its open architecture to connect with all makes and models of vehicles on the market.
"Our goal is to provide a seamless customer experience," says International Truck Connected Services and Analytics Vice President Scott Renier. "We first made OnCommand Connection standard on our Class 8 on-highway vehicles in 2018, providing those customers access to a full suite of connected products that help to improve uptime and lower their total cost of ownership. Extending the technology means we can now provide that same service to all customers, regardless of fleet type or size."
The OnCommand Connection service package accesses:
Over-the-air programming vehicle software updates for approved engine calibrations and performance parameter updates to improve customer uptime by keeping vehicles on the road;
Vehicle health monitoring that can help identify issues and allow customers to take the appropriate action;
GPS and geofencing functionality that allows for asset tracking and protection; and,
International 360 service communications platform that streamlines the service scheduling process and allows users to customize routine maintenance intervals based on vehicle usage.
The data insights gathered are viewable through the OnCommand Connection and the International 360 portal via desktop or tablet, and will be available through a mobile phone app to be released later this year. The app will make the technology more accessible to smaller customers across all market segments.
"Traditionally, people think connectivity and data analytics are only for big, over-the-road fleets," notes Vocational Trucks Vice President Mark Stasell. "That's not the case. Navistar believes connected technologies benefit everyone. Connectivity is our future—it will drive numerous innovations near and longer term. There's invaluable benefit to making data available to customers of all sizes and across all market segments."
The telematics device standard on HX, HV and companion International series links to OnCommand Connection and the 360 communications platform. — Navistar Inc., Lisle, Ill., www.navistar.com
TEXAS PLANT OPENING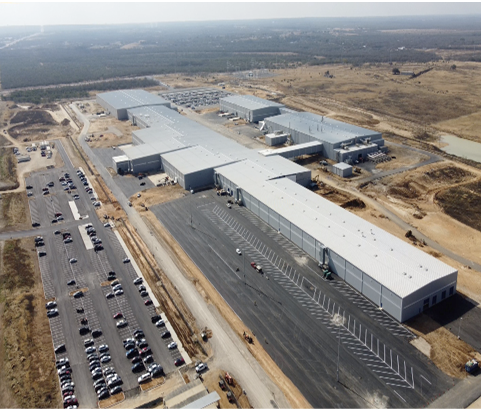 Navistar hosted a ribbon cutting event earlier this spring for its San Antonio Manufacturing Plant, "a benchmark facility leading in process optimization, real-time production management and sustainability."
"The choices we make today will take Navistar to a new level of impact in the transportation industry. That's why we are laying the foundation for the future in this plant, because the future begins with the decisions and investments we make today," said Executive Vice President, Global Manufacturing and Supply Chain Mark Hernandez. "The San Antonio plant was meticulously planned and constructed to highlight our many manufacturing strengths and build toward future manufacturing goals surrounding Industry 4.0 technologies, quality and sustainability."
The nearly 1 million-square-foot manufacturing facility includes body, paint and general assembly shops, plus logistics center equipped to produce Class 6-8 trucks, including electric vehicle models. The plant is a sustainable baseline facility in site, building and process practices, to serve as a benchmark for Navistar's manufacturing network. "We are taking actions to reduce the environmental impact of our manufacturing operations with the goal of becoming zero carbon as we transform the future of transportation," Hernandez affirmed.
The San Antonio Manufacturing Plant was constructed with efficient energy use goals in mind. As part of the U.S. Department of Energy's Better Buildings, Better Plants Program, Navistar is committed to reducing energy intensity in San Antonio and other U.S. plants by 20 percent through 2030. LED fixtures illuminate the plant, consuming 75 percent less power than conventional lighting, while translucent panels allow natural light to brighten the indoor space as a supplement to the lighting system. The building also includes energy-efficient wall paneling to better regulate indoor temperatures.
The plant will serve as Navistar's benchmark operation to eliminate waste, improve product quality, drive operational efficiency, and reduce cost and time. Industry 4.0 principles have been incorporated to connect digital and physical technologies, allowing the plant to be more connected and easily make data-driven decisions in real time.
LOCKNCLIMB | TRUCK LADDERS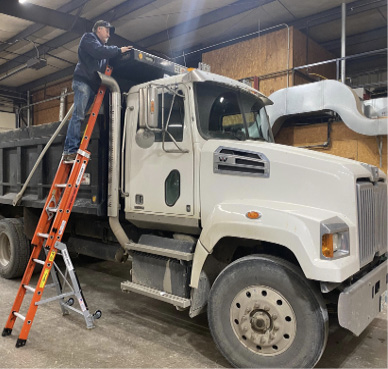 Company's ladders have been proven to prevent costly accidents and injuries to service technicians during repair and maintenance on mixer and dump trucks, along with most heavy work vehicles. The ladders are OSHA rated 300-lb. Special Purpose and have been engineered to meet all applicable ANSI standards. Made one at a time by skilled U.S. craftsmen with 6061-grade industrial aluminum plate, the ladders feature patented aluminum support bases, hard rubber wheels for easy rolling and brass feet for spark-free sliding. — LockNClimb LLC, Independence, Kan., 620/577-2577; www.truckingladders.com
PETERBILT | PACCAR TX-18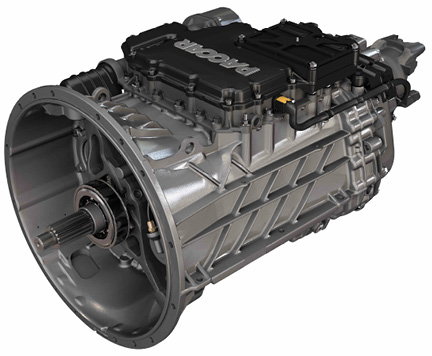 The all-new Paccar TX-18 and TX-18 Pro automated transmissions are available in Peterbilt Models 567, 389 and 579 equipped with Paccar MX power. The TX-18 was built from the ground up to provide efficiency and uptime for a superior driver experience, product engineers contend. Designed to work exclusively with the Paccar MX-11 and MX-13 engines, they add, it is the perfect workhorse for a variety of vocational applications including heavy haul, dump truck, and cranes. The combination of the TX-18 transmission and the MX engine provides up to 1,850 lb.-ft of torque and is rated up to 140,000 lb. GCWR.
The transmission features a high-pressure diecast aluminum casing, one-piece serviceable input shaft, helical gearing, precision lubrication system, extreme duty clutch and an integrated clutch housing. It can be configured with an optional transmission cooler to help keep it operating efficiently in the most demanding of workloads. The transmission features four application-specific calibrations and comes standard with two power takeoff openings capable of a combined 160 hp.
The TX-18 exhibits low-speed maneuverability with small, even gear steps through all 18 forward speeds to ensure a smooth driving experience. A high-speed reverse with up to six configurable speeds is available in the TX-18 Pro to increase productivity in demanding applications. An automotive-style, stalk-mounted shifter with Drive, Neutral, Reverse and Manual modes ensure the operation of the TX-18 is simple and intuitive.
"The integration of the new TX-18 and TX-18 Pro with Paccar's line of MX engines further enhances our ability to provide customers the lowest cost of ownership, best-performing trucks in the industry," says Peterbilt General Sales Manager Jacob Montero. "The gains in productivity, efficiency, uptime and the ease of use for drivers make these transmissions a must-have." — Peterbilt Motors Co., Denton, Texas, www.peterbilt.com
EATON | LOW-VOLTAGE COMPONENTS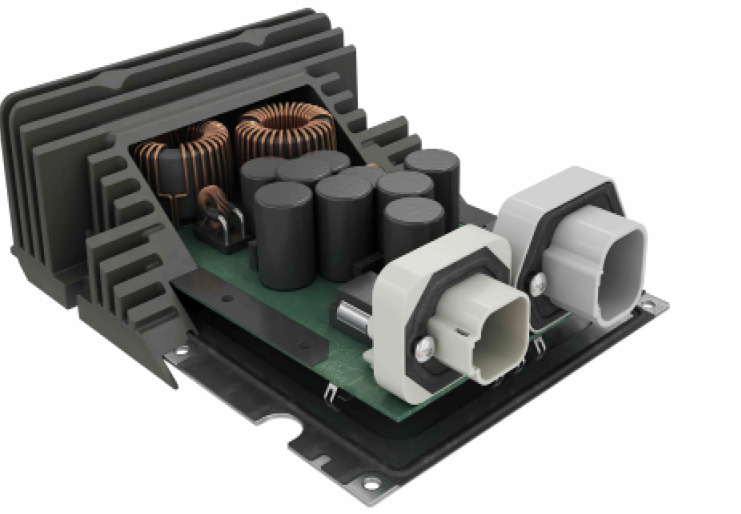 Eaton Vehicle Group offers an array of low-voltage electrical components that fulfill growing power and control requirements, including conversion, protection and distribution for commercial and off-highway vehicles. The components are designed to withstand harsh environments and can be easily integrated into a vehicle's existing architecture based on fleet requirements.
The manufacturer's Omnex Trusted Wireless mobile control solutions for mixer trucks, cranes and heavy machinery contribute to safety and efficiency on construction sites. By enabling remote vehicle or machine operation, they reduce the amount of personnel on-site and keep workers out of harm's way.
Construction equipment manufacturers are also adopting higher-voltage architectures, including 48- and 56-volt systems, to run more advanced, power-consuming equipment. While this fulfills power requirements, there is still a need to run the vehicle and lower voltage systems, such as lights and communication equipment. Power conversion and inverter solutions are used to reduce or increase voltage as needed. Power protection solutions work alongside the conversion devices to assure proper voltage and current levels are present at the vehicle electrical components.
"We make it easy for customers by offering a full line of low-voltage electric technologies," says Eaton eMobility North America Vice President Pratik Trivedi. "Competitors provide those products individually, but we supply a full line of commercial vehicle and off-highway electrical solutions." — Eaton Vehicle Group, Galesburg, Mich., www.eaton.com
CEMEN TECH LOGS ACCU-POUR FLEET MANAGEMENT PLATFORM MILESTONE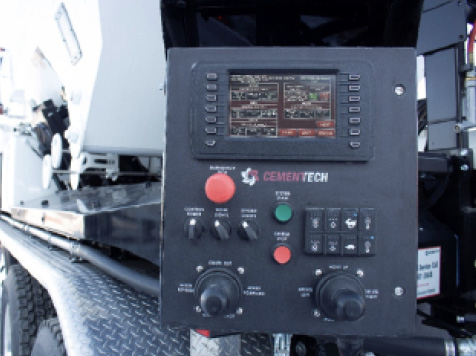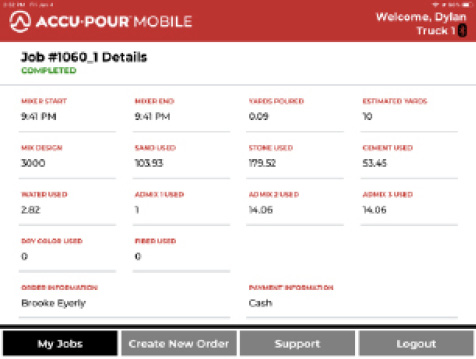 Cemen Tech recently saw its Accu-Pour software platform for volumetric mixer truck fleet management surpass 500,000 yd. of concrete. Office and Mobile software, two major components of Accu-Pour, connect office, dispatch, and drivers in real-time. The platform is compatible with any volumetric mixer and helps users blend the big picture with routine details. Accu-Pour tracks every yard of concrete placed and affords immediate access to production data, in turn driving proactive decisions based on actual and current company data.
"Every day, volumetric mixers are pouring concrete but very few are using modern technology to run their business. At our core, Cemen Tech is a technology company, and we are leading the way in adding smart technology to the volumetric concrete industry," contends CEO Connor Deering. "Downtime and waste are killers for most businesses. That is why we offer technology to help reduce downtime with your equipment and more accurate tracking of materials." — Cemen Tech, Indianola, Iowa, 515/962-6782; www.accu-pour.com
CONTINENTAL | PLATFORM AHD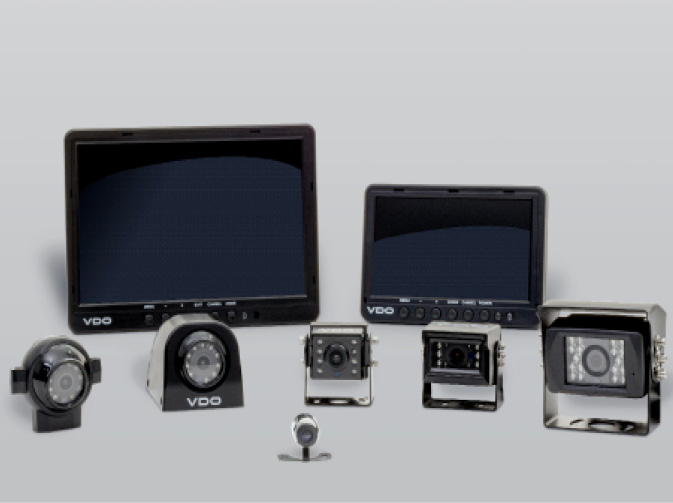 Company's new Platform AHD (Analog High Definition) Camera Systems are designed to enhance the driver's view and improve fleet efficiency. Built to support drivers when navigating complex conditions, including busy construction sites, the systems provide extended visibility needed for a better view of vehicle surroundings.
Platform AHD features 2-mega pixel cameras with high image clarity; infrared lights for improved night vision; plus, rear, front and side view cameras. Seven- or 10.1-in. displays work with both CVBS and AHD camera inputs. Video can be stored in a DVR for future driver analysis and training.
The AHD Camera Systems can integrate seamlessly with Continental ultrasonic sensors to deliver back up detection that warns the operator of obstacles behind the vehicle. The cameras feature waterproof, dust tight IP 67 enclosures. The systems are available with dual voltage (12V and 24V) and offered in different cable sizes. — Continental Commercial Vehicles and Services/Vehicle Networking and Information, Allentown, Pa., 484/705-1909; www.continental.com
LUMILEDS | HEADLIGHT LAMPS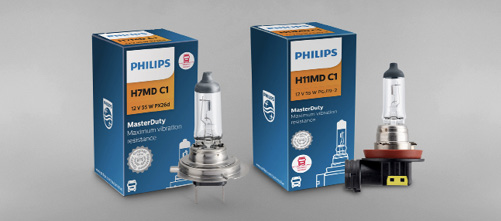 Philips MasterDuty headlight bulbs are built to deliver long-lasting performance on Class 8 commercial vehicles, and equipped to provide the ultimate protection against mechanical shock and easily handle the extreme stress and vibration of rough terrain and damaged roadways.
Built to resist up to 13G forces, the bulbs' key benefit is exceptional vibration resistance. They have been engineered to withstand a wide range of vibration frequencies and feature a high-performance glass construction that easily handles extreme temperature and pressure changes. MasterDuty headlight range includes seven models for forward lighting applications. — Lumileds, Farmington Hills, Mich., 866/254-6989; www.lumileds.com
RENEWABLE LUBRICANTS | HYDRAULIC FLUID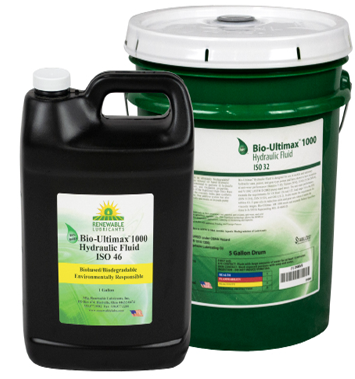 Bio-Ultimax 1000, readily biodegradable biosynthetic formulas perform like mineral oil-based hydraulic fluids, but are environmentally friendly and contribute to fleets' sustainability goals. With oxidation performance comparable to full synthetics, product engineers note, Bio-Ultimax is one of the safest hydraulic fluid series for the environment.
Ideal for stationary or mobile environments, Bio-Ultimax super high Viscosity Index (VI) fluids are proven in systems up to 10,000 psi and those with ultra-fine filtration. To ensure performance and long life, Renewable Lubricants developed the stringent IsoGreen filtration standard that meets or exceeds the Rexroth pump guidelines for hydraulic fluids. Non-toxic, zinc-free formulations contain no heavy metals.
With a higher VI than synthetics, Bio-Ultimax 1000 has improved thermal shear stability and increased load capacity. A direct replacement for mineral oil based hydraulic fluids, it suits hydraulic systems requiring low toxicity, biodegradability, and non-bioaccumulation properties.
The fluid is formulated to perform in high- and low-pressure hydraulic systems that require anti-wear, anti-rust, anti-oxidation and anti-foam properties. Highly inhibited against moisture and rusting in both fresh and sea water, it passes ASTM D-665 Turbine Oil Rust Test A and B sequences. — Renewable Lubricants Inc., Hartville, Ohio, 330/877-9982; www.RenewableLube.com
KENWORTH TRUCK | 18-SPEED AUTOMATED TRANSMISSION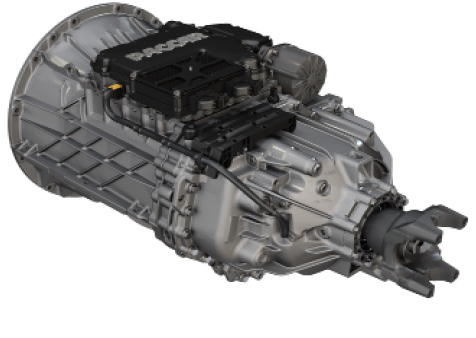 New Paccar TX-18 and TX-18 Pro automated transmissions are available on the manufacturer's T880, W990 and T680 models running Paccar MX-11 or MX-13 power. Both of the 18-speed transmissions build on the efficiency of the Paccar TX-12, which was designed to be the most efficient on-highway automated transmission. The TX-18 offers additional capability for on-highway, heavy haul transport. The TX-18 Pro adds enhanced capabilities and unique features for extreme duty vocational applications and other select off-highway applications. The new transmissions maximize the potential of all MX engine ratings, with maximums of 510 hp, 1,850 lb.-ft. of torque capacity and 140,000 pounds of gross combination vehicle weight.
"Drivers will appreciate the versatility of the Paccar TX-18 and TX-18 Pro that deliver excellent low speed maneuverability. Both seasoned and new drivers will benefit from tailored configurations that help them get the job done, and new performance calibrations that expertly control transmission shift points," says Kenworth Assistant General Manager, Sales & Marketing Jim Walenczak.
The new 18-speed ratio provides smooth shifting and consistent performance in a wide range of operating applications, he adds. The TX-18 has three reverse gears, and TX-18 Pro has six, which pairs well with deep axle ratios. Multiple reverse gears allow for improved maneuverability around job sites. Both transmissions offer expanded high-capacity PTO functionality with an eight-bolt bottom mount and four-bolt rear mount for a combined 160-hp capacity at 1,400 rpm. The transmissions are equipped with an internal oil temperature sensor, readings from which appear on the in-cab 15-in. digital displays. — Kenworth Truck Co., Kirkland, Wash., www.kenworth.com; www.paccarpowertrain.com
LINK DEDICATES MANUFACTURING, TRAINING, ENGINEERING FACILITIES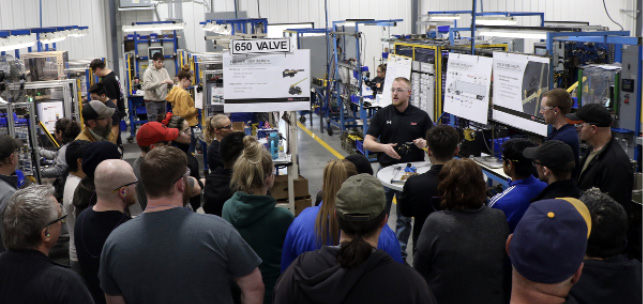 Link Mfg., Ltd., a key player in specialty-engineered suspensions, suspension controls and air management products, and Tier-1 supplier to major heavy-duty commercial truck manufacturers, officially opened two new facilities last month: The 50,000-sq.-ft. Plant 4 manufacturing and training building, located on the company's Sioux Center, Iowa, campus; and, the new Suspension Controls Engineering Center in Grand Rapids, Mich.
"The new facilities reflect the growth and momentum Link has continued to enjoy leading up to and following its recent suspension controls product line acquisition," said President Jim Huls. "Link's strategic focus on suspension, suspension controls and specialty products helped drive our expansion initiatives, and these new spaces will enable us to comfortably manage the positive impact as we continue our 42-year evolution."
Plant 4 in Sioux Center is now the manufacturing core for all of the company's mechanical and electronic air management products, including its SmartValve Electronic Height Control Systems and Smart Air Management Systems dynamic air suspension control technology. Targeted sectors of the building are temperature controlled, which is critical for the precision manufacturing and assembly of many of the air management systems' sensitive valve and electronic components. The light manufacturing space also offers Link the broad flexibility of being able to configure new cells for other products as the need arises. Plant 4 will also serve as a new consolidated shipping and receiving hub, continuing to leverage Iowa's location along major corridors.
The Suspension Controls Engineering Center will help focus a new segment of the product engineering team specifically engaged in developing and expanding Link's growing suspension control technologies. Expert staff at the new location will also be engaged in the integration of the company's SmartValve and SAMS air management systems with Link's Road Optimized Innovations technology. Team members' expertise in electrical engineering, software development, testing and sales will help broaden Link's overall capabilities and effectiveness. The Grand Rapids location also puts Link in close physical proximity to a rich industry talent pool, as the company continues to expand its focus into the whole-vehicle suspension control segment of the commercial vehicle market. With its Michigan assets online, Link will continue to expand its reach into heavy-duty truck, tractor, and trailer markets.
The new Suspension Controls Engineering Center will also enhance testing capabilities. Already certified to IATF 16949 standards at its Iowa facility, Link's Michigan location will focus on new product prototype testing and validation. — Link Mfg., Sioux Center, Iowa, 800/222-6283; www.linkmfg.com/dealers
WESTERN FUEL | PORTABLE TANKS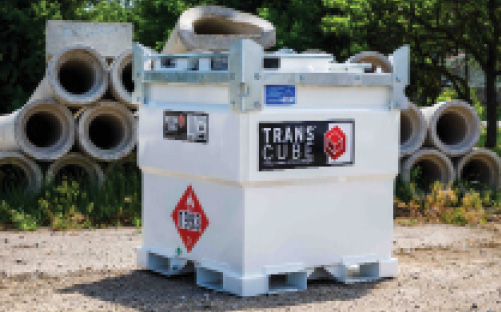 FuelCube and TransCube tanks are available through company's www.store.western-global.com site. "We are looking forward to seeing the ease and success of how this online option can improve the logistics of our customers' operations," says Western Global Americas Vice President of Sales John Cleary. "This is a convenient resource, allowing them to order at any time, day or night—whenever they are ready to make their purchase."
The TransCube features 110-percent fluid containment and is department of transportation approved to provide safe transport anywhere fuel is needed. With features like a lockable equipment cabinet, galvanized frame and four-way forklift pockets, the model can save time and money while reducing risk on busy jobsites. TransCube Global tanks are manufactured in 132- to 1,204-gal. sizes.
A compact and economic stationary model, the FuelCube is proved in the field for onsite supply and refueling in construction. It features an integral lockable equipment cabinet for security; double-walled and weatherproof containment; stackable corner brackets for better storage; and, two-way forklift pockets for easy mobility when empty. The FuelCube is available in 243- to 1,862-gal. sizes. — Western Global, Troy, Mich.; www.western-global.com
XL | SIDE DUMP
Aggregates-grade XL Side Dump trailer is available in two- (XL 60 SD2-37) or three-axle (XL 60 SD3-37) models, both with a 1/4-in. thick AR450 steel tub offering 23 cu. yd. water level and 33 cu. yd. strike-off capacities. Hooks on each side ensure the tub is always secure: When one side is disengaged, the other automatically engages. An electric mesh tarp system prevents the tub from dumping when it is covered. The XL 60 SD2-37 has an overall length of 39 ft. 8 in., the XL 60 SD3-37 stretches 41 ft. 9 in.; both trailers measure 102 in. wide and feature a 60,000-lb. capacity.
"The aggregate industry works with tough materials and needs a tough product to handle them," says XL Specialized Trailers Director of Sales Tom Hiatt. "Our team invested significant research and development efforts into designing the new XL Side Dump. The result is a durable product that incorporates no-nonsense safety measures to ensure productivity on the job site."
The trailer is equipped with six lights per side, rubber mounted LED lights and dual intensity center cluster lights. While many custom options are available, the XL Side Dump is offered in black, International Harvester red or new CAT yellow. — XL Specialized Trailers, Manchester, Iowa; www.xlspecializedtrailer.com