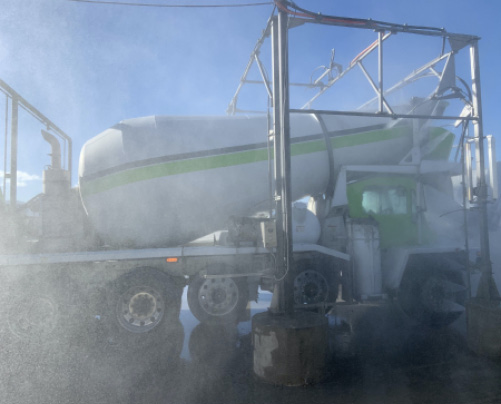 Sioux Corp. has leveraged its long history in industrial cleaning and concrete batch plant equipment to deliver ready mixed producers a mixer truck cleaning and rinsing station machined and piped to cover the drum, chutes, and charge hopper.
The Sioux Truck Wash System is built and programmed to keep drivers safe in the cab and execute a quick, thorough cycle without adding excess water to the load. Its primary components are a stainless steel tower, power unit, and high-pressure hoses. The tower includes truck sensors equal to extreme environments; twin rotary wash arms for the hopper; two additional rotary arms for drum rinse; plus, separate spray bars for soap or cleaning agent application and high-pressure rinsing.
The power unit provides 1,200 psi at 40 gallons/minute of cleaning power, and is equipped with industrial grade high-pressure pump, valves, hoses, and fittings. A 125-gal., stainless steel float tank with float valve and level switch protect the pump from low water conditions. A NEMA 4 watertight electrical enclosure with touchscreen display and PLC control the wash process. The unit ships standard with automatic winterization/draining system for the piping and nozzles after extended idle time to prevent freezing in cold climates.
Proprietary sensors start the cleaning process as the truck enters the wash tower. The top two rotary spray arms with high pressure nozzles clean the hopper, adding a minimal amount of water to the mixer drum. A series of spray bars apply soap to the truck; additional rotary spray arms and a series of high-pressure spray nozzles complete the rinse.
Sioux product engineers underscore these Truck Wash System benefits for ready mixed concrete producers:
Reduced injury risk. Drivers do not have to leave the cab and climb up to wash the hopper manually;
Consistent loads. The same, controlled, minimal volume of water is added to the drum, from one truck to the next;
Efficiency. Truck is clean and ready to go in approximately 60 seconds;
Flexibility. System suits both front and rear discharge mixers;
Quick, easy access. All flow control valves and sensors are at ground level;
Simple operation. Power unit touchscreen controls the system;
Long life, low maintenance. Constructed with stainless steel parts, severe environment truck sensors, plus industrial grade pump, valves, hoses, and fittings;
Operator peace of mind. Automatic pipe and nozzle draining after extended idle time prevent freezing; low water level safety switch in the stainless-steel float tank protects the high-pressure pump; and, 
Cleaning options. Standard unit includes detergent or soap container for enhanced cleaning plus wash gun and high-pressure hose for manual cleaning. — Sioux Corp., Beresford, S.D., 888/763-8833, https://sioux.com/truck-wash