A new U.S. General Services Administration standard targeting low embodied concrete on federal projects will require contractors to provide environmental product declarations (EPD), where available, from ready mixed suppliers. It compels procurement of concrete exhibiting production stage greenhouse gas (GHG) emissions at levels 20 percent below national averages for compressive strength classes. EPDs express the GHG metric as global warming potential, measured by kilograms of carbon dioxide equivalent per cubic meter.
Along with an asphalt mix companion, the low carbon concrete standard reflects marketplace perspectives GSA gleaned from producers, trade associations and local government agencies. "The feedback is proof positive that combating climate change is also an opportunity to boost American innovation," says GSA Administrator Robin Carnahan. "We were impressed by the industry's overall 'can-do' response to our requests for information, and by the fact that over 44 percent of the manufacturers that responded were small businesses."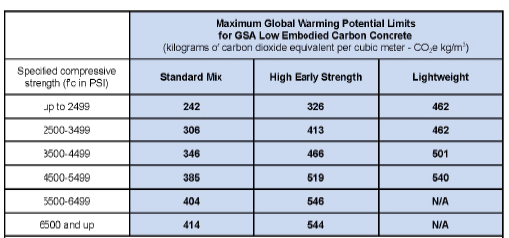 GSA posted separate requests for concrete and asphalt information in February, garnering input from 130-plus industry respondents. Among concrete producers, 80 percent reported that they are already supplying low embodied carbon material; 60 percent have developed mix- or product-specific EPDs; and, 55 percent note that low embodied carbon concrete costs are about the same as conventional mix equivalents. Among asphalt producers, more than 80 percent note the use of recycled asphalt pavement, 60 percent use mix technology to reduce environmental impact, and, 50-plus percent find environmentally preferable mixtures cost about the same or less than conventional equivalents.
The standards affect GSA contracts requiring 10 or more cubic yards of concrete or asphalt. The first in the U.S. to apply beyond a local jurisdiction, they "will help strengthen American leadership in clean manufacturing, catalyze clean energy innovation, and combat climate change," the agency contends. GSA pegs annual U.S. consumption of concrete and asphalt at 500 million-plus tons and about 420 million tons, respectively, and views the materials' prevalence as an opportunity to lighten the environmental footprint of its building and paving projects. Both standards will evolve as the agency and its partners build implementation experience.
ACQUISITION ADVISORY COMMITTEE: LASER-FOCUSED ON SUSTAINABILITY
On the heels of swift Q1 2022 action compelling carbon-wise procurement, coupled with environmental product declaration submittals for building and nonbuilding contracts (note companion report), the General Services Administration plans a GSA Acquisition Policy Federal Advisory Committee (GAP FAC). Members will inform the agency on using tools and authorities to increase government-wide sustainability measures. 
GSA has $75 billion in annual contracting authority and oversees a real estate portfolio with upward of 370 million square feet of rentable building space. "We have a responsibility as the world's largest [construction] buyer to solicit ideas from top experts in both the public and private sector about how we approach acquisition, particularly in regards to priorities like advancing sustainability," says Administrator Robin Carnahan. "I look forward to seeing how this committee can help uncover new strategies and approaches to help us buy cleaner."
The GAP FAC will comprise a cross-section of public sector and industry representatives, including those from federal agencies, state and local government, associations, and academia. They will advise GSA on emerging acquisition issues and challenges, as well as opportunities to advance the agency's role as "America's buyer." The committee's initial focus will be on driving regulatory, policy, and process changes required to increase climate and sustainability considerations within federal acquisition.
"The GAP FAC will allow GSA to tackle acquisition policy, workforce, and industry partnership challenges through expert advice from a diverse group of stakeholders," affirms Associate Administrator for the GSA Office of Government-wide Policy Krystal Brumfield. 
The GAP FAC stands to influence concrete mix designs on future federal courthouse projects. Here, GSA Public Buildings Service Region 4's Carroll A. Campbell Jr. U.S. Courthouse in Greenville, S.C. earned Gate Precast Co. 2022 PCI Design Awards/Best Government and Public Building recognition. Photo: Precast/Prestressed Concrete Institute