Sources: CarbonBuilt, Los Angeles; CP staff
Alabama's Blair Block projects an early-2023 debut for low-carbon concrete masonry units produced with the CarbonBuilt Reversa carbon dioxide capture and mineralization process. Reversa deployment stands to reduce Blair Block products' carbon footprint upward of 80 percent with no compromise on price, performance or plant operations.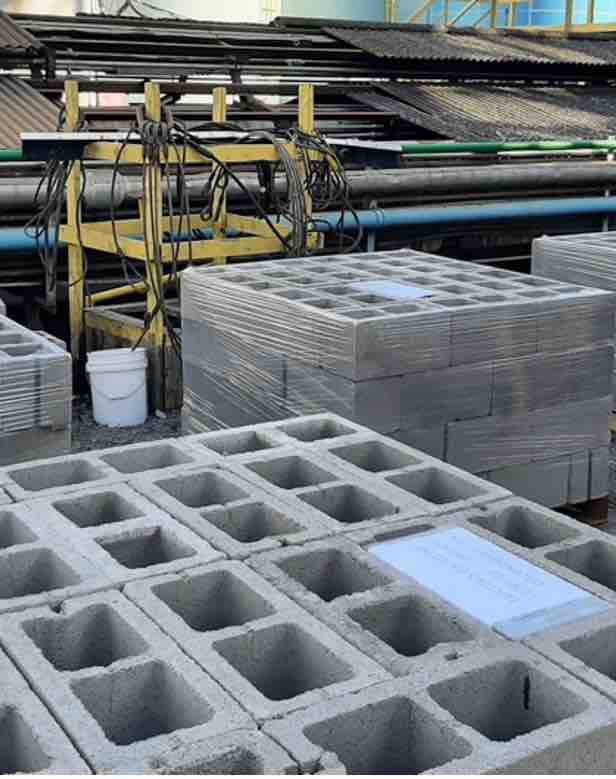 A production line retrofit at the producer's Childersburg plant outside Birmingham will enable annual output of 2.3 million 8-inch block equivalents bearing the CarbonBuilt process. Each block will permanently sequester around 0.55 lb (0.25 kg) of carbon dioxide, resulting in annual removal of about 600 metric tonnes of the greenhouse gas. In addition, approximately 2,500 metric tonnes of CO2 emissions will be avoided through changes in the masonry units' mix formulations.
"This partnership is a critical step in our journey to reduce the carbon footprint of the concrete industry," says CarbonBuilt CEO Rahul Shendure. "Our approach, which reduces the cost of concrete production while simultaneously reducing carbon dioxide emissions, unlocks the potential of the concrete industry to drive gigatonne-scale carbon removal in the coming years."
CarbonBuilt's masonry formulations replace most, or all, of the carbon-intensive portland cement with widely-available, lower-carbon, and low-cost materials, he adds. At Blair Block, CO2 emissions derived from locally sourced forestry waste will be mineralized into concrete masonry during the curing process. Stripe Climate, the first buyer of carbon removal credits accrued to CarbonBuilt technology, has purchased 2,000 metric tonnes attending Blair Block's Reversa rollout.
"We first saw the environmental potential of CarbonBuilt's technology when we participated in their pilot demonstration project at the National Carbon Capture Center," explains Vice President Matt Blair, referencing green block shipped to the U.S. Department of Energy facility in Wilsonville, Ala. for a Reversa curing cycle. "But it was the strong economic value proposition that solidified our decision to become the first commercial-scale producer to implement CarbonBuilt's technology."
Related articles
CarbonBuilt shoulders Habitat for Humanity home, builds out C-suite
Shopify steps up to CarbonBuilt carbon removal credit counter
---
MORGAN STANLEY INSTITUTE FOR SUSTAINABLE INVESTING RATES CARBONBUILT
Evidencing the commercial potential of its carbon dioxide-sequestering technology for concrete, CarbonBuilt is one of five organizations in the 2022 Sustainable Solutions Collaborative cohort under financial services giant Morgan Stanley. Along with a $250,000 award to increase the impact of their initiative, each enters a yearlong strategic collaboration with the Morgan Stanley Institute for Sustainable Investing, tapping Morgan Stanley expertise, networks and resources to help achieve scale.
Joining Los Angeles-based CarbonBuilt in the cohort are ISeeChange, a New Orleans data and artificial intelligence specialist; Notpla, sustainable packaging startup, and OceanMind, a nonprofit promoting water pollution control law compliance, both of the United Kingdom; and, Teesasis, Nigerian elementary school content provider. "Each has the potential to scale and contribute to creating the type of systemic change needed to achieve a more sustainable future," says Morgan Stanley Head of Global Sustainable Finance Matthew Slovik.
The Sustainability Solutions Collaborative was launched in 2020 to boost initiatives that would benefit from private industry or public sector partnerships. The Morgan Stanley Institute invites nominations from a wide cross section of sustainability thought leaders and practitioners. A rigorous selection process is geared to identifying innovations best poised for systemic impact and benefit from engagement with Morgan Stanley.
Blair Block will capture and mineralize carbon dioxide at rates exceeding 0.5-lb./concrete masonry unit.