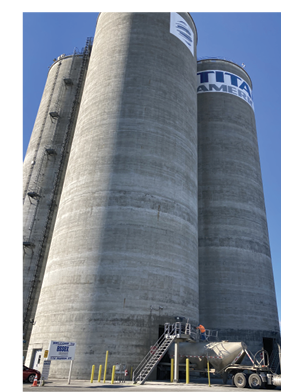 Titan America has begun offering Type IL portland-limestone cement from its Essex Cement storage and distribution facility at the Port of Newark, becoming New Jersey's charter source of the blended binder. Metro New York-New Jersey customer adoption of lower carbon alternatives to ordinary portland cement (clinker only) stands to drive the terminal's full transition to PLC by the end of 2022.
"Our customers are increasingly requesting low-carbon products. Not only are we able to meet their growing demands, but this shift is parallel to Titan Group's commitment to reduce the carbon footprint of our products," says Titan America Mid-Atlantic Business Unit President Kevin Baird.
Against the backdrop of Infrastructure Investment and Jobs Act funding and paired with the increase of building activity across a multitude of segments throughout the country, the outlook is a positive one for green solutions, he adds. Specifiers, including the transportation agencies of most states, have embraced and are increasingly requesting the lower-carbon cement.
"Our sales are quickly moving to 100 percent Type IL," affirms Titan America Sales Manager and American Concrete Institute New Jersey Chapter President Joe Tedesco. "We see an increase in demand as infrastructure money is budgeted by transportation agencies requiring construction with the use of lower-carbon cement."

BUZZI AND ALAMO MIGRATE FROM C150 TO C595 CEMENT
Consistent with corporate environmental management and Portland Cement Association Roadmap to Carbon Neutrality goals, Buzzi Unicem USA and Alamo Cement Co. CEO Massimo Toso has announced a transition from ASTM C150 Types I and II portland cement production to C595 Type IL, or portland-limestone cement.
"The conversion begins with our plants in Cape Girardeau and Festus, Mo.; Greencastle, Ind.; Maryneal, Texas; and Pryor, Okla. by the end of Q1 2022. Alamo Cement in San Antonio, Texas, will complete its transition by mid-2022, followed by our Chattanooga, Tenn. plant in Q3. And finally, our Stockertown, Pa. plant will fully convert by year end," he says.
"Type IL cement can reduce carbon dioxide emissions up to 15 percent in comparison with traditional cement. With these changes, Buzzi Unicem USA and Alamo Cement are supporting the cement industry's goal of reducing carbon emission intensity."