A visit with 2022 Precast/Prestressed Concrete Institute Chair Matt DeVoss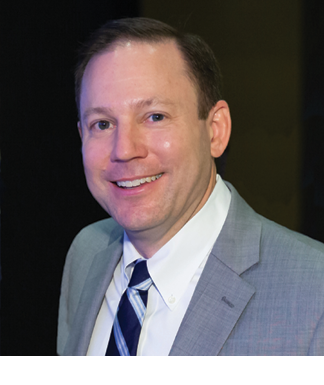 As Precast/Prestressed Concrete Institute (PCI) members embrace a booming, post-pandemic building market, a new chair brings perspective from an independent, single plant operator in the Gulf South.
Matt DeVoss may tell everyone that he is "probably the smallest producer to ever hold the chairship," but he is well qualified to take the reins. DeVoss has been in the industry for nearly 30 years, getting his start as a student PCI member in 1992 while studying engineering at Tulane University in New Orleans. He has held various leadership roles for small producers since 1999, and is currently the president of Jackson Precast, an architectural precast concrete producer in Jackson, Miss. Furthermore, he's been heavily involved in the PCI Gulf South chapter for the last 20 years.
"PCI represents more than 160 producers across the U.S. and Canada, and the vast majority of those members are smaller producers," says President and CEO Bob Risser, P.E. "While consolidation is affecting the precast industry like so many other industries, it is critical for PCI to provide value for all our members, large and small. Having Matt DeVoss serve on the executive committee and now as chair demonstrates PCI's commitment to making sure smaller producers are represented."
OUTLOOK IS BRIGHT
While the past two years has been challenging for many in the industry, there is a light at the end of the tunnel. The building market is thriving, especially the commercial side, with the demand of e-commerce and the need for distribution and warehousing. DeVoss says there are areas of the country that are particularly busy, such as in the Central region, where companies are already booked out until the end of the year. "If they had more people and more equipment, they could do more work," he adds, noting how pockets in the Gulf South are picking up steam as well.
"With transportation, I think it's a little bit of the calm before the storm. The new infrastructure bill is going to really improve the market for our bridge producers, but what I'm hearing is that the appropriations to the states haven't hit yet. From what I understand, it's coming, it's just how long will it take to get through red tape," says DeVoss. On top of the Infrastructure Investment and Jobs Act, ultra-high-performance concrete (UHPC) is starting to gain traction with designers and departments of transportation, providing additional opportunities for precast, prestressed concrete solution providers.
"PCI members continue to report strong demand in most areas of the country. For the past five years, precast concrete growth based on PCI member reported sales has outpaced overall construction spending," says Risser. "Even in 2020, precast concrete's decline was less than that of overall construction. We expect the trend of growth in precast concrete being greater than construction overall when numbers for 2021 are reported and for that to continue in 2022 and beyond."
BUILDING THE INDUSTRY
Despite the optimism, DeVoss acknowledges how challenges remain, especially when it comes to the industry's labor shortage. "Whether they are on the line, engineers, project managers, or accountants, we have a real shortage," he says. "We need people who want to come to our industry and learn about it. We have a good industry, we just don't do a good job attracting people."
To solve this dilemma, he's taking an all-hands-on-deck approach. He hopes to introduce a new PCI staff position dedicated to overseeing the workforce development initiative, as well as collaborate with the National Precast Concrete Association (NPCA) on related efforts. "If we want to continue to sustain or increase the needle, we are going to need some more folks to move that needle," DeVoss says. The focus needs to shift from selling projects to obtaining the workforce to serve them. "We have good jobs. You can make a really good living in our industry, but it's kind of hard to get past the hurdle of 'okay, so you're going to pour concrete?' Well, we have all kinds of jobs besides pouring concrete." There are currently a lot of tech opportunities in the industry that can be attractive to new graduates, but there needs to be better marketing material to help producers recruit them.
During his chair's acceptance speech at the PCI Convention in Kansas City, Mo., DeVoss also spoke about the need for workforce development tools, such as training and safety videos, that will be of particular value to small producer members lacking the resources or budgets of their larger counterparts. "We have a lot of turnover in our industry, unfortunately on the lower end, and I think that's part of [the reason]," he says.
ARCHITECTURAL CERTIFICATION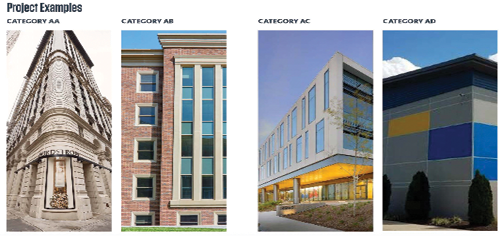 Judging by PCI's key deliverable of the past two years, what better time could there be for an architectural precast concrete producer like Matt DeVoss to step into the role of chair? Now in full implementation, the new PCI Architectural Certification program creates five categories to more accurately align the project's level of complexity, dimensional tolerances, and aesthetic requirements. Its execution for existing producers members and new applicants went into effect last October.
Starting the program was a major effort on many fronts. Precast concrete producers, the architecture, engineering and construction community, and many others watched several webinars, attended education sessions and workshops, and received educational materials about the effort for two years.
PCI member plants applied for any of the five certification categories. Independent certified auditors then visited the plants to certify, or attest, to their capabilities. The four new PCI Architectural Certification categories are: AA, AB, AC, and AD. The AT, or Architectural Trim category, carries over from the legacy program. Jackson Precast is AB certified.
"I like to look at the architectural plant certification as sort of extension of the collaborative effort between the role of the precaster and the role of the designer," says DeVoss. "We like to think a successful project is a collaboration. This certification program is kind of an extension of that. It's helping to align the expectations of the architect or designer with the producer's qualification."
Michael Zensen, vice president of CannonDesign in St. Louis, a global architecture, engineering and design firms adds his perspective from the design side: "The PCI revised certification program was a much needed revision to enhance the many benefits that precast inherently brings as a system choice. The ability to specify the project requirements and the capabilities of the precast producer, provides confidence to the design professional and most importantly their clients that the project will meet expectations."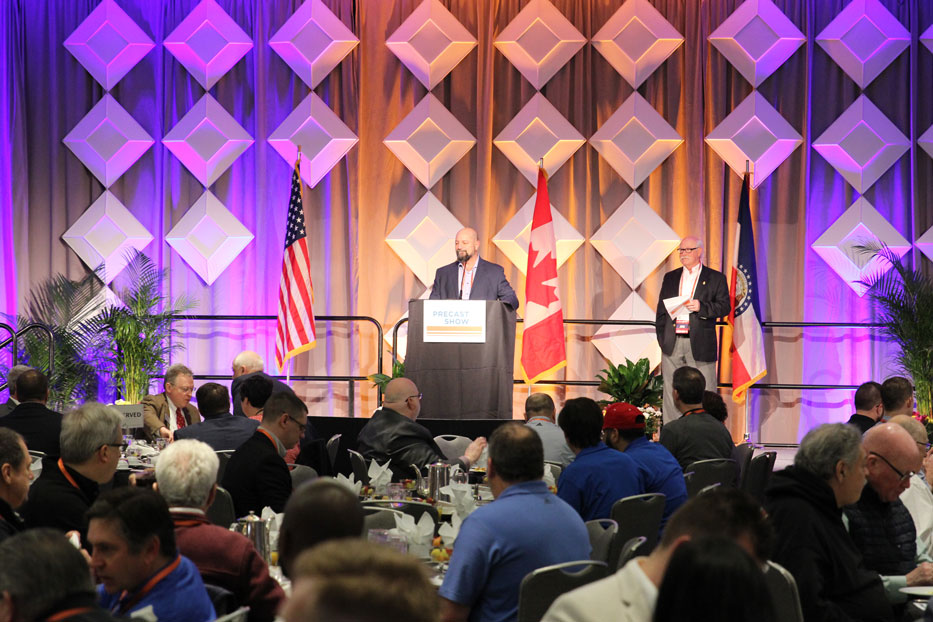 PRECAST/PRESTRESSED CONCRETE INSTITUTE At-a-Glance
Founded in 1954, PCI is the leading developer of standards and methods for designing, fabricating, and constructing precast concrete structures and systems. Membership encompasses producers, precast concrete system erectors, architects, consultants, contractors, developers, educators, engineers, materials suppliers, service providers, and students. The Institute maintains a staff of technical and marketing professionals to foster greater understanding and use of precast, prestressed concrete. It also operates the world's leading certification program for precast concrete system plants and erectors, and is an accredited American National Standards Institute Standards Developer. PCI publishes an array of technical manuals, documents, plus the PCI Journal (industry-wide, technical focus), Ascent (architecture and buildings market) and Aspire (transportation markets) periodicals. Additionally, it conducts research & development projects, along with building and transportation Design Awards programs, and is a partner with the National Precast Concrete Association in the annual Precast Show. The Institute headquarters is at 8770 W. Bryn Mawr Ave., Suite 1150, Chicago, IL 60631; 312/786-0300; www.pci.org.

PCI HIGHLIGHTS PRECAST DESIGN EXCELLENCE
The highest total precast concrete building in the world, a single-family precast concrete home on a scenic lake, and a bridge at one of the nation's busiest airports (our cover image) are some of the winning project highlights of the Precast/Prestressed Concrete Institute's 2022 PCI Design Awards. Three panels of jurors honored 29 winners and 13 honorable mentions for creative and innovative use of precast in buildings and transportation.
"While many construction professionals already realize that precast concrete is durable, resilient, cost-effective, and functional, the PCI Design Awards reminds everyone that precast concrete also is aesthetically breathtaking in many ways and in a variety of applications," said PCI President and CEO Bob Risser, P.E. "Each year, I continue to be amazed at the beauty and quality of the projects that are submitted and honored."
Winning projects were recognized at the 2022 PCI Convention in Kansas City, Mo.
Special Awards: All Precast & Sustainable
At an altitude of 14,115 feet, the Pikes Peak Summit Visitor Center in Cascade, Colo. is the highest total precast concrete structure in the world. Construction was no easy feat as narrow winding roads required the project's precast components to be limited in size and weight for delivery. The pieces could not exceed 10 feet in width, 45 feet in length, and 30,000 lbs.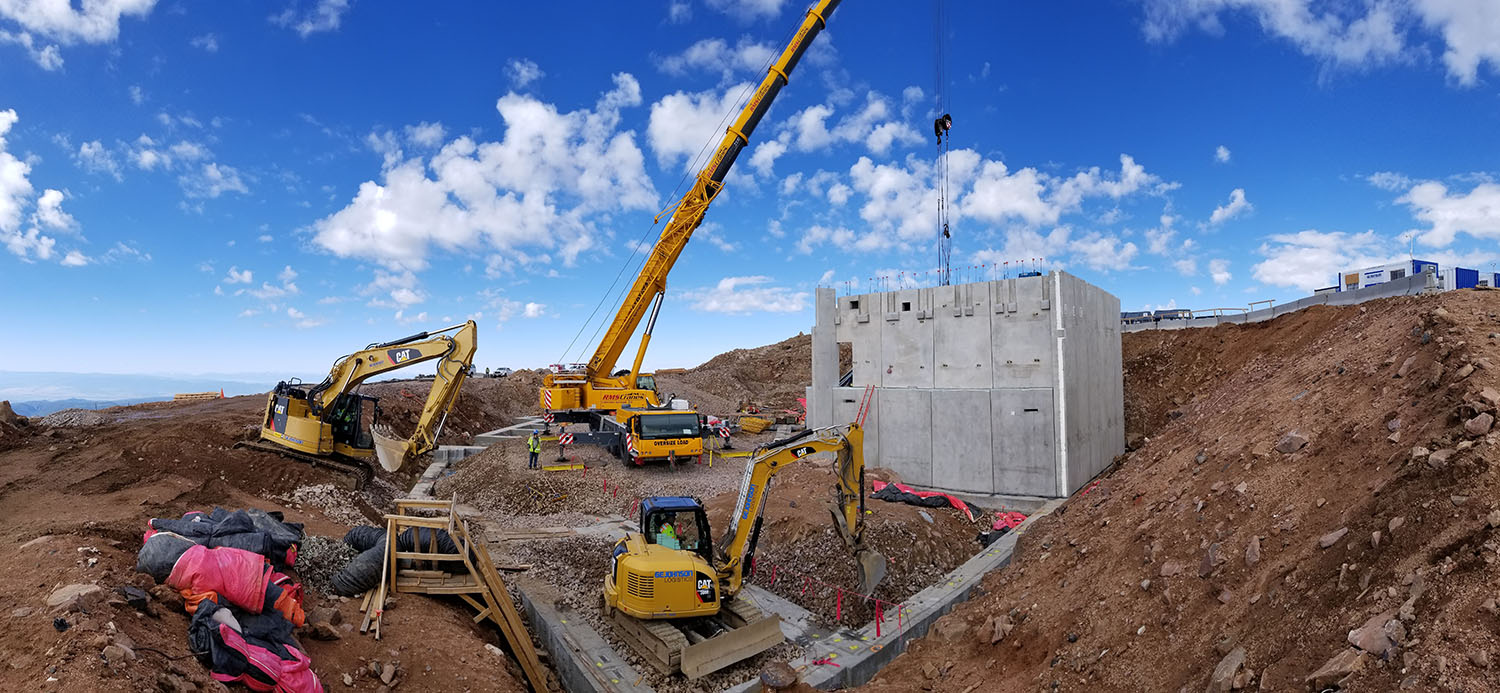 "The precast concrete walls had to retain 25 feet of rocks and earth and support a double-tee floor with 100 lbs./ft.² loading and a double-tee roof with 540 lbs./ft.² loading. It was quite a challenge to design, build and deliver," says Donald E. Palmer, (retired) precast concrete producer with Stresscon Corp. (Colorado Springs), one of the two PCI-certified project precasters, the other being Encon Colorado (Denver).
A 250-ton hydraulic crane was used for assembly based on engine efficiency and performance at altitudes more than 14,000 feet. Special lightning rods were placed in the ground and hooked to the crane to protect it and the PCI-certified EnCon Field Services (Denver) erection crew. Despite the many challenges, the project met schedule demands, and the center is now open to the public.
The project also included a second building—the U.S. Army's High Altitude Research Laboratory (HARL), a two-level, precast concrete structure designed for use by the U.S. military for high-altitude exercise, endurance training, and testing. The building's south and west walls feature a buff-colored, acid-etched finish with a formliner design that mimics the stone on the main building.
Best Multi-Family
The $685 million 11 Hoyt project transformed an entire block of Brooklyn from an outdated parking garage into an elevated green podium anchored by a 52-story condominium tower with scalloped edges rising above it.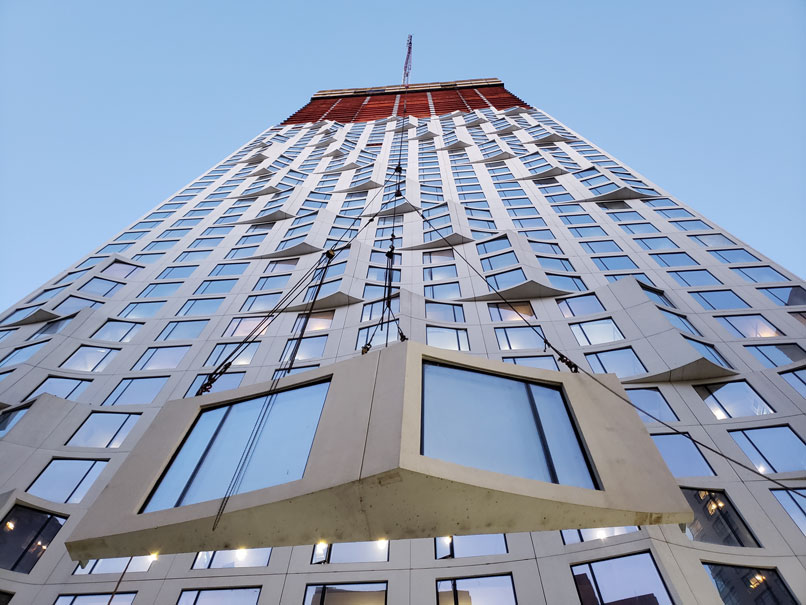 The façade panels were designed to support a live load, which is a first for the architecture, engineering and construction industry, says Weston Walker, design principal and partner for Studio Gang, New York. Each panel features warped, doubly curved exterior surfaces that create a scalloping effect, which imbues a sense of lightness and movement into the façade. The design extends as deep as 3 ft. 9 in. on the exterior, with interior bays as deep as 3 ft., allowing for interior benches in living rooms and bedrooms.
These wave elements were achieved by casting the panels on plywood bent onto ribs cut with computer numerical controlled machinery to form the complex geometry. The units were then installed on-site to identical floor-plate and column layouts to accelerate erection. In fact, PCI-certified MidWest Steel Erectors, Detroit, completed erection in just over two years.
"The design for 11 Hoyt really explores the limits and possibilities of precast concrete facade design," Walker concludes. "We think it brings a new and inviting space for residents to inhabit, while creating an inviting and lively facade that contributes to the dynamism of downtown Brooklyn."