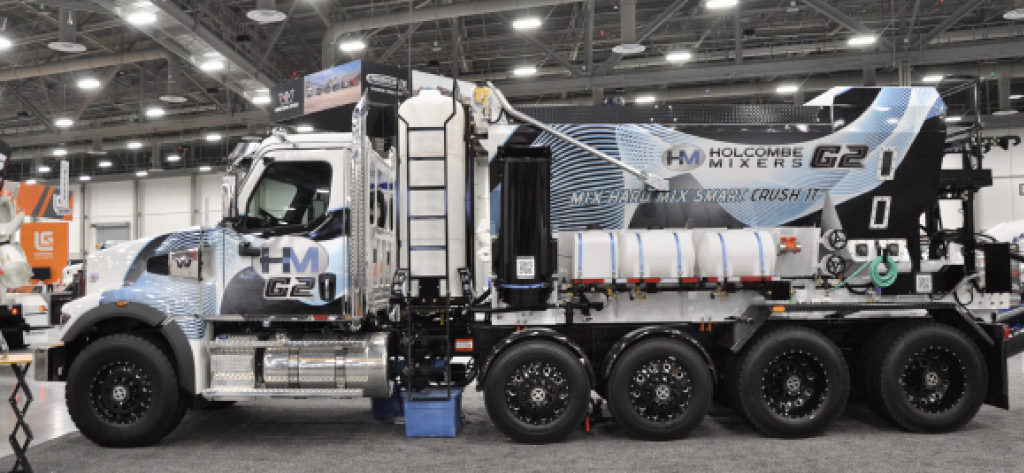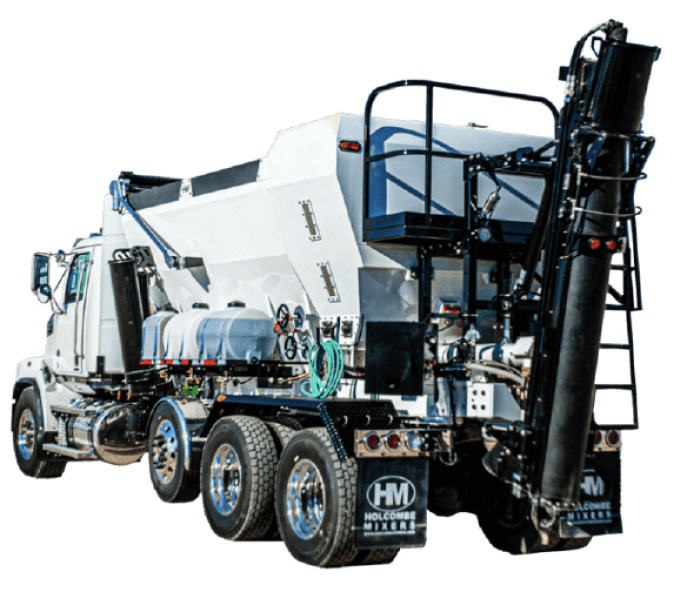 Holcombe Mixers arrived at World of Concrete 2022 with the G2, one of the Las Vegas show's major equipment introductions and representing what Managing Partner Brent Holcombe frames as "the new frontier of volumetric concrete. The G2 is breaking boundaries with the first-ever moisture control system with dynamic calibration, plus a cement speed responsive gate optimization aggregate system. These next-generation technologies, coupled with premium features including belt changes in under four hours take this mixer to another level, including a class-leading digital touchscreen to keep operations automated."
The G2 offers the most advanced features to simplify mixer operations, he adds, with Intellicrete technology anticipating concrete operators' every need. New features for the G2 include:
Intellicrete Control System. Keeps admixtures and additives consistently in sync with the concrete production rate yielding mix quality. Equipped with onscreen calibration and mix design programming in addition to a pre-pour checklist to verify batch accuracy and promote safety.
WaterSmart Moisture Control System. The first of its kind to drive concrete slump with dynamic calibration flow control and an electronic proportional water valve.
InsightFlow Cement Feed. Precision cement feed control optimizes aggregate gate positioning to provide reliable and consistent aggregate brick strike off and dispensing.
Load Sensing Variable Displacement Hydraulic System. Reduces system temperature and extends the life of components.
Patented Modular Cassette Conveyor System. Easily removable modular conveyor cassette with engineered roller chain enables belt changes in under four hours.
G2 standard features include 7-in. PLC color touchscreen; CAN Bus joystick auger and chute controls; CAN Bus button and redundant on-screen control of PTO, RPM, and all mix functions; electric roll tarp for aggregates; electric vibrators on the aggregate and cement bins; one low and two high-flow admixture systems; and, wireless remote. Options available include fiber and color dispensers, 360-degree swivel chute, and pneumatic cement fill bin with venting system. — Holcombe Mixers, Ault, Colo., 970/221-5007; www.holcombemixers.com