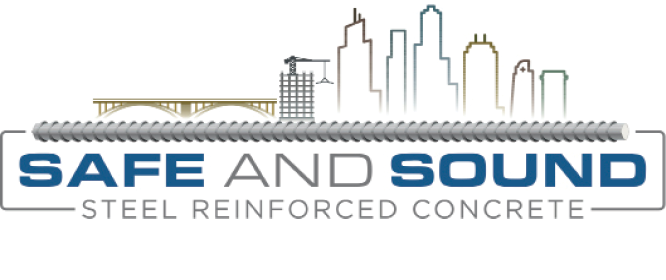 The Concrete and Reinforcing Steel Institute has launched a landing page, anchored by the new "Safe and Sound: Steel Reinforced Concrete" tagline. The page provides a quick snapshot of the world's most common building material and acts as a vehicle to address, inform and respond to pressing industry topics. Several issues have been addressed with the page launch, and CRSI officials plan additional content of use to architectural, engineering, and construction (AEC) professionals, plus their clients.
"The creation of the 'Safe and Sound: Steel Reinforced Concrete' tagline and corresponding landing page allows us to provide quick responses and commentary to issues such as corrosion protection/durability, sustainability, as well as claims/rebuttals to competing materials," says CRSI CEO Danielle Kleinhans.
A social media and email awareness campaign kicked off earlier this year, allowing the Institute to reiterate the inherencies of steel reinforced concrete design and construction: resiliency, durability and sustainability. CRSI also has a nationwide network of Region Managers that promote the benefits of building with steel reinforced concrete to the AEC community and serves as a technical resource on design and construction. — www.safeandsoundsrc.com

SURVEY FINDS SKILLED CRAFT SALARIES ON THE RISE
Skilled craft professionals' wage trajectory continues upward, according to the NCCER 2022 Construction Craft Salary Survey—a sampling of 135-plus commercial, industrial and residential construction contractors employing nearly 340,000. 
Individual craft areas reported provide average annual salaries, not including overtime, per diem, bonuses or other incentives. Of the 41 construction positions surveyed, average annual salaries ranged from $49,920 to $98,965. Project supervisors and project managers topped the list, earning over $90,200 and $98,900 respectively. Professions earning more than $65,000 include HVAC technician, commercial electrician, instrumentation fitter, boilermaker, industrial maintenance mechanic, pipefitter, rigger, millwright, industrial electrician, pipe welder, surveyor, construction site safety technician, electronic systems technician, mobile crane operator, plumber, combo welder, tower crane operator, instrumentation technician and power line worker.
Additionally, eight more craft areas made more than $60,000 per year. The most significant pay increase in the 2022 survey involved power line workers, where wages are up 25 percent from previous years, with plumbers a close second at +23 percent. Since many craft professionals receive additional pay incentives, NCCER reports, their take-home pay is typically much greater than the incomes reflected.
The Construction Craft Salary Survey is one of many resources Florida-based NCCER and its Build Your Future initiative offer to promote construction careers and help build a pipeline of qualified craft professionals. Complete results are available at www.nccer.org/research.