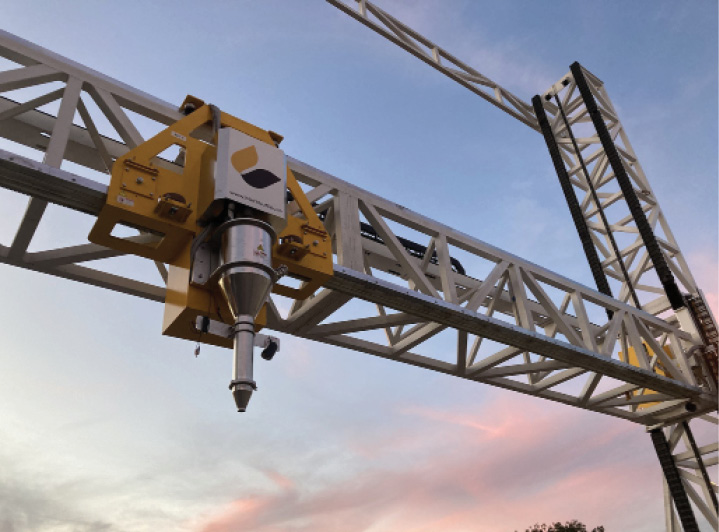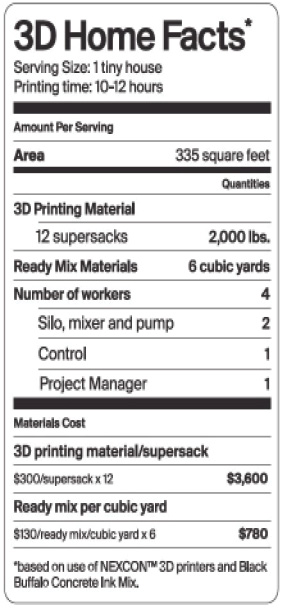 Black Buffalo 3D, a global provider of construction-scale printers and proprietary structural concrete ink, demonstrated the capabilities of its 40-ft. Nexcon model at February's International Builders' Show in Orlando. The device occupied much of a 60- x 80-ft. Orange County Convention Center outdoor booth, placing a low-slump, fine aggregate mix layer by layer to yield load-bearing wall assemblies. 
"The premier home-building show in the U.S. gives us a great opportunity to demonstrate our game-changing technology to developers and contractors," said Black Buffalo 3D CEO Michael Woods. "3D printed buildings using our equipment and materials are stronger, safer and more cost effective than any traditional construction methods. Our customers are able to build faster and create custom designs on demand."
Joining Black Buffalo 3D at the International Builders' Show were representatives from charter Nexcon user Alquist 3D, an affordable-home builder serving rural U.S. markets.
VETERAN BUILDER OFFERS WORKFORCE RECRUITMENT ROADMAP
During an International Builders' Show briefing, Home Builders Institute CEO Ed Brady dubbed the industry's chronic labor shortage as a "long-term structural crisis" and issued a "call to action for an all hands and industry-wide effort to increase training, compensation, diversity and productivity."
"We need to take a look at the traditional business model of home builders and ask ourselves whether it is properly structured to attract, retain and build the next generation of the nation's construction labor force," said Brady, a past National Association of Home Builders chairman and second-generation builder with 30-plus years in the field.
The Institute is a leading skilled labor training services provider and aligned with the NAHB and Home Depot Foundation. Its most recent Construction Labor Market Report shows that to meet the nation's housing demand, the residential construction industry will need to train and onboard 2.2 million new workers within the next three years. In Orlando, Brady laid out steps to attract more workers into home building:
Recruit more women;
Train and place more minority, lower-income and second-chance youths and adults;
Provide trade skills education and training to veterans and transitioning military;
Develop a national immigration policy that works; and,
Change entrenched and misguided perceptions of careers in construction.
On the latter bullet, he noted that a top priority for builders and their industry representatives is to reach out to educators, middle and high school students, and those who influence their decisions. "Working together to engage with local schools, we can get hands-on, trade skills training curriculum into our educational institutions that will inspire thousands more young people to pursue post-graduation work in residential construction," he affirmed.
Brady added that home builders should consider the behaviors that the labor market is displaying in this era of the so-called Great Resignation: "The nature of the workforce is changing. And it is not just about higher compensation, although builders will have to stay vigilant on that score to remain competitive in the labor market, while balancing the need to keep housing and homeownership affordable. Beyond better paychecks, people are looking for the best overall workplace environment when they choose what careers to pursue. Today's workers want greater respect, stability and opportunity."