The 26th Ready Mixed Concrete Delivery Professional Driver of the Year program recognizes three industry veterans from a pool of outstanding nominees. The National Ready Mixed Concrete Association Safety, Environmental and Operations Committee assembled a panel of judges to weigh their competence, driving skills, safety records, and colleague or customer testimonials.
The NRMCA Truck Mixer Manufacturers Bureau will present checks of $5,000 to Driver of the Year Edward Folkersma (page 43) and $1,500 to Runners-Up John Becker (below), and Adam Kasztelewicz, Jr. (page 42 this month during the NRMCA Annual Convention. As Driver of the Year program cosponsor, Concrete Products joins the Association and SEO Committee in congratulating all nominees.
---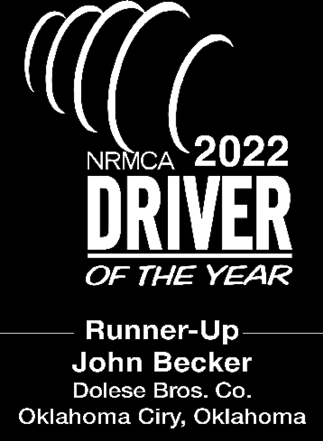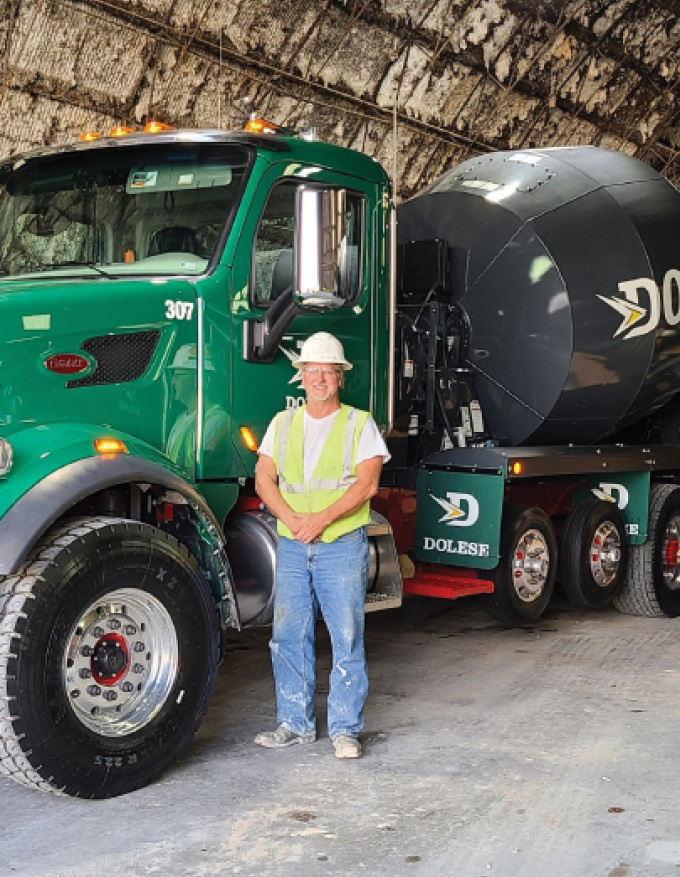 John Becker was named Dolese Bros. 2022 Driver of the Year, an honor following Dolese Bros. Safe Driving Awards he earned in 2017, 2019 and 2020. Over an 11-year tenure, he has never had vehicle accident or rejected load. During each of the past three years, he has delivered on average 6,000 yards from his Weatherford, Okla. home plant. Along with ready mixed delivery professional skills, Becker exhibits product knowledge equal to ACI Concrete Field Technician – Grade 1 certification.
"Over the years, John has received nothing but praise and compliments from customers for his positive attitude, friendly demeanor, and attentiveness," says Dolese Bros. Western Oklahoma Area Supervisor Joe Howell. "As commendable as his on-road performance has been, for a mixer truck driver the real work begins upon arrival at the construction job site. He must quickly determine the best and safest way to access various off-road locations, and how to position and unload the concrete to make it as easy and efficient as possible for the crew."
"John Becker is an excellent driver, employee and all around great guy," adds customer Jason Yoder. "On our jobsites, he's always smiling, friendly and professional. He's always proactive when pouring concrete, making it easier on the whole crew. He's looking ahead, lowering, raising, locking or unlocking the chute without having to be told … willing to help in any way he can."
"He makes our jobs much easier with his attitude and work ethic," affirms contractor Billy Karlin. "My employees are excited to see John Becker pull up on the job site; when they are happy, I am happy. He is one of the most professional drivers we've ever worked with and it is a pleasure to call him a friend. If any company had John Becker as a role model for all employees, we would love our jobs more every day!"
---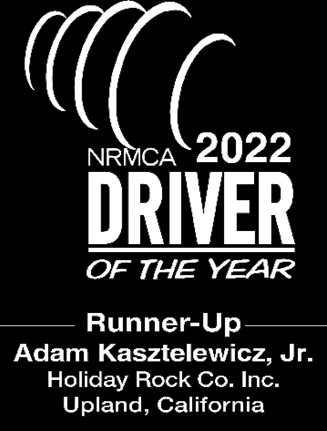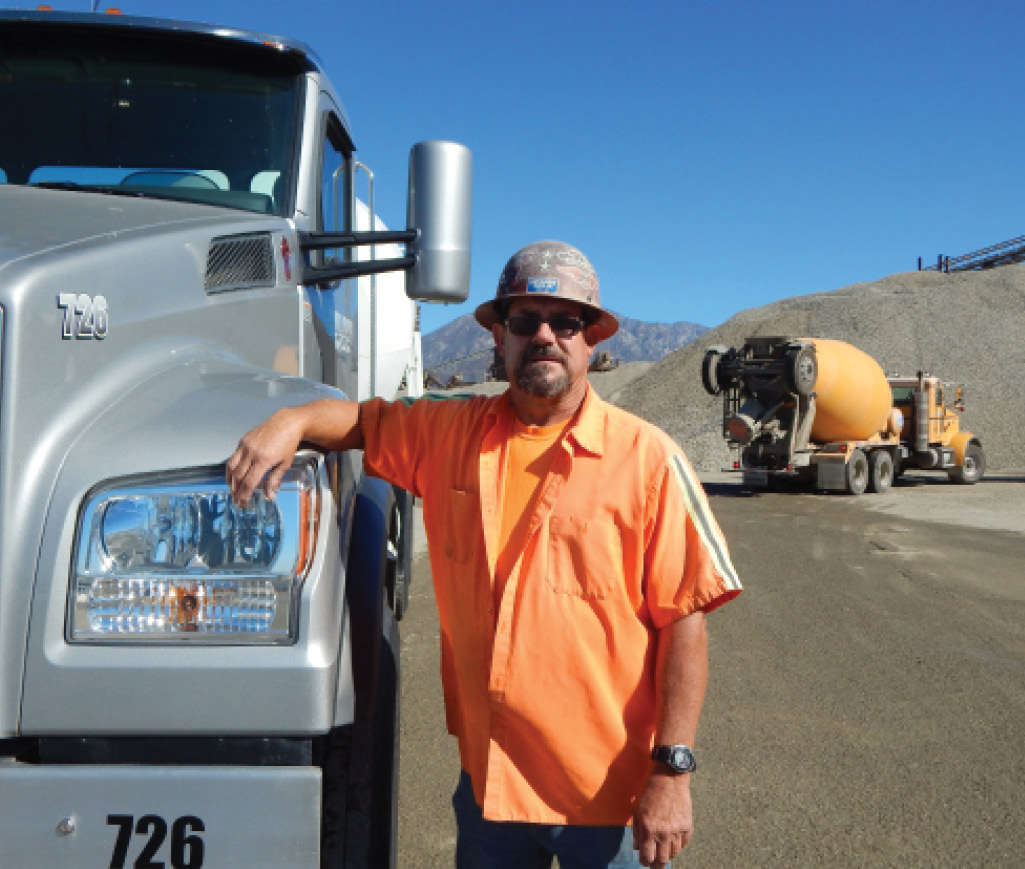 Through 36 years in ready mixed concrete—27 of them with Holliday Rock—and 200,000-plus yards delivered, Adam Kasztelewicz, Jr. has maintained a driving record free of vehicle accidents or rejected loads.
"Adam is a leader in every aspect of his job, command[ing] respect at the plant, from other drivers and at sites, where he provides a professional delivery experience for our customers but also has the fortitude to stop when things are unsafe," affirms Holliday Rock Area Manager Jeremiah Castano. "He is recognized by everyone at Holliday Rock as not only the best driver at our company, but the entire industry."
"I have had the pleasure of working side by side with Adam on many public works projects, and witnessed his ability and strength as a concrete truck driver. He is diligent in timely deliveries and correct product delivery. Crews understand the devastating impact a late delivery or incorrect product can have on our production schedule," observes Irwindale, Calif. customer Steve Gentry, who also credits Kasztelewicz for displaying "an awareness and aptitude for job safety."
"We have operated a concrete construction business for over 35 years and understand how important a good ready mix driver is to successful jobs," adds Chris Constant, general manager of Southwest V-Ditch Inc., Riverside, Calif. "Adam has a long history of safe and consistent work process when delivering to our jobsites. He will drive in a safe and professional manner and is ready with the desired slump when we are ready to discharge."
---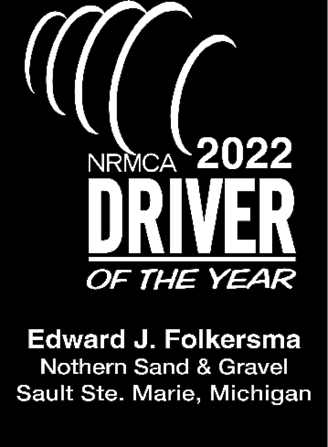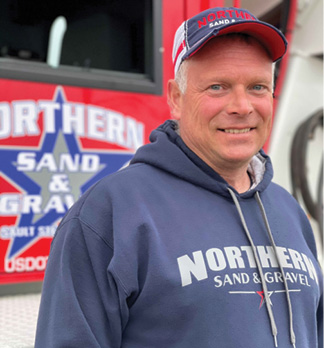 "Eddie began working for our family business in 1987, when he was just 18 years old. He has poured in the wind, rain, and snow, in heat waves or blizzards, off barges or ferries, and on remote Great Lakes islands," says Northern Sand & Gravel and VanSloten Enterprises Inc. owner Kathleen VanSloten. "He works on trucks and equipment when they break down, drives a dump truck when we're busy and trains new drivers when they arrive. He has been known to climb silos, drive the loader, get into the drum to chip, and even batches his own concrete in a pinch. He'll jump out of his truck to help a customer screed, rake, or float. We think Eddie should be the NRMCA Driver of the Year!"
The NRMCA Safety, Environmental and Operations Committee judges for the 2021 Driver of the Year entries concurred, factoring employer observations and those of customers like K&K Concrete Construction owner Dane Kuusinen. "Without the hard work and dedication of professional truck drivers like Eddie, my line of work as a concrete contractor would come to a grinding halt," he affirms. "Operating a large, complex vehicle is hardly an easy task. Ed has the skills and experience needed to handle each job safely and professionally."
"Concrete mixer drivers don't have the luxury of a 9-5 job. That kind of schedule comes with some major sacrifices to make my business and the industry successful," Kuusinen continues. "Ed's dedication to his job, from getting up at the crack of dawn for early morning pours, getting home late, long hours on the road in the hot summer months, or Michigan's cold, windy, winter months does not go unnoticed."
Darling Concrete chief Mike Darling shares his K&K Concrete peer's sentiments about the 2022 NRMCA Ready Mixed Concrete Delivery Professional Driver of the Year: "Ready mix drivers just deliver concrete, right? Not this one. He places concrete to grade every time. Coaches young men on how to place concrete. Has been asked to put concrete trucks where they don't belong. Has helped screed, rake and bull float so many times I can't count. I've been in the trade 26 years and poured in many different places. Every time Ed Folkersma shows up I know the project just got easier. If there is a Hall of Fame for mixer drivers, 'Fast Eddie' better be in it!"