New U.S. Environmental Protection Agency initiatives will provide policymakers and commercial building owners resources to reduce emissions from more than 6 million commercial and multifamily buildings. Through decades of partnership with EPA's Energy Star program, private and public building owners have significantly reduced their emissions and energy costs by improving their properties' energy efficiency and performance. Many cities and states across the country are building on this foundation to establish benchmarking, disclosure and building performance policies. The EPA initiatives will tap into this experience to help propel the adoption of effective building performance policies, among them:
Guidance to assist local and state governments in developing effective building performance policies;
Enhancements to the Energy Star Portfolio Manager tool currently used by hundreds of thousands of building owners to assess their energy, water, waste, and emissions;
Tools with which Portfolio Manager data can be used to estimate building emissions under different performance standards; and,
Greater transparency into the data for the hundreds of thousands of buildings in Portfolio Manager.
EPA's policy guidance includes analysis and recommendations of metrics, best practice resources including the Benchmarking and Building Performance Standards Policy Toolkit, and peer networks. The agency is also providing a framework for selecting metrics and setting performance levels for building performance standards. The guidance will highlight approaches that are aligned with multiple community objectives such as energy and housing affordability and will help policymakers establish baselines and performance levels that achieve efficiency and emissions goals feasibly and equitably.
Energy Star Portfolio Manager is an online energy measurement and tracking tool that serves as a trusted platform for building performance policies. Each of the roughly 40 state and local benchmarking and disclosure policies in the United States uses it as an implementation platform. The agency will continue to provide technical assistance and software updates to help state and local governments administer benchmarking and Building Performance Standards policies.
EPA is also set to release a new web-based tool that allows building owners to use their energy benchmarking data to estimate emissions under local building performance standards. Known as the Energy Star Portfolio Manager Building Emissions Calculator, it will project the impact that changes in a building's efficiency, fuel mix and renewable energy use will have on their emissions over time.
Later this year, the agency will launch a tool providing access to aggregated, anonymized energy data from the hundreds of thousands of buildings in Portfolio Manager, enabling policymakers, building owners, and others to quickly understand how energy use varies based on the type of building, where it is located, how it is used, and other factors. These initiatives support EPA's goals to accelerate emissions reductions and generate local jobs through increased energy efficiency and beneficial electrification across the residential, commercial, and industrial sectors.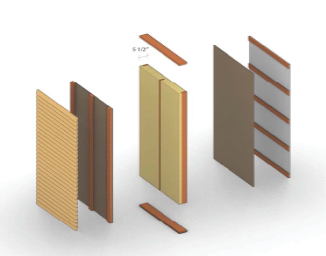 STRAW: CARBON CAPTOR
"These companies' efforts to bring their technologies to market will pave the way for advances in energy efficient construction, water reuse and environmental monitoring," says EPA Pacific Southwest Regional Administrator Martha Guzman.
"[Our] safe, durable, structural, carbon storing straw wall panel made from natural agricultural byproducts replace[s] plastic foam-filled structural insulated panels," adds Verdant Structural Engineers Principal Anthony Dente. "This will be one of the few products storing carbon in buildings with biogenic materials, which is essential to lowering the carbon emissions of the building industry."
Verdant and the eight other funding recipients were previously awarded a Phase I contract of $100,000 by EPA's Small Business Innovation Research program to develop innovative environmental technologies. Each is receiving a Phase II award of up to $400,000 to further advance and commercialize the technology.
Carbon-storing straw structural insulated panel design developed by Verdant Structural Engineers in Berkeley, Calif.
GSA TAKES STOCK OF LOW CARBON MIXES
The agency overseeing much federal building development and construction has formally issued "Request for Information Regarding Concrete: Environmental Product Declarations and Low Embodied Carbon Products," inviting EPD data and responses to a nine-point questionnaire at a dedicated portal. The General Services Administration aims to gather information on concrete producers' ability to provide mix-specific, cradle-to-gate Type III EPDs and insights on concrete exhibiting low embodied carbon characteristics. Candidate mixes for agency review are those whose embodied carbon threshold have a reduced global warming potential— expressed on EPD as kilograms of carbon dioxide equivalent per cubic meter—when measured against industry averages. 
Along with the Request for Information, GSA has engaged trade associations, architectural firms specializing in sustainable construction, U.S. Department of Transportation, U.S. Environmental Protection Agency, plus state and local governments on the topic. Low embodied carbon concrete mixes for buildings and pavements may be readily available and cost-competitive, with regional variation, the agency finds. GSA seeks to learn more regarding any barriers to the production of sustainable concrete and any opportunities to more consistently use such products in the future. The agency's survey of low carbon concrete mixes aligns with White House Executive Order 14057, Catalyzing Clean Energy Industries and Jobs Through Federal Sustainability. It compels appropriate agencies to "promote use of construction materials with lower embodied emissions."