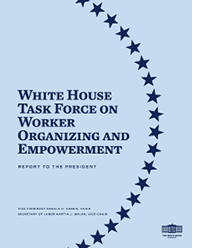 In light of White House "Build Back Better" ambitions, Associated Builders and Contractors Vice President of Regulatory, Labor and State Affairs Ben Brubeck questions a new executive order encouraging project labor agreement (PLA) mandates on federal construction contracts exceeding $35 million.
"The policy will not help America; instead, it will exacerbate the industry's skilled workforce shortage, needlessly increase construction costs and reduce opportunities for local contractors and skilled tradespeople," he contends. "This anti-competitive and costly executive order rewards well connected special interests at the expense of hardworking taxpayers and small businesses who benefit from fair and open competition on taxpayer-funded construction projects.
"Research has demonstrated that government-mandated PLAs increase construction costs by 12 percent to 20 percent, which results in fewer improvements to roads, bridges, utilities, schools, affordable housing and clean energy projects—and the creation of fewer jobs. PLAs steer contracts to unionized contractors and workers at the expense of the best-quality nonunion contractors and workers who want to compete fairly at a price best for taxpayers."
"PLA mandates are bad public policy because they effectively exclude the nearly nine out of 10 U.S. construction workers who choose not to join a union from building taxpayer-funded construction projects," Brubeck continues. "These controversial agreements hold a third of employees' compensation for ransom unless they join a union, pay union fees and prop up struggling union pension plans. PLAs also create excessive cost burdens and risks for high-performing nonunion contractors, which built more than half of the federal government's large-scale construction projects during the past decade and are more likely to be small, women- and/or minority-owned businesses."
With nearly 88 percent of the construction workforce not represented by a union and the industry facing a skilled labor shorted of 430,000 in 2021, he adds, the White House would be best served by promoting inclusive, win-win policies that welcome all of America's construction industry to realize the potential of the recently passed Infrastructure Investment and Jobs Act; increase accountability and competition; and, reduce waste and favoritism in public works project procurement. ABC and a coalition of construction industry, small business and taxpayer advocates have been asking lawmakers to oppose PLA schemes and cosponsor fair and open competition legislation (H.R. 1284/S.403) on federal taxpayer-funded construction. Similar pro-taxpayer legislation has been enacted in 24 states.
ORGANIZING PRIMER
The executive order touting PLAs set the stage for the release of a White House Task Force on Worker Organizing and Empowerment report offering upward of 70 recommendations that promote union representation pursuits and collective bargaining for public and private sector employees. Comprised of more than 20 participant agencies, offices and White House components, the task force was charged with identifying executive branch policies, practices and programs that could be used, consistent with applicable law, to raise unionization rates.
The U.S. Department of Labor will work across agencies to implement the task force's recommendations, including the following:
Ensuring workers know their organizing and bargaining rights;
Protecting workers who face illegal retaliation when they organize and stand up for workplace rights;
Establishing a resource center on unions and collective bargaining;
Shedding light on employer's use of anti-union consultants; and,
Collecting and reporting more information on unions and their role in the U.S. economy.
"The Department will play a critical role in helping the White House Task Force on Worker Organizing and Empowerment to achieve its mission. Workers today are demanding more from their jobs, and we know the freedom to exercise their right to collective bargaining is a key component of our efforts to improve working conditions across the economy," says Secretary of Labor Marty Walsh. "The report's recommendations put the federal government's policy of encouraging worker organizing and collective bargaining front and center, and empower workers to build a stronger economy and better quality of life for them and their families."
The task force report, counters ABC's Ben Brubeck, "Is of great concern, especially for Americans who expect the government to create and support policies ensuring fair and open competition on taxpayer-funded federal and federally assisted construction projects. The report's recommendations to expand the use of anti-competitive and costly project labor agreements will increase infrastructure project costs by 12 percent to 20 percent, reduce competition from the best quality public works contractors and exacerbate the construction industry's skilled labor shortage by discriminating against the members of the construction workforce who choose to be union-free."

UNION MEMBERSHIP SLIDE
Results of a U.S. Bureau of Labor Statistics survey on union membership and rank & file demographics scale challenges confronting the White House, Labor Department officials, and other organized labor allies. The number of wage and salary workers belonging to unions continued to decline last year (-241,000) to 14.0 million, while workers who were members of unions stood at 10.3 percent, off 0.5 percent from a 2020 union membership rate skewed by large losses in the nonunion worker ranks.
The 2021 union membership rate is nearly half that of 1983 (20.1 percent; 17.7 million rank & file), the first year for which comparable union data are available, BLS researchers find. The data they collected on 2021 union membership are drawn from Current Population Survey, a monthly sampling of about 60,000 eligible households that obtains information on employment and unemployment among the nation's civilian noninstitutional population age 16 and over. In addition to the union membership rate returning to the 2019 level, just into the double digits, the 2021 survey data indicates:
Among states, Hawaii and New York continued to have the highest union membership rates (22.4 percent and 22.2 percent, respectively), while South Carolina and North Carolina continued to have the lowest (1.7 percent and 2.6 percent, respectively).
In 2021, 30 states and the District of Columbia had union membership rates below that of the U.S. average, 10.3 percent, while 20 states had rates above it. All states in both the East South
Central and West South Central divisions had union membership rates below the national average, while all states in both the Middle Atlantic and Pacific divisions had rates above it.
Ten states had union membership rates below 5.0 percent in 2021, led by the Carolinas and Utah (3.5 percent). Hawaii and New York are the only states with union membership rates north of 20 percent; combined, they are home to about 30 percent of the 14 million union members reflected in BLS survey results.