San Diego concrete materials and reinforcement fiber specialist Surface Tech has completed the Environmental Product Declaration (EPD) validation for Juno C33, an advanced alternative supplementary cementitious/fine aggregate material (SCM). The EPD serves as a transparent, objective report detailing what a product is made of and how it impacts the environment across its entire life cycle. The independently verified and registered document that can help construction projects earn credits for LEED v4 and other green building rating systems. EPDs satisfy the requirements of Product Category Rules (PCR) and follow international standards, including ISO 14044, ISO 14025, and ISO 21930.
SCMs are gaining in importance as concrete producers and practitioners seek new ways to decrease the amount of portland cement in mix designs. Juno C33 can be used to partially substitute traditional cement binders and/or fine aggregates in standard concretes. In addition to offsetting cement volumes, Juno C33 bears mineral material composition to increase the strength-bearing microstructure of concrete, making it stronger and last longer. The material also has a positive impact on fresh concrete by maintaining the creamy consistency conducive to smooth transfer from mixer truck chute to horizontal or vertical formwork. Juno C33 is easily integrated into existing plant operations, including silo, hopper, supersacks, bags, and dissolvable bags. Using the material as an SCM can also result in cost savings, depending on the mix design. — www.surface-tech.com/concrete-juno-C33
Concrete division appointment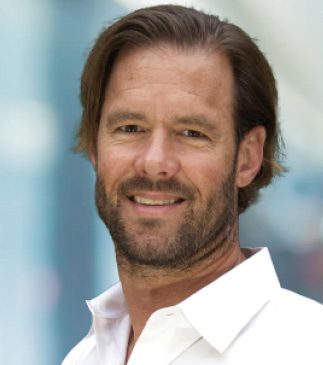 Surface Tech has named Michael Taylor as chief operations officer, Concrete Division, overseeing day-to-day operational functions and reporting to Steve Santa Cruz, president.
He arrives with a wealth of experience in management, strategic planning, product development, process improvement and quality assurance, while grasping the manufacturing and distribution process, as well as sales and inventory management.
As the founder of two successful companies serving the concrete industry, Surface Tech notes, Taylor is well versed on the importance of applying innovation and ensuring quality in meeting customer needs. His background in product development, equipment engineering and concrete mix design has enabled past clients to achieve greater efficiency, higher profits and predictable quality.
"Mike is well known within the industry for establishing a national footprint in concrete products as diverse as pool plaster and copings, fire features, furniture and tile. His experience and strategic thinking will allow Surface Tech to take its concrete product line to a new level of excellence," says Santa Cruz.
Having directed large teams of employees in sales, marketing, finance, product development, engineering, operations, manufacturing, quality assurance and warehousing, he adds, Taylor possesses proven capabilities to organize and motivate personnel to achieve outstanding results.