Oldcastle APG makes major capital investment in bagging plant along Charlotte-Atlanta corridor
By Don Marsh

Significant capital investments made by Oldcastle APG, a CRH company, have timed well with strong 2020-2022 building activity. On the heels of a similar investment in Austin, Texas, the provider of integrated outdoor living solutions finalized its most recent big-ticket investment in the last year: A dual-bagging-line, dry-mix facility located in Cowpens, S.C. along Interstate 85. The plant's high throughput capability and strategic geographic location between Charlotte and Atlanta, the fastest growing population centers in the South, bolsters APG's end-to-end solutions offerings for customers in the region. The facility opened in late-2021 on a 24-acre parcel adjacent to an existing Oldcastle APG hardscapes plant.
"Across APG, we have implemented strategies supporting our business objectives in recognition of an expected, sustained increase in demand and growth over the next several years. In fact, all of our Sakrete and Amerimix plants will have seen significant upgrades over a three-year period," says Tim Ortman, President, Oldcastle APG. "Additionally, we are investing across all of our hardscapes facilities which produce items for our signature brands like Belgard and Anchor Wall."
"We anticipate strong demand for dry-mix, hardscapes and masonry on a national and regional level, particularly in the Carolinas and Georgia as we continue seeing a positive long-term economic outlook for residential building in the Southeast," he continues. "The CoreLogic Case-Shiller Index ranked Charlotte and Atlanta among the top 10 U.S. metropolitan areas with the highest home price increases year over year. Home price appreciation in this region will support dry-mix and hardscapes growth, boding well for success at the Cowpens facility."
The Cowpens dual bagging lines will support APG's customer base throughout the Carolinas and augment the closest sister operations in Atlanta and eastern North Carolina. From an East Coast coverage perspective, APG will have a comprehensive manufacturing network for Sakrete and Amerimix products from Maine to Miami.
"While we have completed seven major bagging plant capital projects over the last two years, the Cowpens project is especially significant in that it provides geographic expansion in a strategic area that, until recently, was untapped," explains Craig Belasco, President, Operational Performance at Oldcastle APG. "Investments in new equipment help support the local management teams that oversee operations and create a one-stop-shop for our customers and suppliers in the region."
Under Oldcastle APG, the Sakrete program has grown from a legacy collection of 3,000 psi concrete mix plus a handful of aggregate and cement choices to a full series of conventional or high strength and fast setting concrete mixes. During the past decade, the producer has extended the brand with Pro-Mix concrete mixes, formulated for high performance applications; and Amerimix mortars, encompassing packaged and bulk offerings that assure architects, builders and contractors tight quality control and a time-saving, near-zero waste alternative to the traditional method of site mixing sand with masonry cement or lime and portland cement.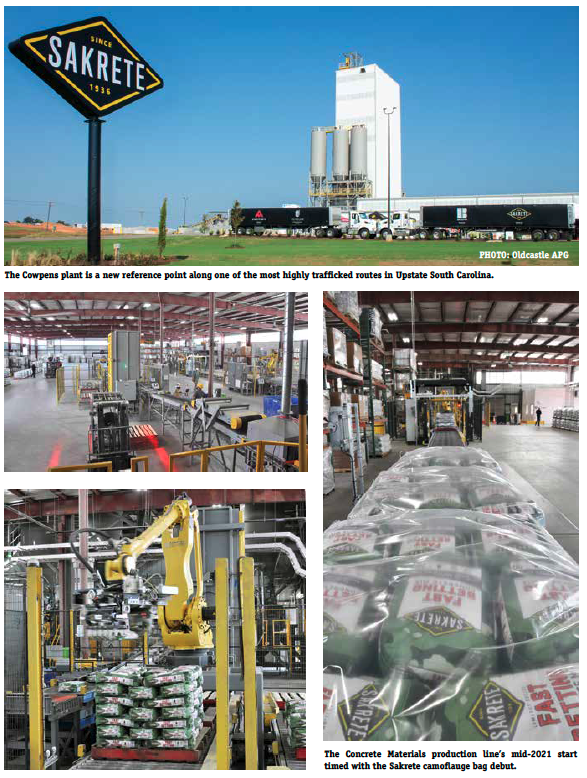 INVITING VENUE
Like newer sister packaged product operations, the Cowpens dry-mix facility's design excels in safety, capacity, and efficiency provisions. The new dual bagging lines are housed in a 27,000-sq.-ft. production area and warehouse enclosure with expansive daylighting of high traffic interior areas; robust indoor and outdoor air quality systems; motion sensor guarding along hundreds of feet of bagged material and shipping pallet roller conveyors, as well as bagging machine and packaging robotics stations; and, floor space allocation conducive to quick transfer of palletized inventory to sheltered or exterior storage.
Along with its ever-increasing focus on dry-mix product line and production capacity expansion, Oldcastle APG has continually emphasized customer and end-user outreach. The Cowpens facility atmosphere and production capabilities align that goal, according to Jason Dean, Senior Vice President, Packaged Products at Oldcastle APG. "We strongly believe that product knowledge is the cornerstone of success, which is why we take every opportunity to get our customers hands-on with our products," he says. "The state-of-the-art Cowpens facility provides a fantastic environment for customer training and education, product innovation, and showcasing efficient, high throughput, modern machinery. We anticipate welcoming a broad range of our key stakeholders to the facility, including our national customers, independent customers, suppliers, and other industry partners."
"Further, the existing hardscapes plant immediately adjacent to the dry-mix operation gives us the ability to educate others about our broad range of products, all from a central location. Visiting a plant is a day well spent and gives our customers a new level of understanding about how we are constantly evolving to meet all of their needs. We invite any of our customers or key stakeholders in the region to come by for a visit and see our capabilities firsthand so they can develop an appreciation for the level of complexity, precision and volume that a modern bagging plant offers," he affirms.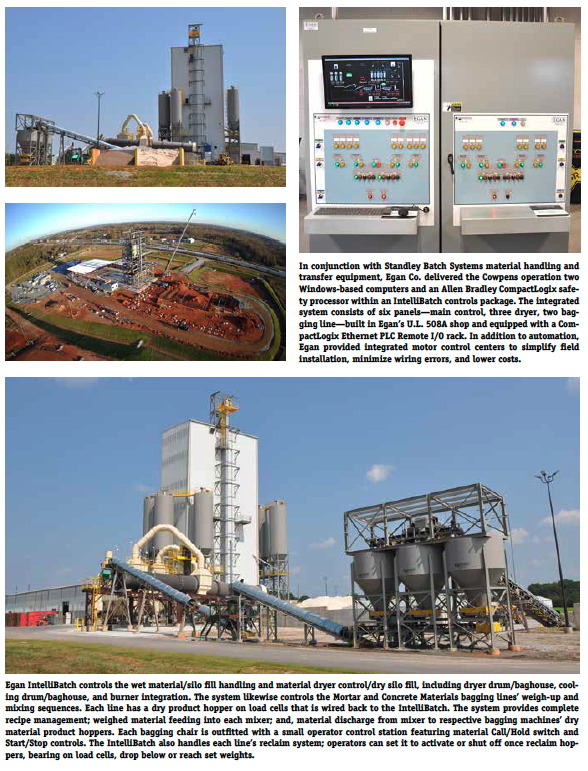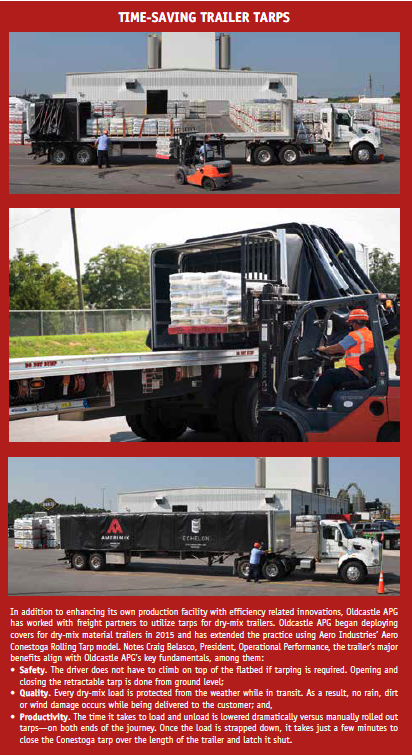 COWPENS CAPABILITIES
Oldcastle APG dry-mix plants typically operate multiple lines. "Some plants have single lines making core products and others have up to six lines making specialty products," Craig Belasco observes. "Our current focus at the Cowpens dry-mix facility is to have two high-capacity lines dedicated to our signature products like Sakrete and Amerimix. Given its location in a high-growth market and its proximity to one of our major hardscapes operations, the Cowpens facility essentially serves as an APG powerhouse and solidifies our advantage in the region."
Oldcastle APG worked with long-time equipment vendor Standley Batch Systems to create a fully bespoke layout that optimizes production efficiency, overall throughput and safety. The configuration starts with an inground truck hopper, flanked by cast-in-place concrete stockpile bunkers at grade. Built with arched, galvanized shields, five incline conveyors transfer manufactured sand, gravel or rock to wet or exposed material bins; single deck screens and a Tarmac dryer; and, 140-ft. bucket elevator delivering fine and coarse aggregate to the four aggregate bins through a single deck screen. Two concrete materials and four mortar cementitious materials silo enclosures—combining to store and convey seven or eight binder types—bear a recent safety innovation Standley Batch has brought to North America: the Hycontrol Shield Silo Protection System, engineered to reduce over-pressurization risks and equipped with diagnostics and alert functions to flag unsafe filling practices.
Aggregate silo chutes and cementitious material screw conveyors load hoppers serving twin Haarup pan mixers, which in turn feed Chantland bagging machinery. Stairs running nine levels up the 135-foot-high batch plant enclosure provide quick, safe access where needed for equipment or machine maintenance and troubleshooting.