A visit with 2021-22 National Precast Concrete Association Chairman of the Board Mark Wieser
By Josephine Patterson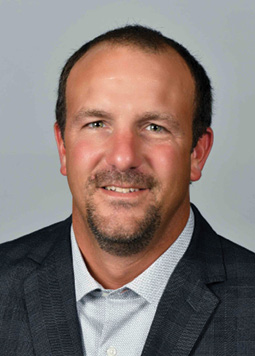 Mark Wieser, vice president of Wieser Concrete Products in Maiden Rock, Wis., grew up in the precast industry—and by extension the National Precast Concrete Association. In fact, his father Joe held the pivotal role of association chairman in 1985-86, while his older brother Andy served in 2016-17.
As Mark Wieser begins his own tenure as NPCA chairman, the association and industry are at an important juncture. NPCA has rolled out a new strategic plan and vision for the industry's future that focuses on advanced marketing, analytics and database tools to enhance members' ability to compete in the marketplace by highlighting precast concrete's resilience and adaptability in construction. The launch comes at a time of significant opportunity for the industry, thanks to the recent passage of the $1.2 trillion Infrastructure Investment and Jobs Act—particularly the $55 billion earmarked for water and wastewater projects.
The American Society of Civil Engineers gave water and wastewater infrastructure a C- and D+, respectively, in its 2021 Report Card for America's Infrastructure due to many systems throughout the nation operating at the end of their lifespans and at maximum capacity. Therefore, it was not surprising to see Congress allocate a large portion of funding toward updating water and wastewater systems. As projects begin to be identified and funding starts to be distributed, it is imperative that specifiers target resilient materials such as precast concrete to ensure operation for future generations.
That's where NPCA's new strategic plan comes in to play. "We will communicate in one voice across the industry about what makes precast concrete the number one choice for specifiers and why it is the natural decision when building to last," says Wieser. "Through data, case studies, white papers and shared experience, we will share how precast concrete is used, why it is chosen for each project, and where it stands as a testament to lasting construction."
NPCA officials plan to spread these messages through both association-led initiatives and grassroot member campaigns, maximizing social media and other avenues for communication.
BUILDING THE WORKFORCE
Another area that Wieser and NPCA are focusing efforts on is workforce development. With the potential for a vast amount of new projects on the horizon, it is time to address a tightening labor market and diminishing pool of skilled workers.
"NPCA recently released its Onboarding Program that is set to assist all of our members with one of their biggest challenges in today's world," explains Wieser. "Hiring, training and maintaining a workforce are the focus of the Onboarding Program and puts excellent tools at the fingertips of all members."
The program, NPCA notes, is the perfect supplement to any orientation process, and contains guidance and resources to get new hires to 100-percent productivity sooner while addressing specific motivations and skills. It is also ideal for current employees who may be transitioning to more advanced positions.
An annual subscription provides a variety of onboarding resources including a guide and facility-wide access to a library of introductory, development and role-based videos. The videos range from "What is Precast?" and "Day in the Life of a Precaster" to covering topics like safety, quality, and specific plant roles such as rebar assembly, form release application, product inspection and storage. There is also a short quiz after each video and an exam at the end of each module with certificates of completion provided once exams are successfully passed.
"This continues NPCA's industry leading education and assists our members at a whole new level that will help keep them successful as workforce challenges arise," says Wieser. "I'm excited to use this program in our company and can't wait to see the feedback we get from our membership."
Separately, NPCA currently partners with five universities across the United States in offering precast concrete-specific curriculum to engineering students. Similar programs, note NPCA officials, can be developed for community college students and even high school students engaged with a vocational school. These educational programs allow the association to engage with and build up the future workforce.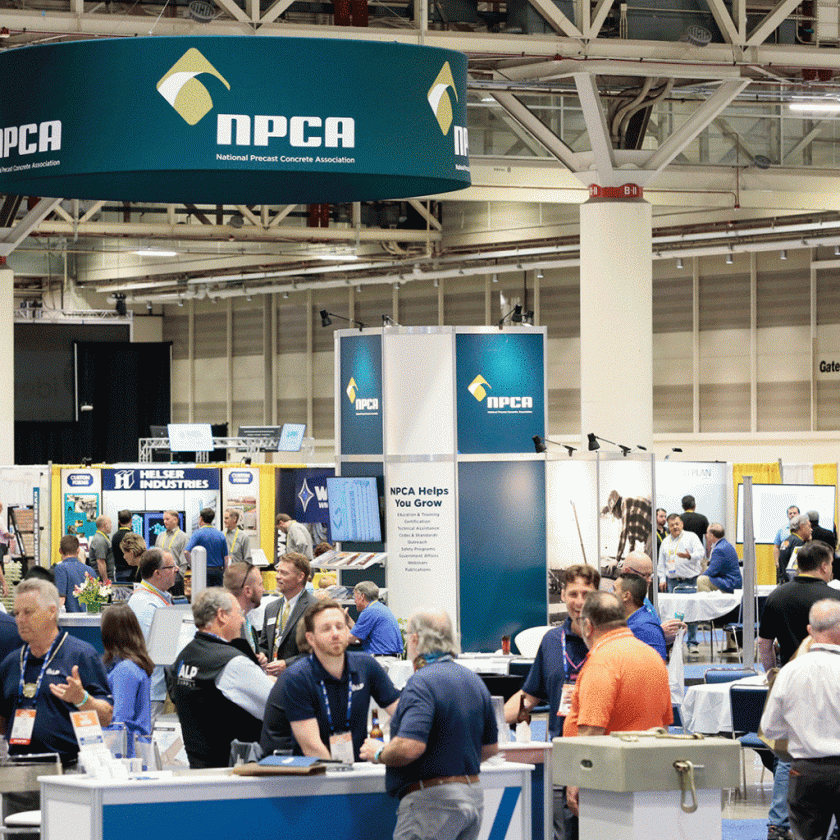 COMING TOGETHER
Speaking of education, the association will hold in-person classes at The Precast Show 2022 as part of its Precast University program. More than 4,000 members of the industry are projected to gather March 3-5 at the Kansas City Convention Center in Kansas City, Mo. for the annual event.
"The show is going to be one of the biggest in the history of the show and will be full of new and innovative products on display for our industry," says Wieser. "NPCA led the way last year with one of the first trade shows to be held in the United States [since the pandemic's onset] and had an extremely successful and safe showing in New Orleans."
"We will continue the tradition of hosting the number-one trade show for precast concrete products joined by our industry friends, [Precast/Prestressed Concrete Institute] and [National Concrete Masonry Association], this year," continues Wieser. "After many years with PCI at The Precast Show, we are proud to have NCMA join this year and give exhibitors an even broader customer base to see at one event. We are looking forward to a great turnout for the whole event."
Approximately 350 companies will be exhibiting on more than 80,000-sq.-ft. of show floor space—marking the largest show floor in the event's history. This year's Plant Tours, a popular show event, will give attendees the option of visiting the Forterra Pipe & Precast's Bonner Springs, Kan. or Independence, Mo. facilities; and PRETECH Corp.'s Kansas City, Kan. headquarters.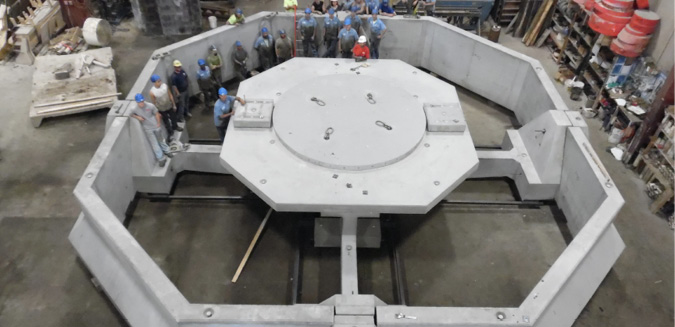 LOOKING FORWARD
According to Wieser, things are looking bright for the industry. "We are very optimistic and excited about the future outlook of precast concrete. As end users demand higher quality and expect less time to complete projects, it plays right into some of the advantages of precast concrete," he says. "Combine that with the workforce stresses on jobsite contractors and they all look to find a way to cut down on work required on site, which we provide them if they use precast concrete."
Wieser goes on to note that, as mentioned earlier, the new bipartisan infrastructure plan will provide much-needed funding for projects, and "precast concrete will be the solution to meet end users' needs." It is estimated that between 20 and 25 percent of upcoming infrastructure projects will include precast concrete elements.
As the industry grows with the influx of new construction, NPCA will be available along the way with resources to help members succeed. Wieser actually credits the association for helping his family's business find success over the past 50 years. "We wouldn't be where we are without it," he says. "It's not just the resources, but whenever we have a technical question or something that comes up that's new for us, all we have to do is pick up the phone and there are dozens of people ready to help."
Now that Wieser is leading NPCA, he is acting on some advice that his late father retold shortly before the start of his term. "He mentioned that the more you put into an association, the more you get out of it. He fully believed that and instilled that value in Andy and myself, which is one of the reasons we were so eager to be involved with NPCA."
"We have gained so much value from the NPCA membership and it makes it easy to give back when we can. We will do what we can to keep this association successful and growing for the next generation of precasters that will also hopefully include another generation of Wiesers!" he concludes.