A judgment in the U.S. District Court for the Eastern District of New York orders Macedo Construction Inc., Macedo Contracting Services Inc., Odecam Concrete Supply Corp. and Manuel Macedo. to pay 99 workers a total of $987,591 in back wages and liquidated damages, plus $53,249 in civil penalties to the Department of Labor (DOL).
The action settles charges of willful Fair Labor Standards Act (FSLA) violations identified in a DOL Wage and Hour Division investigation. It found Manuel Macedo and his Bellport, N.Y. companies failed to combine the hours laborers worked at the three commonly owned businesses, and paid them with multiple checks to evade overtime requirements. Each separate check showed the employees logged less than 40 hours per workweek when they actually worked a combined total of up to 48 hours per week. The companies also neglected to pay employees for time spent traveling from work yards to jobsites, and retain accurate records of the employees' work hours and pay rates.
"The scheme by Macedo Construction, Macedo Contracting Services, Odecam Concrete Supply Corp. and Manuel Macedo deprived their employees of nearly $491,000 in hard-earned wages over three years," says WHD District Director David An. "In addition to the back wages, the employer must pay these workers an equal amount in liquidated damages, plus interest. We encourage other employers to consider this investigation's outcome, review their own pay practices and contact the Wage and Hour Division to avoid similar violations. The consequences of noncompliance with federal labor laws can be serious and expensive."
"The U.S. Department of Labor does not tolerate wage theft, which shortchanges workers and puts law-abiding employers at a competitive disadvantage. We will pursue all appropriate and effective legal remedies, including securing liquidated damages for workers in addition to back wages," adds DOL Regional Solicitor Jeffrey Rogoff.
In addition to requiring payment of the back wages, liquidated damages, fines and interest, the District Court action enjoins Manuel Macedo and the three companies from future violations of the FLSA's overtime and recordkeeping requirements, retaliating against employees who exercise their FLSA rights, and soliciting employees to return or "kick back" the wages, damages and interest awarded to them. They must also provide employees with notices of their rights under the FLSA in English and Spanish.
FACE MASK PERFORMANCE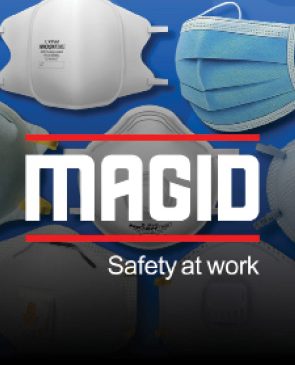 In the wake of rising Covid-19, Omicron variant infection levels and widespread adoption of or return to face mask mandates in public spaces, Illinois-based personal protective equipment provider Magid has added a comprehensive guide to its "Safety Matters" series, www.magidglove.com/safety-matters.
"Companies in every industry are working hard to keep employees safe, focusing on their health and wellbeing, while trying to keep operations running as effectively as possible," says Marketing Communications Manager Beth Sutherland. "In our newest 'Safety Matters,' we look at the effectiveness of different face coverings, as well as mask best practices, such as proper fit and removal. Mitigating the spread of Covid-19 in the workplace is a top concern; selecting the right face coverings can have a significant impact on those efforts."
The "How Effective are Different Types of Masks?" installment cites a 2020 Centers for Disease Control and Prevention and National Institute for Occupational Safety and Health finding that N95 respirators are almost twice as effective as commercial three-ply cloth masks in blocking particulates that could contain the virus. In the course of the agencies' study, N95 respirators prevented 99 percent of aerosol particles 7 microns or smaller from breaching the protective barrier.