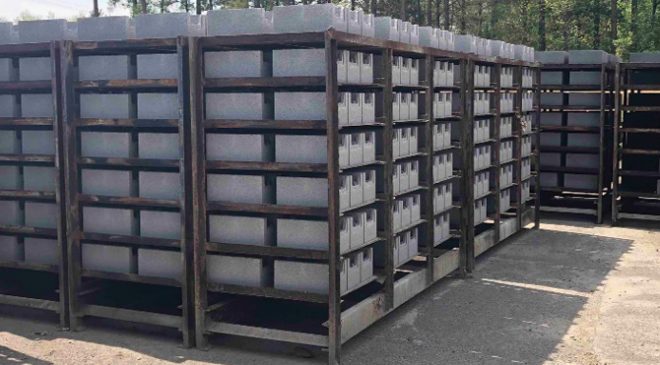 A collaboration involving Los Angeles-based CarbonBuilt and MBCC Group's Master Builders Solutions business will focus on formulating admixtures augmenting the former company's low carbon concrete technology platform. The CarbonBuilt Reversa process uses carbon dioxide to optimize portland cement contents in mix designs and raise finished concrete performance.
New admixtures developed with Master Builders Solutions could position CarbonBuilt to extend the Reversa technology from gray concrete block to a wide range of dry- and wet-cast manufactured concrete products, including pavers, segmental retaining walls, hollow core plank, pipe and manholes. In addition, the parties will explore the use of existing and new admixture chemistries to increase CO2 utilization without sacrifice to product performance or cost, or process cycle time.
"While the initial application of our technology will be in concrete masonry, we intend to expand its use to include the broader precast concrete marketplace. Admixtures can help with this, as well as with increasing our overall utilization of carbon dioxide," says CarbonBuilt CEO Rahul Shendure. "Master Builders Solutions is a recognized leader of sustainable and high performing admixture innovations for concrete, and our partnership will allow us to not only serve more markets in a more impactful way, but also to do so more quickly."
Reversa formulations replace most or all of the portland cement used in concrete products with widely available materials, reducing raw materials cost and embodied carbon simultaneously. During the curing process, CO2 taken directly from industrial sources, biomass or emerging direct air capture solutions is permanently sequestered in the concrete. Together, these changes result in a 10 percent to 30 percent reduction in raw material costs and a 60 percent to 100 percent reduction in CO2 emissions, all while netting specification-grade products.
"The application of our technology to CarbonBuilt's revolutionary process will result in high-performance precast concrete products with low embodied carbon," notes Master Builders Solutions Technology Director Paul Seiler. "Having worked with their team for years, it is exciting to have this opportunity to advance the technology to its full potential."
"Reducing carbon footprint is the defining challenge—and opportunity—in the concrete industry over the next 20 years," adds Senior Vice President, Admixture Systems US/CA Dr. Bruce Christensen. "We are committed to sustainable innovation in admixtures and industry partnerships to accelerate the adoption of low carbon concrete around the world."