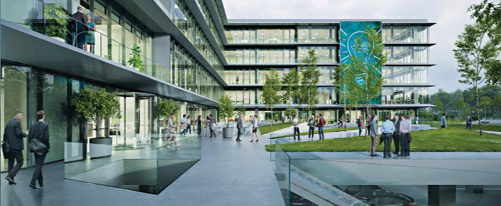 Holcim AG bills its DYNAMax product, set for 2022 unveiling in North America and nine overseas markets, as "the ultimate performance concrete, delivering high strength, durability and rigidity with design freedom and sustainability" and imparting "value to all stakeholders across the construction, from architects to homeowners." 
"DYNAMax advanc[es] our global range of innovative and sustainable building solutions. With today's population and urbanization trends, it is an ideal material to build smarter cities. It offers high performance to build more with less with no compromise on aesthetics and functionality," says Holcim CEO Jan Jenisch.
The latest concrete innovation emanating from the Holcim Research & Development Center in Lyon, France, DYNAMax suits applications from complex infrastructure to high-rise buildings. Its compressive strength and other engineering properties yield smart design, with thinner and longer structures. In building applications, the product can optimize column and slab dimensions, leading to greater floor plan variability and more usable space when compared to standard concrete specifications. The sustainable footprint of DYNAMax reflects reduced material use, local production and short transport routes. — www.holcim.com/dynamax
LAFARGE WHITEHALL TERCEM TRI-BLEND
One of the oldest U.S. cement operations proves the connection between innovation and longevity. Lafarge Whitehall, a fixture in western Pennsylvania dating to 1899, has developed a tri-blend binder with carbon dioxide emissions profile as low as one-third that of ordinary portland cement. TerCem imparts enhanced early strength performance beyond what concrete producers can attain with premium admixtures. That attribute will underly promotion of the material's suitability to mixes specified for post tensioned structures, especially in urban areas.
"We are leading a market transformation and taking a step toward a net-zero future," says LafargeHolcim U.S. Cement Senior Vice President of Sales Patrick Cleary. "Our organization has invested heavily in broadening the industry's range of superior sustainable products to lower our carbon footprint with no compromise in quality."
TerCem joins ECOPlanet, a global portfolio of binders LafargeHolcim announced in 2020. Compared to conventional portland cements, ECOPlanet products exhibit a minimum 30 percent lower carbon footprint—a metric attained with the use of innovative and low-emission raw materials, plus alternative cement kiln fuels. Introduction of the series in the U.S., Chicago-based LafargeHolcim notes, is a critical step in "a national effort to improve physical infrastructure and support improvements that boost the economy and create jobs, while enabling greener cities. As the United States doubles down on its commitment to lowering the carbon footprint of the built environment, ECOPlanet cement products, along with TerCem will enable low-carbon construction at scale."