BY DON MARSH
Los Angeles-based CarbonBuilt, developer of a carbon dioxide utilization method proven in manufactured concrete, joined Cemex USA, the National Concrete Masonry Association, National Ready Mixed Concrete Association and Alabama Concrete Industries Association in the late-2021 dedication of a Habitat for Humanity Tuscaloosa (Ala.) home. Crews built the clay brick veneer-clad, single-story residence with concrete block from a CarbonBuilt technology demonstration at the U.S. Department of Energy's National Carbon Capture Center (NCCC). Utility giant Southern Co. manages the Wilsonville, Ala. facility under DOE National Energy Technology Laboratory sponsorship.
The demonstration proved the efficacy of CarbonBuilt's Reversa technology, which spans concrete mix design innovations and a curing method whereby CO2 is injected into kilns or chambers and mineralizes to calcium carbonate. NCCC staff tapped flue gas streams of natural gas- and coal-fired power generating units to cure 5,000 low-carbon concrete masonry units (CMU), produced to CarbonBuilt's design by Blair Block in Childersburg, Ala. Post-production analysis indicated each block's capacity to permanently store up to 3/4 lb. of CO2 and meet ASTM C90 (Standard Specification for Loadbearing Concrete Masonry Units) performance.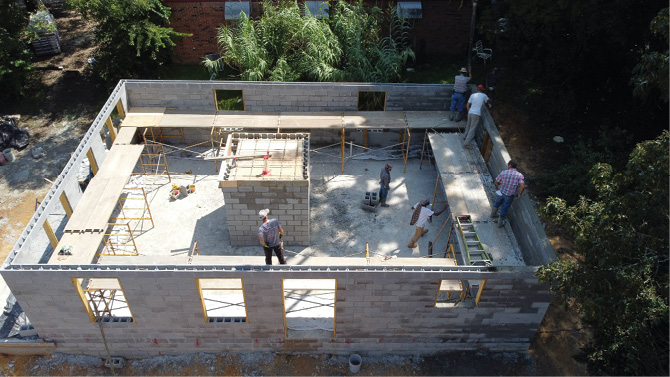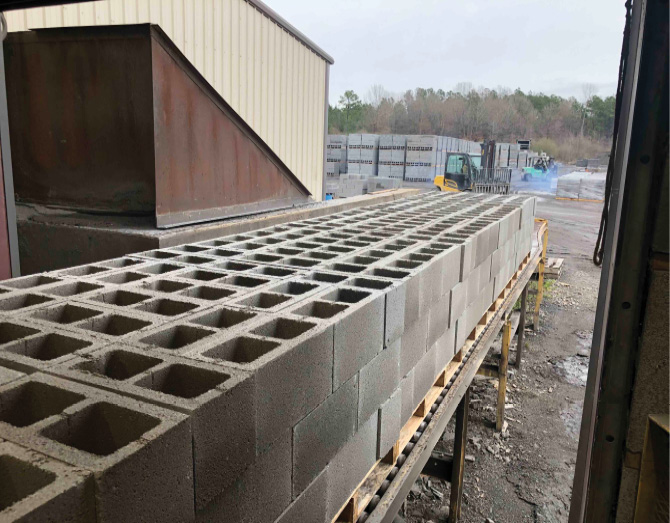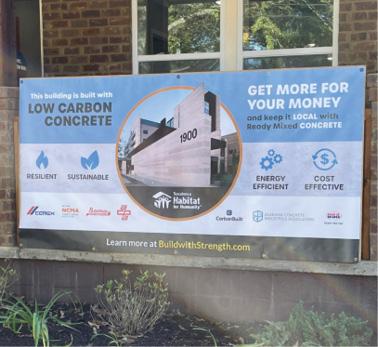 The Tuscaloosa home (left) is among the latest deliverables from a partnership between the National Ready Mixed Concrete Association, Build With Strength Coalition and Habitat for Humanity International. The National Concrete Masonry Association, whose newer associate members include CarbonBuilt, supported the project as an NRMCA and Alabama Concrete Industries Association allied organization. Alabama's Blair Block supplied the concrete masonry for the Habitat home by way of its CarbonBuilt Reversa demonstration at the National Carbon Capture Center (center).
"Our approach offers utilities and other industrial plants a pathway for beneficial reuse of CO2 emissions. At the same time, we offer concrete producers a way to increase operating margins significantly while reducing overall carbon emissions from production by more than 60 percent," CarbonBuilt CEO Rahul Shendure noted upon release of the NCCC demonstration results.
"Helping advance technologies toward commercialization is the core of our mission," added NCCC Director and Southern Co. Director of Net-Zero Technologies John Northington. "Utilizing carbon dioxide to produce essential products like concrete will be an important solution as the world moves to reduce overall carbon emissions."
NCCC demonstration takeaways mirrored those of summer 2020 Reversa testing at scale in Gillette, Wyo., where 10,000 CMUs were successfully cured with a CO2 stream from the coal-fired Dry Fork generating station. CarbonBuilt has developed mix designs in which most or all of the portland cement used in concrete products is replaced with widely-available materials—reducing binder cost and embodied carbon simultaneously. When measured against conventional concrete blockmaking, Reversa nets a 10 to 30 percent reduction in raw material costs.
OLDCASTLE APG AND BOSTON S&G VETERAN, MIT-MINTED ENTREPRENEUR JOIN TEAM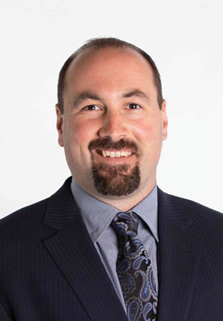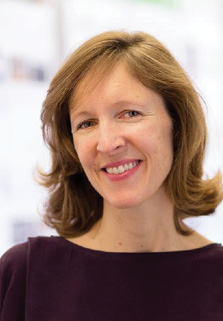 CarbonBuilt has appointed two senior level managers, Conor Cooper as head of Business Development, and Cindy McLaughlin as head of Product. The former arrives after 10 years with the North American market leader in concrete building and hardscape masonry, Atlanta-based Oldcastle APG, most recently overseeing 18 Northeast facilities and 500 team members as Anchor business unit president. Ahead of the Oldcastle tenure, Cooper was general manager of the Boston Sand & Gravel Outdoor World landscape products distribution business.
Massachusetts Institute of Technology MBA-degreed McLaughlin has founded, built, and led technology companies in commercial real estate, education, and e-commerce. She will expand awareness of CarbonBuilt's low carbon concrete products, working at the intersection of real estate, infrastructure, government policy, and carbon markets to help build a future where low- or negative-carbon concrete is the norm, rather than the exception. Before joining CarbonBuilt, McLaughlin was founding CEO of Envelope, a hyperlocal acquisitions analytics company for commercial real estate.
"Conor's experience is a perfect fit as we move from demonstration to commercialization in concrete masonry. His broad network and understanding of market dynamics will accelerate our path to scale," says CarbonBuilt CEO Rahul Shendure. "Cindy's experience as an entrepreneur, combined with her commitment to make an impact on combating the climate crisis, make her a perfect fit for our growing company.
"While the products we make are very traditional, customer demand for reduced embodied carbon, concrete's potential as a tool for carbon mitigation, and policymakers' response to this potential are all very new. These require a fresh, creative approach to product development and marketing."