Sources: ASTM International, West Conshohocken, Pa.; CP staff
Cesar Constantino, Ph.D., director of Business Development for Titan America's Separation Technologies LLC subsidiary, has begun his term as the 2022 chair of the ASTM International board of directors, who represent a variety of companies, associations, universities, government bodies, and other organizations from around the world.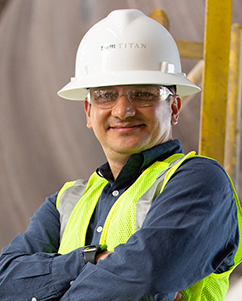 "For nearly 125 years, ASTM has been a world-class organization that leads in international standards development and excels in the delivery of related products and services," says Constantino, who joined the ASTM board in 2016 after extended participation in Committees C01 on Cement, C09 on Concrete and Concrete Aggregates and E06 Performance of Buildings. "I have been fortunate to see ASTM bring together stakeholders from over 140 countries in the relentless pursuit of ASTM's mission to help our world work better. My aspiration is to strengthen global cooperation activities and to extend the reach of ASTM in alignment with the UN Sustainable Development Goals."
Constantino arrived at Titan America in 2005, serving as a manager of Technical Services, director of Concrete Technology, director of Process and Quality, and vice president of Corporate Engineering. Those positions inform his present duties at Separation Technologies, a specialist in fly ash marketing and beneficiation methods. Constantino previously worked as a researcher and a consultant both in Panama and the United States. He holds a bachelor's degree in civil engineering, master's degree in structural engineering, and doctorate in construction materials, all from the University of Texas, Austin.
Related article
Titan/STI's Constantino first up in ASTM International Ambassadors program