By Don Marsh
Rising property values and light rail system build out, coupled with municipal planning measures promoting conversion of industrial to mixed use zoning and transit-oriented development, have spurred a pattern in and around the Colorado capital: A manufactured-concrete operator vacates a legacy site within or bordering the Mile High City in favor of a greenfield parcel on the outskirts.
The top independent block & hardscape unit source west of the Mississippi, Basalite Concrete Products is also the third producer in less than a decade to transition from a Denver site that was either an eminent domain candidate, perceived as "too valuable" for molding or casting zero to high slump concrete mixes, or simply land locked. Following its neighbors in precast, prestressed production—Rocla Concrete Tie, Denver to Pueblo, Colo., 2014; Wells Concrete, Denver to Brighton, Colo., 2020—Basalite has moved from a 15-acre city property to a 60-acre site 20 miles north in Fort Lupton, just beyond Brighton. Steps from a new Denver Regional Transit District rail station, the old plant site lies in the expanding Western National Complex corridor, home to the National Western Stock Show, plus livestock and equestrian facilities on the drawing board. Basalite Colorado's new flagship charters a Fort Lupton parcel abutting a secondary rail line and bordered by County Roads 8 and 10. The former accesses U.S. Highway 85, the primary north-south thoroughfare to Denver and key delivery or shipping routes.
"This is built on a one-plant concept: One building to house two concrete masonry production lines, curing chambers and batch plants, aggregate storage and future wet cast line," says Basalite Colorado General Manager Joe Kerrigan. "It is not easy fitting into one building."
Ranking among the most ambitious of its kind in North America, the plant brings Architectural and Landscape lines under a functional, aesthetic enclosure exceeding four acres of gently sloping roof. To elevate team member safety and morale, the Architectural and Landscape lines are bathed in natural lighting from a clerestory at a roof step up—hovering aggregate storage and concrete batching levels—plus translucent panels spanning each elevation. Block, paver and segmental retaining wall unit output hums on the shoulders of Standley Batch Systems, Besser Co., Quadra USA, Pathfinder Systems and Rotho workhorses: Twin, three-level batch plants with ample aggregate and cementitious materials storage; Servopac Select six-at-a-time and Q12 HP 12-at-a-time product machines; Tiger cuber, de-cuber and unit conveyance systems; GMM grinding and polishing, plus Cogeim shotblasting machinery; and, single room curing kilns.
Basalite Colorado chose the equipment and machinery to seamlessly pick up its existing site's block, paver, slab SRW unit capacity, bearing primarily on two seasoned Besser V3-12s; enable production of new units or shapes proven in sister California, Idaho, Nevada, Washington, Alberta and British Columbia plants; and, support product development that will keep its brand front and center with Intermountain Region building masonry and hardscape dealers.
"We had reached our capacity at the old plant, and have a lot of confidence in this industry and wanted to make the investment," affirms Basalite Concrete Products President Erik Absalon, based at Roseville, Calif. headquarters. He and his colleagues' outlook for the immediate Denver and Front Range market, plus future Intermountain State business, has solid footings. New U.S. Census figures show Colorado population climbing 14.8 percent from 2010-2020—just shy of 750,000 new residents. The seven states sharing a border with Colorado saw a 7.3 percent average population increase over that period. Closer to home, Fort Lupton is within the Census Bureau's Greeley, Colo. metropolitan area; a 2010-2019 population spike of 28.3 percent placed it at #6 spot in nation's top 10 areas for growth.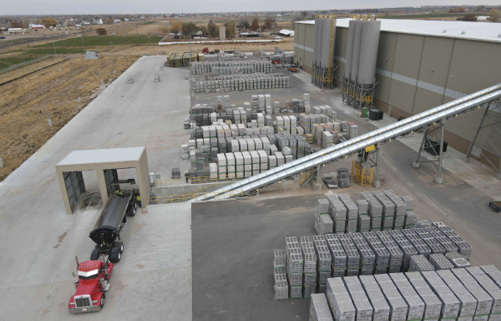 COMMUNITY BUILDER
Industry veterans previously accustomed to crossing the Atlantic Ocean for the best plant design, automation and equipment ideas will see the new Basalite Colorado flagship as another reminder that Europe is no longer the exclusive domain for advanced concrete masonry molding, finishing and packaging. The producer harnesses the latest in block, paver, slab and SRW production safety, flexibility, energy conservation and uptime provisions at Fort Lupton:
Red and green blinking lights respectively indicate running and idle machines;
Pull cords afford instant conveyor shut down along product handling areas where team members are in close proximity;
Abundant rows of LED fixtures augment the clerestory and side panel daylighting, leaving no area of machine operation or equipment trafficking in the dim or dark;
Pallet handling devices are configured to ensure Architectural and Landscape line wet and dry sides run independently, eliminating idle intervals such as those when an accumulator awaits machine cycle completion; and,
A touchscreen monitor for the kiln codes product by green or gray status, replacing a traditional white board and grease markers used to locate racks or rows of cured building or hardscape units.
Safety and efficiency details continue on the exterior: Dump, tanker or tractor-trailer drivers dispatched to the Fort Lupton plant have ample room to stay in their own lanes. With an eye to fast delivery and loading intervals, but minimal collision risk, Basalite management tasked Fort Lupton site engineers with a concrete service pavement and asphalt plant enclosure apron. Placed in a sweeping U pattern, the truck pavement reaches 90 feet at its widest and ensures that aggregate and cement delivery, plus block, paver or SRW loading, proceed in a timely manner, even at traffic peaks. Early measurements suggest that unloading or loading cycle times have improved upward of 25 percent against Denver plant metrics.
The Fort Lupton plant lies along a three-lane (first phase) thoroughfare the producer helped build: South Rollie Ave., 1.2 miles long and connecting County Roads 8 and 10. The best point of reference for many plant-bound visitors wise to concrete production is a cement silo. Excepting U.S. 85 one mile to the west, Basalite Colorado doesn't give up that aspect from most angles—thanks to plant enclosure architecture. The 189,000-sq.-ft. structure is efficiently configured to align aggregate storage, transfer and batch plants along the rear, or west, elevation; and, center-situated Landscape and Architectural lines sandwiching dedicated kilns.
Download Feature here.