The Associated Builders and Contractors is spotlighting a new study highlighting one of the most negative economic impacts on nonunion construction workers, who comprise 87.3 percent of the construction industry workforce. "Government-Mandated Project Labor Agreements Result in Lost and Stolen Wages for Employees and Excessive Costs and Liability Exposure for Employers" finds that the limited number of nonunion craft professionals permitted to work on construction projects subject to a federal, state or local agency-mandated PLAs suffer an estimated 34 percent reduction in wages and benefits.
"If PLAs were imposed on a significant percentage of federal construction work, hundreds of millions of dollars of compensation would be taken from nonunion workers and distributed to union pension funds and union benefits programs," writes retired St. Louis University Professor of Accounting John McGowan. In addition, he finds that PLA mandates unnecessarily increase nonunion contractors' wage and benefits costs by an estimated 35 percent and expose firms to the risk of costly multiemployer pension plan liability.
"These additional costs make nonunion contractors less competitive with respect to price compared to firms without such duplicative benefits costs, which is likely to discourage nonunion contractors from competing for taxpayer-funded construction contracts," according to the study, whose publication dovetails a) Infrastructure Investment and Jobs Act passage; and, b) a White House keen on policies encouraging PLAs on federally assisted construction projects and weighing additional executive actions expanding the use of government-mandated PLAs on federal construction projects.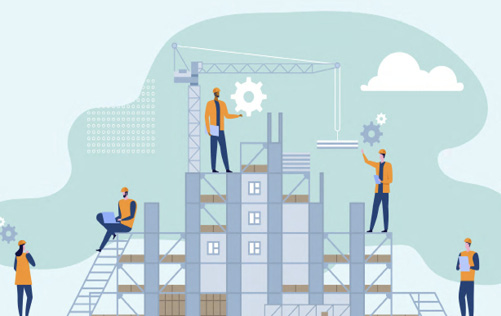 "This study highlights what we have long known, but that lawmakers continue to ignore or fail to understand when they require or encourage anti-competitive and costly project labor agreement schemes on taxpayer-funded construction projects," observes ABC Vice President of Regulatory, Labor and State Affairs Ben Brubeck. "Government-mandated PLAs are bad public policy because they effectively exclude the nearly nine out of 10 U.S. construction workers who freely choose not to join a union by holding a third of employees' compensation for ransom unless they join a union, pay union fees and prop up struggling union pension plans. PLAs also create excessive cost burdens and risks for quality nonunion contractors, which built more than half of the federal government's large-scale construction projects during the past decade and are more likely to be small, women- and/or minority-owned businesses."
"Research has demonstrated that government-mandated PLAs increase construction costs by 12 percent to 20 percent, which results in less new construction and fewer improvements to roads, bridges, utilities, schools, affordable housing and clean energy projects—and the creation of fewer jobs," Brubeck affirms. "PLAs steer contracts to unionized contractors and workers at the expense of the best quality nonunion contractors and workers who want to compete fairly to rebuild America at a price that is best for taxpayers."
Other key findings from "Government-Mandated PLAs" include:
The overall multiemployer pension plan system and the Pension Benefit Guaranty Corporation are at risk of financial insolvency without further intervention, despite recent passage of a provision in the American Rescue Plan Act of 2021. It provides funding to the privately insured PBGC that is projected to cost taxpayers at least $86 billion to $94 billion.
The unionized segment of the construction industry is a major contributor to both current MEPP underfunding and future PBGC insurance program funding shortfalls. The amount of construction industry MEPP underfunding grew to $368.45 billion—48.7 percent of the total PBGC-insured MEPP underfunding—according to the most recent PBGC report, and is expected to balloon to $467.2 billion by 2022, Professor McGowan's study finds.
Nonunion contractors face increased potential withdrawal liability exposure when they work under PLAs and are required to contribute to union multiemployer pension plans. The average withdrawal liability for the 10 troubled construction industry multiemployer pension plans sampled in the study is $2.17 million for plans in endangered status and $2.76 million for plans in critical status, which could be more than a small business is worth.
Problematic, anti-competitive terms in government-mandated PLAs typically require contractors to: Use union hiring halls to obtain most or all workers instead of their existing workforce; obtain apprentices exclusively from union apprenticeship programs; follow inefficient union work rules; and, pay into union benefit and multi-employer pension plans that any limited number of nonunion employees permitted on the project will be unlikely to access unless they join a union and vest in the plans.
"Because 87.3 percent of the construction workforce does not belong to a union and the construction industry faces a skilled labor shortage of 430,000 people in 2021 alone," Brubeck concludes, the White House "would be best served by promoting inclusive win-win policies that welcome all of America's construction industry to rebuild our nation's crumbling infrastructure, increase accountability and competition, and reduce waste and favoritism in the procurement of taxpayer-funded federal and federally assisted construction contracts." — www.buildamericalocal.com