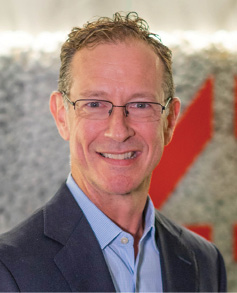 Command Alkon Executive Vice President of Business Development and Chief Product Officer Martin Willoughby has succeeded President and Chief Executive Officer Phil Ramsey, who served at the helm for 16 of his 30 years at the Birmingham, Ala. information technology provider and will remain on the board of directors. The leadership transition would appear to conclude a momentous interval coinciding with Willoughby's early-2020 arrival, as Command Alkon was sold to San Francisco investor Thoma Bravo; acquired Libra Systems, Trimble Construction Logistics and RuckIt technology; entered a partnership establishing Master Builders Solutions as the main COMMANDassurance quality control platform representative; and, saw HeidelbergCement AG become a major stakeholder.
"I am honored to take the reins at such a pivotal time in the company's growth trajectory [and] committed to building on all that Phil has accomplished," says Willoughby, who joined Command Alkon after 15-plus years as an executive team member of global cybersecurity software developer BeyondTrust Corp. "I have been impressed with the depth of talent and customer focus. I look forward to working with our employees globally, the leadership team and board to continue serving our customers and delivering value for stakeholders."
"Now is the right time for the next generation of leadership," adds Ramsey. "I am proud of all we have accomplished, growing Command Alkon into a leading supplier supporting customers across the heavy building materials supply chain. I have witnessed firsthand the value [Martin] brings to the company and our customers, [and] look forward to continuing to partner with him and the leadership team."
"On behalf of the entire board, I'd like to thank Phil for his leadership and invaluable contributions," notes Thoma Bravo Senior Partner A.J. Rohde. "Under his leadership, Command Alkon has transformed into a world-class company and is well positioned to continue delivering best-in-class solutions."
"Martin has a track record of achieving outstanding operational performance and financial goals for more than 30 years at high-growth companies, and we are confident that he is the right leader to build on our momentum. With the strong and deep executive team at Command Alkon, [he] will provide outstanding leadership to execute on strategic priorities and accelerate growth," Rhode affirms.