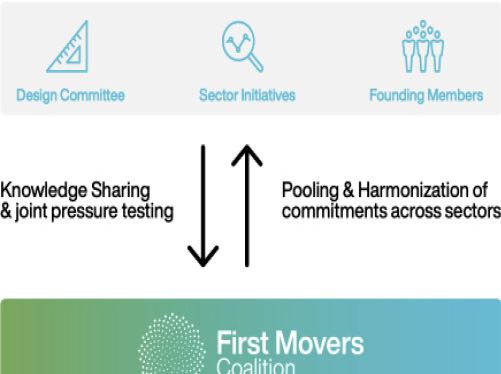 Cemex S.A.B. de C.V. and Holcim AG are First Movers Coalition (FMC) founding members, joining Amazon, Apple and nearly two dozen other major companies to accelerate development of early-stage decarbonization technologies through procurement and supply chain management practices. FMC will work across eight key sectors, seven of which—cement, steel, aluminum, chemicals, shipping, aviation and trucking—account for more than a third of global carbon emissions, but presently lack cost-competitive energy alternatives to fossil fuels.
"Technology has given us the tools to reduce our emissions and build a stronger economy. For innovators and investors to play their part in tackling the climate crisis, they need clear market demand," observes World Economic Forum (WEF) President Børge Brende. "The First Movers Coalition will leverage the collective purchasing power of leading companies and drive the need for these technologies."
FMC launched at the United Nations-aligned COP26 summit in Glasgow as a partnership between WEF and the U.S. Office of the Special Presidential Envoy for Climate. It musters global business leaders to create near-term market demand for zero carbon solutions, and becomes the only buyers club working to scale new technologies across heavy industry and heavy-duty transport sectors. Coalition members underscore the importance of new and emerging technologies, which the International Energy Agency credits for about half of the emissions reduction measures aimed at keeping global temperature increase, through 2050, under 1.5°C versus pre-industrial levels.
"The net-zero transition requires unprecedented collaboration across value chains. The First Movers Coalition can achieve this," says Holcim CEO Jan Jenisch. "Together we can grow the demand for net-zero solutions to drive more investment in next-generation green technologies. As a founding member, Holcim is committed to taking action on both the demand and supply sides. We will buy more net-zero vehicles and continue to grow our range of green building solutions to scale up net-zero construction."
"Cemex is committed to lead on the road to carbon neutrality," affirms CEO Fernando Gonzalez. "We are proud to join forces with the World Economic Forum and other global companies to accelerate development of critical new decarbonizing technologies." Under its Future in Action program, he adds, Cemex has outlined the most aggressive 2030 decarbonization goals in the heavy building materials industry, and is pursuing delivery of net zero carbon dioxide concrete globally by 2050.
In an early indicator of net zero-rooted procurement strategies, Cemex and Holcim have teamed with fellow First Movers Coalition charter member Volvo Group on deployment of electric battery-powered on-, on/off- and off-road equipment. — www.weforum.org/first-movers-coalition
POLICIES REDUCE CO2 EMISSIONS TONNAGE
Urgent government and industry action in three key areas could save around 900 million tonnes of carbon dioxide emissions annually by 2030, the World Cement Association, London, contends: Promote a market for low-carbon concrete by encouraging its use in publicly-funded construction; review and update product standards to allow low-carbon concrete to be used in a wider range of applications; and, create the right market incentives for developing and using low-carbon cement and concrete technologies via carbon pricing, subsidies or other economic mechanisms.
In a session at last month's COP26 United Nations climate summit in Scotland, WCA CEO Ian Riley addressed the three immediate actions governments around the world can take to significantly accelerate the cement and concrete industry's progress towards net zero and beyond. For an industry that contributes around 7 percent of global carbon emissions, he cited the need to decarbonize quickly as critical if worldwide efforts to reduce and reverse global heating are to succeed. A net-zero cement industry is not only achievable, he noted, new technologies for carbon-negative concrete are emerging that can remove CO2 that is already in the atmosphere. If governments the world over respond to WCA's call and act now, annual emissions of CO2 from cement and concrete could drop 30 percent by 2030.
"The pathways to net zero will be different for every cement plant. However, there are a few key measures which governments can adopt that will have a rapid and lasting impact on the pace of global uptake of all these measures," Riley observed.