Volvo Construction Equipment recently presented results of testing its battery-powered L25 Electric compact wheel loader and SR25 Electric compact excavator after nearly a year of southern California demonstrations. Powered by lithium-ion batteries and producing zero emissions, the machines proved themselves as environmentally sound options to conventional equipment running on diesel fuel. They also allowed some users to operate inside buildings and other structures where diesel exhaust is restricted.
Based on the combined 400 operating hours of electric machine use during the pilot—and comparing results against diesel-powered alternatives—Volvo CE a) calculated a reduction of 6 metric tons of carbon dioxide emissions and an approximate savings of 560 gallons of fuel; and, b) observed significantly lower noise levels, reducing noise pollution and improving jobsite communication and safety by making it easier for crew members to hear each other. Measured against a compact loader running on diesel, the L25 Electric exhibits a 9-decibel reduction in exterior noise levels and 90 percent reduction in sound power, which reflects noise radiating from a source.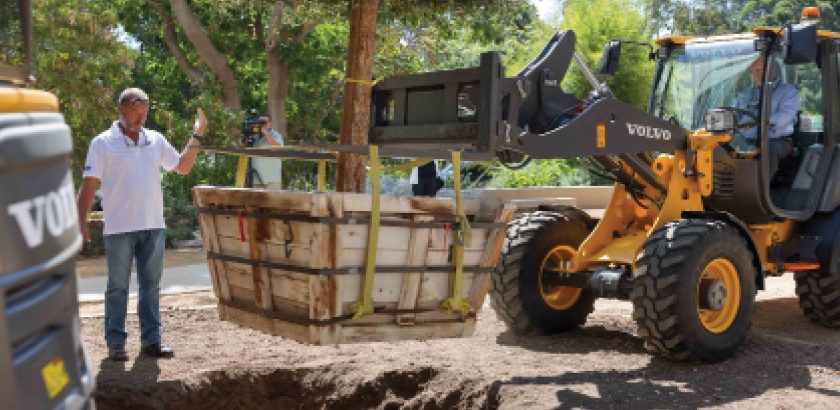 "Response validates that there is not only a desire for these types of machines in North America but a pull in many markets," says Volvo CE Region North America President Stephen Roy. "This adds further momentum to our commitment to decarbonization."
The L25 and SR25 were deployed in pilot applications involving the California Department of Transportation (drainage area trenching, grading and clearing); Casper Co. (concrete cutting, demolition and environmental services); Baltic Sands Inc. (site preparation); and, Waste Management (light material handling). The Environmental Protection Agency and California's South Coast Air Quality Management District provided funding for the pilot effort, aimed at accelerating deployment of zero-emission technologies for off-road vehicles. The demonstrations prove that Volvo CE's charter battery electric machines match performance and offer significant benefits when compared to diesel machines in the same class.
"The California pilot project supports what we've seen on jobsites in Europe and elsewhere: Our battery-electric compact excavator and loader are viable alternatives to diesel equipment for construction fleets that want to reduce their carbon footprints," affirms Volvo CE President Melker Jernberg. "By working together and collaborating we can reduce the amount of harmful emissions entering the atmosphere."