Known internationally as the original ready-mix bagged concrete, Sakrete closes out 2021 with reflections on 85 years of production quality and consistency, coupled with brand strength. Founded in Cincinnati, Ohio in 1936, the producer has progressed over the years, refreshing its identity, and expanding its products and job-specific formulations to meet the constantly evolving needs of pros and do-it-yourself customers alike.
The story of Sakrete is a story of American ingenuity at its finest, company officials note. After having dozens of contractors come into his ready-mix concrete plant searching for leftover "drippings" to use on small projects, Art Avril knew there was an untapped market for pre-blended, precisely formulated concrete sold by the bag. In 1936, Sakrete was born. Today, the producer sells hundreds of millions of bags every year to pros and DIYers worldwide, with products specially designed for any job condition.
As a civil engineer, Avril knew the fundamentals of making good concrete but needed a process that would allow for accurate, repeatable proportioning of dry raw materials, as well as a package with a moisture barrier to extend the product's shelf life. He designed and patented several of the original packaged dry mix innovations: Gas-powered dryer to eliminate moisture in the raw materials; a system to precisely proportion sand, gravel, and cement in every bag; and, multi-wallpaper sack to protect the mix in storage and on the jobsite.
LUCK OF THE DRAW
All that the concrete needed was a name. Avril and his wife Mary brainstormed dozens of possibilities at their kitchen table. When it came time to decide, they left the choice to chance and drew the name Sakrete out of a hat. The new packaged mix was not simply convenient, it was also the first to be sold by specified performance—a feature made possible by the new batching machinery—making it highly attractive to engineers and pros. No waiting for a truck and no more inconsistent hand batching; just high-quality concrete in a flexible, convenient package.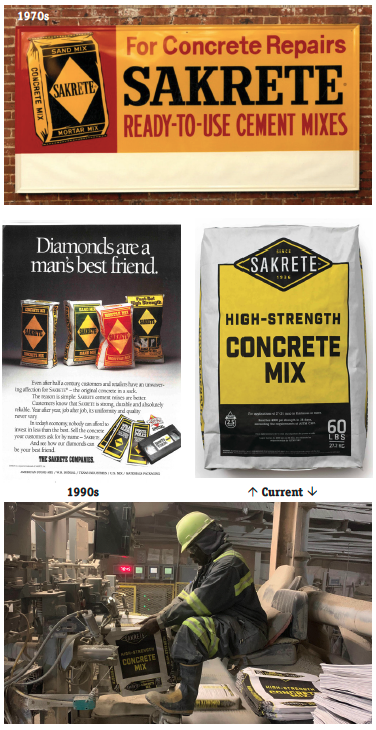 The bulk of Sakrete's early business was to the professional contractor, but following the post-war construction boom, the producer began rapidly expanding its distribution network through retailers and licensees across the nation. Bagged concrete helped fuel the rise of the suburbs and the DIY revolution of the post-war years, with the yellow diamond icon rapidly becoming a nationally recognized symbol of quality dry mix and concrete materials.
Innovations in packaging quickly increased throughput from the mere 36,000 bags produced in 1936—bagged, sealed, and stacked by the Avrils alone. The first major step was automated stitching to replace the original hand-stitched closure, dramatically shortening the most time-consuming piece of the production line. Equipment also scaled up, multiple lines were introduced, and more workers slowly added on to ease the founders' burden and meet increasing demand.
In the 1960s, the biggest innovation to packaging speed was realized with the introduction of the valve closure bag. While most bags are still filled by an operator, the new valve packaging allowed material to be "blown" into the bag rather than dumped in from the top, allowing for upwards of 1,000 bags to be filled per hour by a single operator. The core of the Sakrete brand, High-Strength Concrete Mix, quickly gained new products to the lineup, including Type S mortar and Sand Mix. Together, these three mixes allowed pros to tackle just about every job imaginable and were perfectly tuned for both the DIY and pro-grade customer.
Over the years, new formulations were also devised to deliver higher strength, improved durability, and more jobsite flexibility. The ultimate revolution arrived in the late 1990s with the introduction of highly-engineered repair products bearing special admixtures that allowed for thinner repairs, faster set times and even more flexible applications.
The demand for ever-greater performance has led Sakrete deeper into the highly-engineered concrete world with the 2019 introduction of Pro-Mix, a new line of extremely fast-setting, high strength repair mixes specifically designed for industrial repair applications.
From humble beginnings in a Cincinnati warehouse to the 45-plus modern plants responsible for turning hundreds of millions of bags of concrete annually, the dry mix industry has come a long way since its creation. But one thing has not changed, Sakrete officials contend: Commitment to Art Avril's vision—a dedication to quality, constant innovation, and a steadfast loyalty to the men and women in the concrete business.
HISTORIC BUILDING BRAND TIMELINE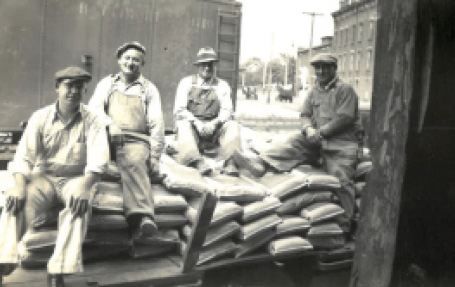 1936 – The first shipments of Sakrete are delivered to Cincinnati Gas & Electric Company.
1938 – At Sakrete's first plant, Art and Mary Avril personally run bags one at a time and hand-stitch them closed.
1941 – After adding one employee to the roster, who would later be lost to the WWII draft, the Avrils increase production from 36,000 to 140,000 bags per year.
1946 – The post-war building boom, and explosion of suburban living, drives up demand for concrete. Sakrete continues to gain traction with pros and DIYers by ensuring consistent strength and performance from bag to bag.
1955 – Ongoing advances in bagging technology deliver superior accuracy, automated stitching and more output from every plant.
1962 – Sakrete helps support the do-it-yourself revolution among homeowners by using national and in-store advertising.
1965 – Concrete packaging sees its first major revolution with the valve bag replacing stitching, allowing plants to reduce labor and move faster.
1972 – Sakrete's reach continues to expand with dealers large and small, and licensing of the brand name to additional producers across the country.
1990 – Sakrete's first major packaging update brings new color to the concrete industry.
2000s – Major modernizations are completed across the network of Sakrete plants, delivering better consistency, high-speed bagging, and automated palletizing. A full line of repair products, and new packaging, hit the market. The new formulas add special characteristics like higher strength and crack resistance to the standard mix and allow pros to repair a wider array of concrete damage easier than ever before.
2015 – The modern Sakrete bag and logo are born.
2021 – 85 years after the first bags rolled off the line, Sakrete remains the trusted brand.