Westlake Chemical Corp., Houston, closed last month on the Georgia-based Boral Building Products business, whose assets include Cultured Stone and Eldorado Stone precast concrete veneer brands. Concurrently, the Westlake Innovations subsidiary has announced an alliance with Nexii Building Solutions Inc., Vancouver, B.C. to support the construction of buildings with a reduced environmental footprint. The latter company promotes portland cement-free Nexiite, a "proprietary blend of materials used to manufacture the interior and exterior walls of the Nexii Panel. It is similar, but not so similar to concrete, as it can be poured and cast."
The alliance positions Westlake as preferred supplier of Nexiite siding, stone, roof tiles, trim and molding, pipe and fittings. Nexii elements are fabricated at company operated of Nexii Certified Manufacturers plants, then shipped flat-packed to the site for rapid assembled. The company creates near-zero construction waste in the field in the process of finishing airtight, energy-efficient buildings.
Pittsburgh-based L.B. Foster Co., owner of CXT Concrete Ties, CXT Concrete Buildings and Carr Concrete, has sold its steel Piling Products business assets to J.D. Fields & Co. The $24 million transaction includes all inventory associated with the line of business, as well as related fixed assets, topped by a Petersburg, Va. fabrication facility.
"The Company has begun narrowing its investment focus in the more profitable areas of Rail Technologies and Precast Concrete Products," says L.B. Foster CEO John Kasel. "There is substantial opportunity in these markets to build on the capabilities we have and drive greater scale. As transportation systems evolve and infrastructure demands increase to meet the needs for environmentally-sustainable solutions, these business areas are expected to benefit the most and will receive incremental capital to fuel enterprise growth."
"The transaction will help us improve shareholder value by allocating capital to businesses with better growth and profitability outlooks," he adds. "Our Piling Products business model was working-capital intensive and presented constraints on our ability to increase profit margins."
Luck Stone, Richmond, Va., the nation's largest family-owned producer of crushed stone, sand and gravel, has acquired North Carolina-based Ararat Rock Products, which operates quarries in Mount Airy and Eden. The deal is one of the largest in the company's nearly 100-year history and significantly expands Luck Stone's presence in North Carolina beyond an existing Pittsboro quarry.
"The acquisition represents tremendous growth opportunities for many, including our associates, customers and these great communities we are joining," says Luck Companies CEO Charlie Luck. "In addition to broadening the reach of our mission and values culture, we look forward to learning from talented new team members, strengthening our operational excellence and ensuring sustainable success for our company's growing footprint in the Southeastern United States."
ANDERSON CONCRETE: CRITICAL TO THE CREW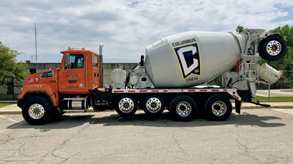 Anderson Concrete Corp. dedicated one of its newest mixers to the Columbus Crew, reigning Major League Soccer champions and occupants of a new downtown stadium in the Ohio capital city. Officially named Lower.com Field after a mid-2021 naming rights agreement, the 20,000-seat venue is the latest in the ready mixed producer's long line of central Ohio milestone contracts—many noted in 100th anniversary observances this year. 
"Projects such as the Columbus Crew stadium make our downtown more vibrant and provide jobs to those in the construction industry," says Anderson Concrete President Jessica Anderson, who represents the family owned business' fourth generation and took the helm earlier this year. "It will be a rewarding season to see the project come together and celebrate the Columbus Crew. The stadium will be a fantastic space for soccer games and many other events." 
Concrete contracts over the producer's long history, she adds, can be attributed to deployment of technology to formulate, test and upgrade mix designs and maintain orders at spec. Anderson Concrete's most significant recent innovation has been delivery of concrete mixes up to 12,000 psi design strength, a new threshold among central Ohio ready mixed operators.