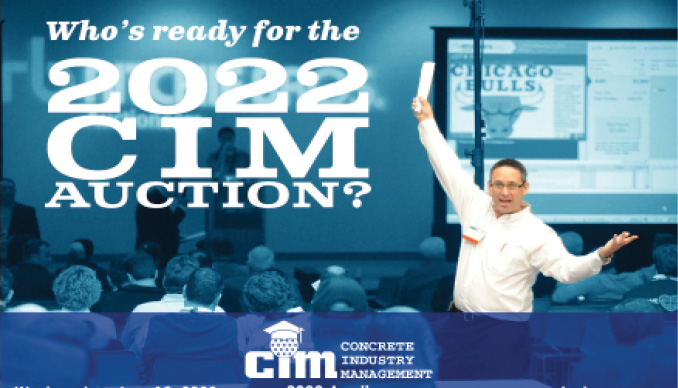 Organizers of the 2022 Concrete Industry Management Auction welcome donations of plant or construction equipment, tool, material, service, travel packages and other candidates for silent and live bidding, January 19 at the Las Vegas Convention Center.
"Proceeds will benefit the CIM National Steering Committee and support degree programs at Middle Tennessee State University, New Jersey Institute of Technology, Texas State University, California State University, Chico, and South Dakota State University, as well as help fund scholarships," says CIM Auction Committee Chairman Ben Robuck (Cemex USA).
The event will take place on the second day of World of Concrete, which in 2022 resumes a normal January schedule after this year's show was postponed to an abbreviated June window. Organizers are hoping for a record event next year, building on the 2021 Auction's $1.15 million in gross revenue. "The CIM Auction is a critical funding mechanism," affirms Marketing Committee Chairman Brian Gallagher. "We've been blessed with tremendous support from the concrete industry and the World of Concrete show management has been an amazing partner."
Previous auction pools have included concrete mixer trucks; truck washing stations; cement loads; skid steers; concrete saws, drills, mixers, vibrators, screeds; scaffolding; safety equipment; fiber transport systems; dust collectors; testing devices; decorative concrete tools; water meters; pumps and generators; laptop or mobile computers; sports memorabilia; and, sporting event, golf or vacation travel packages. Staged in a Las Vegas Convention Center North Hall meeting room, the 2022 CIM Auction will have silent bidding from 11 a.m. to 1 p.m., followed by live bidding. Those interested in making a donation can contact Ben Robuck, 404/456-6867; [email protected].