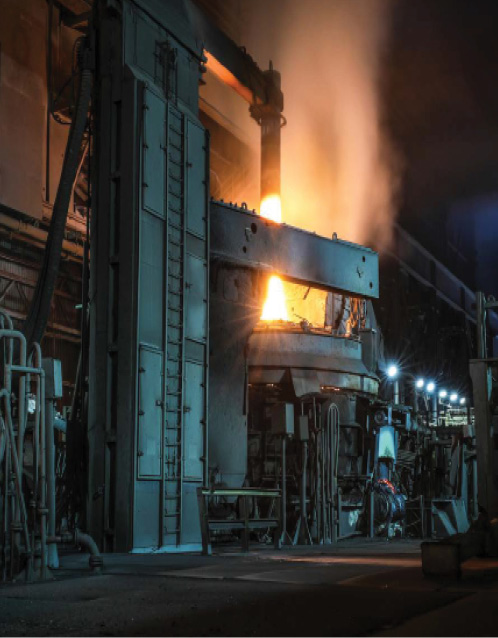 Nucor Corp. will make a new net-zero carbon steel available in 2022 across its product lines, including bar sold through Harris Rebar and Harris Supply Solutions concrete reinforcement fabrication, distribution and installation subsidiaries. The net-zero billing reflects the absence or offsetting of carbon dioxide emissions as measured in Environmental Protection Agency-designated Scope 1 (production) and 2 (outside power sources) stages.
Nucor will report CO2-free steelmaking by milling Econiq in electric arc furnaces running on 100 percent renewable energy. Ahead of the Econiq unveiling, the producer and a solar array operator entered a 15-year electricity supply agreement for the Nucor Texas bar mill in Jewett, ensuring a net-zero Stage 1 profile. Nucor will purchase carbon offset credits to fulfill the Scope 2 emissions equation for Econiq shipments.
"The green economy is being built on steel, and Nucor is proving that it can be produced in a sustainable way that can help the world meet its climate goals," says CEO Leon Topalian. "For more than 50 years, Nucor has been built on a sustainable model of recycling steel to produce new steel and steel products. The addition of Econiq is a logical extension to our innovation legacy."
Econiq provides customers with confidence that they are purchasing products embodying the lowest greenhouse gas emissions signature for steel milled in North America, he adds. The product is debuting in limited quantities, with anticipated demand highest among automotive and construction industry customers.
The United States is the cleanest place in the world to make steel, accounting for less than 2 percent of the GHG emissions from the global steel industry. Use of recycled scrap-based electric arc furnace technology at all of its 24 U.S. mills enables Nucor to operate at 70 percent below the current GHG intensity for the steel industry and meet even the most aggressive emission intensity benchmarks tied to the Paris Climate Agreement.
BAR CAPACITY
Along with the Econiq offering, Nucor has announced construction of a $100 million melt shop at one of its Western bar mills. Scheduled for a 2024 start-up, the operation will have 600,000 tons' capacity to support concrete reinforcement and other bar markets. The investment will bring the producer's annual bar steel capacity near 10 million tons. "The new melt shop will help us maintain our market leading position in steel bar production and help us meet anticipated growth for bar products from our customers in the Western United States," says Nucor Bar and Rebar Fabrication Products Executive Vice President Dan Needham. — www.nucor.com/econiq