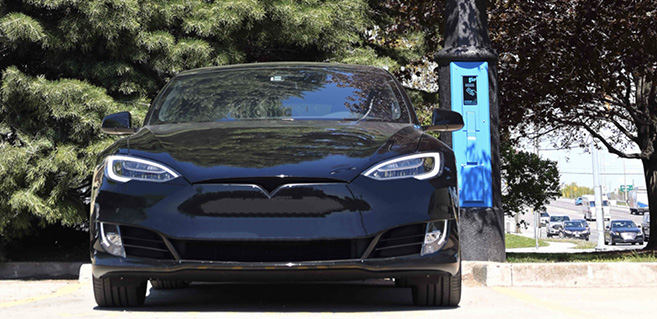 StressCrete Group of Burlington, Ontario has begun embedding a Level II Electric Vehicle (EV) charging station, or VoltLock, in its centrifugally cast, prestressed concrete Alexander pole. The package provides a discrete and convenient means of powering EV batteries. Base cavities in the lighting structure conceal power supply equipment, affording station users and owners a safe, tamperproof solution. The Alexander profile and finish, on the other hand, contribute to an aesthetic that blends into a streetscape or commercial parking area.
StressCrete has enlisted Quebec-based FLO, a leading North American EV charging network operator and solutions provider, as the inaugural VoltLock equipment supplier. VoltLock combines with the SmartTWO charging station, whose patented locking mechanism protects and safely stores the connector engaging the vehicle battery port.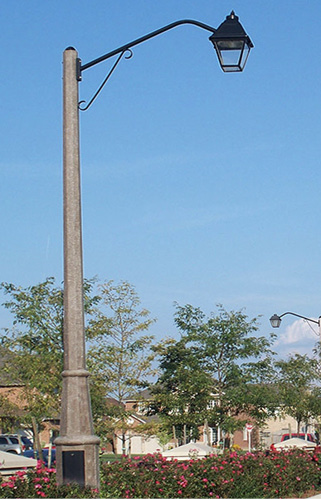 "StressCrete Group is always looking for ways to integrate technology into our infrastructure products," says Chief Growth Officer Luke van Vliet. "VoltLock will help communities scale up green infrastructure by utilizing their existing streetlighting network. Our goal is to develop products that will enhance communities and create more livable cities."
"FLO and StressCrete Group share a strong focus on reliable products and services, which is the foundation of EV drivers' trust in our charging stations," adds FLO General Manager, USA East and Central Canada Brookes Shean. "The VoltLock offers multiple opportunities for communities to expand EV charging infrastructure, even in demanding environments, while providing excellent protection against many types of tampering. When combined with the patented locking mechanism in our SmartTWO charging station, this robust solution is perfect for communities looking to increase EV adoption."
The FLO Level II EVSE charges all electric passenger vehicle makes and models. After significant development and testing, StressCrete and FLO are making the Alexander pole and VoltLock EVSE package available throughout North America.