Bob Mills has been promoted from director of Product Development to director of Sales & Marketing at Hamilton Form Co., Fort Worth, Texas. He continues a family tradition that began when his father was employed at Hamilton Form, and over the years has had shop floor duty, performed field service work, and managed production.
"Bob is one of our best solution-providers and brings 40 years of experience and relationships in the precast industry," notes Hamilton Form President Peter Ollmann. "There is not an application or issue around forming that Bob does not have experience with. Few know this industry, and the capabilities of Hamilton Form Company, as well as Bob. He is a perfect consultant to our customers, who look to him for recommendations on forming and equipment."
"I've seen double tees go from 4 feet wide to 15 feet wide," adds Mills. "Scale and complexity have changed, and so has precast. Advancements are happening as the industry evolves to meet expectations of architects, developers and producers. I am proud to have been part of Hamilton Form as it has led the way, set standards, thought ahead and exceeded expectations. All this is possible because we only focus on the precast, prestressed industry."
"Our mission is to grow the industry," he concludes. "We do that one customer and one customer need after another; we focus on the outcome and everything it takes to get there."


After 32 years with Hendrickson Intl., President and CEO Gary Gerstenslager will retire at year end. Named president in 2006 and inaugural CEO the following year, he is credited with bringing the heavy-duty truck components specialist "passion, technical knowledge, and drive for excellence."
"Gary embraced his role and, over 15 years as president, turned Hendrickson from an important supplier within the NAFTA commercial vehicle market into a leading global supplier," says Matthew Boler, chairman of Boler Co., Woodridge, Ill. parent company of Hendrickson. "Hendrickson is committed to a seamless leadership transition, and we are pleased to announce Matt Joy as the fifth president and second CEO in Hendrickson's history, effective January 2022."
Joy joined Hendrickson in 2006, moving through successive roles as Specialty Products Group and Truck Division vice president and general manager and, since January 2020, Hendrickson Intl. COO.

Denmark's Teksam has recently appointed JLG & Associates as a representative for the U.S. Southeast and South Central Regions, delivering concrete products machinery, molds and equipment to precast operators in 11 states. Founded in 1979, Teksam designs and builds customized dry cast production machinery, coring machines and mold equipment for concrete grade rings, manholes, median barriers, box culverts and pipe.
Jim and Brandon George are the father and son team behind JLG & Associates, a manufacturer's representative serving concrete pipe, precast, prestressed, and architectural concrete producers.
Charah Solutions Inc. in Louisville, Ky. has been awarded a five-year sales and marketing contract for the beneficial recycling of fly ash from the Buckeye State's largest coal-fired power operation: the two-unit, 2,665-megawatt Gen. James M. Gavin Power Plant in Cheshire, Ohio. The contract will net an estimated 35,000 to 60,000 tons of specification-grade Class F fly ash per year through 2025. The material will feed the Charah MultiSource network of 40-plus terminals in 20 states, where annual supplementary cementitious materials throughput approaches 2.6 million tons.
Argonaut Private Equity of Tulsa, Okla. has entered a partnership with Houston-based FABco, a provider of concrete materials and supplies, including engineered steel rebar and associated construction products. FABco has provided products, services and installation since 2010. Beyond Houston headquarters, it operates production and technical resource facilities in Central and North Texas, Colorado and Utah.
Consistent with Argonaut investments, the FABco partnership is founder-led. Brothers Martin, Matthew and Mark Paul continue to manage the business as they work with the investor's team to bring the operation to the next level. "Our competitive advantage has always been the character of our people and the strength of our relationships with each other, our suppliers and our customers," says CEO Martin Paul. "Our partnership with Argonaut Private Equity lets us build on that strength while providing new resources for growth at a pivotal time."
"With an infusion of infrastructure investment on the horizon and the strength of the balance sheet, this company can really grow the way the Paul brothers always envisioned, and we're excited to be part of it," adds Argonaut CEO Steve Mitchell, characterizing his firm's financial outreach as an example of "the right partnership with the right people at the right time."

Toronto-based Internet of Things device specialist Aoms Technologies has acquired Brickeye, a construction risk platform, and appointed Tim Angus as chief executive officer. He arrives with 25 years of technology, financial, and industry experience, most recently as the CEO for MMB Networks and Regen Energy (now Encycle), both IoT specialists offering unique hardware and software solutions. Aoms Co-Founder Hamid Alemohammad shifts to the role of chief operating officer, focusing on operational excellence and managing new market launches.
Aoms' Smart Construction Platform provides a host of monitoring capabilities and real-time insights, including progress of concrete curing, equipment utilization, energy consumption, material location tracking, activity monitoring in hazardous areas, plus structural damage and failure detection. By integrating Brickeye technology, Aoms can provide monitoring and analysis related to gas and water leaks, environmental challenges, noise levels, and other issues that commonly present compliance and insurance risk. Users can reduce their insurance premiums, while underwriters benefit from a fewer claims thanks to more stringent monitoring, mitigation and compliance practices. Brickeye will maintain its name and be fully integrated into the larger Aoms construction monitoring tool suite.
"By expanding our offering to include risk mitigation, forecasting, and compliance, we're further helping contractors transition to more modernized site monitoring," says Angus. "Our combined platform goes beyond any IoT solution currently on the market to digitize construction sites and meet our mission of making the industry safer and more efficient, while also reducing its environmental impact through superior remote monitoring."
"Brickeye has been successful in ensuring compliance and mitigating risk among construction sites across Canada. We're looking forward to reaching a broader international audience as we join the Aoms family," adds Brickeye Founder Diogo Beltran. "Customers will benefit from our combined capabilities and integrated digital construction platform."
Atlanta-based White Cap Supply Holdings has closed on Tri-Supply & Equipment, with locations in New Castle (headquarters) and Dover, Del., plus Salisbury, Md. The business joins the White Cap Northeast Region, and marks the first U.S. and second overall acquisition since White Cap became an independent company in October 2020, spun off from HD Supply.
"We are excited about the ability to leverage our combined branch footprint to better serve our customers in the mid-Atlantic area. There are no other White Cap branches in Delaware, and we are proud to combine our national product offerings with the local, unique rental and construction supply strength of Tri-Supply & Equipment," says White Cap CEO John Stegeman.
Bearing specialist SKF has acquired Rubico Consulting AB, an industrial firm based in Luleå, Sweden. The consultancy specializes in visualization and analysis of signal data; its expertise will be integrated into SKF's offer around the rotating shaft, as well as powering new technology areas such as bearings with fiber-optic sensors.
"Rubico's expertise in signal processing enhances our existing technology base, spanning from traditional Internet of Things hardware to the latest in edge computing," says SKF Technology President Victoria Van Camp. "The patented edge algorithm developed by Rubico simplifies and automates analysis of machine data and is an enabler for wireless, energy efficient systems. We look forward to engaging the Rubico team in the development of SKF's proprietary fiber optic-based load sensing, a technology already being piloted in Sweden. With its leading university and focus on sustainable technology investments, Luleå is quickly becoming a hub of industrial innovation within both renewable energy and green steel."
HAWKEYE CONCRETE'S HANK SCHMIDGALL, 1926-2021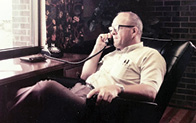 Hawkeye Concrete Technologies founder Hartzell Henry "Hank" Schmidgall, 95, died September 22 at his Mediapolis, Iowa home. He launched the concrete pipe and precast machinery business in 1949, following a World War II tour in the Merchant Marines.
One of his most well-known innovations is the Pipemaster, the concept for which originated in 1956 as he struggled to find an economic and simple way to unload concrete pipe from the back of a truck. The idea blossomed into the Pipemaster Pipe Unloader. Thousands of deliveries later, the Pipemaster remains a standard device for concrete pipe offloading.
With assistance from sons Jon, Don, and Ron Schmidgall, Hank Schmidgall grew Hawkeye Concrete to a global brand in machinery and robotics for concrete pipe or precast molding, forming and transfer. In 2008, Hawkeye merged with Pedershaab, headquartered in Brønderslev, Denmark, and became HawkeyePedershaab. Today, HawkeyePedershaab is part of the Afinitas family of companies.
"It is difficult to put in words what my grandfather meant to us as a role model, leader, beloved family member, and man of faith," says Afinitas CEO Brad Schmidgall, son of Ron Schmidgall. "His family and the wellbeing of his employees meant everything to him. Every day we work to uphold the standards he set and do great work that benefits our team members and the industries we serve. We will miss his wisdom and guiding presence."