Lehigh Hanson Inc. parent company HeidelbergCement AG announced late last month an agreement to take a 45 percent stake in Command Alkon, the global leader in software and information technology services for heavy building materials. San Francisco-based investor Thoma Bravo, which acquired Command Alkon in early 2020, will retain a 55 percent interest. The agreement is subject to regulatory approvals, primarily in Europe, which the parties anticipate clearing by year end.
Through each other's efforts and stakeholder collaboration, HeidelbergCement and Command Alkon believe they can help advance digital transformation within the heavy building materials supply chain, fostering more transparent industry standards for seamless connectivity; improved solutions to customers' everyday pain points (e.g., digital ticketing or telematics); a generally increased pace in innovation; and, an acceleration of customers' sustainability efforts. Independent of the partnership, HeidelbergCement will continue to develop its proprietary digital product suite, HConnect, with 18,000-plus customers the world over.
"Our goal is to become the first industrial tech company in our sector," says HeidelbergCement Chairman Dr. Dominik von Achten. "We have made significant progress in our HConnect digital customer experience since its development in 2018. The investment in Command Alkon and partnership with Thoma Bravo allow us to monetize the hidden potential of our assets and translate [them] into a new growth path."
"This partnership is a unique opportunity to accelerate digital change across the heavy building materials supply chain," adds Command Akon CEO Phil Ramsey. "HeidelbergCement is a leading industry player, and their investment is a validation of our strategy, solutions and the outstanding customer experience we offer. This transaction will better position Command Alkon to enhance support to all customers, expand our geographic footprint and execute our transition to the cloud."
"This is our most significant partnership with a global industrial company, and one that we believe will have a lasting positive impact on the sustainability and ease of doing business within the heavy building material sector," observes Thoma Bravo Senior Partner A.J. Rohde. "The goal when we acquired Command Alkon was to modernize the company's platform, build a digital ecosystem from production to consumption, and expand its global footprint. This investment and industry-changing partnership from HeidelbergCement will help accelerate all of those initiatives for the benefit of Command Alkon customers."
With more than 2,500 customers across the globe, Command Alkon has the largest installed software base in the heavy building materials supply chain sector. Its comprehensive product portfolio includes software and technology for plant and site automation; materials ordering and scheduling; inventory and concrete or asphalt mix management; trucking logistics and fleet optimization; office and field operations; plus, reporting and analytics. More than 1,000 companies use the firm's Connex platform linking participants across the heavy building materials supply chain—suppliers, haulers, and buyers—to empower sharing of data and digital workflows across all parties at cloud scale.
SUPPLY CHAIN TECHNOLOGY INVESTOR WEIGHS
HCSS ACQUISITION IN WATERSHED TERMS
Sugar Land, Texas-based construction estimating, operations, and fleet management software provider HCSS has entered into a definitive agreement to be acquired by Thoma Bravo, San Francisco. A major technology investor that closed on Command Alkon last year, Thoma Bravo characterizes its latest construction target as "A leader and pioneer in the industry with a long track-record of developing software to help companies streamline their operations … known for its wide range of innovative products and world-class 24/7 instant support by knowledgeable support techs."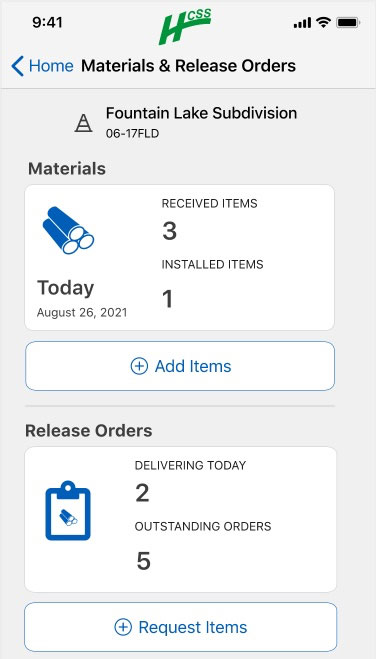 "HCSS is leading the way in connecting the entire construction ecosystem with real-time production data and visibility that has never existed before," says Thoma Bravo Vice President George Jaber. "We will invest heavily in this initiative and are excited about the benefits it will bring to the company, its employees, and its customers."
HCSS users can expect to see innovation and more efficiencies in supply chain software that provides information faster and dramatically reduces administrative work and errors. "My vision is that foremen, superintendents and project managers will be able to easily order materials from the HCSS applications they already use and track the status of those materials at all times through final placement," says HCSS CEO Mike Rydin. "While we have sustained double digit annual growth for more than 20 years, Thoma Bravo's knowledge of international markets will accelerate growth for our product suite on a global scale."
"The heavy construction market is poised to undergo its most significant historical change in both innovation and industry investment, and we can't wait to see what we can do together with HCSS to enable their customers to stay ahead," affirms Thoma Bravo Senior Partner A.J. Rohde.