In a welcome sign of economic stability and pandemic recovery in the building industry, Utah's Jacobsen Construction Co. has built a modern headquarters near the Salt Lake City International Airport. The facility bears on robust and prominently exposed cast-in-place elements, and recognizes concrete practice through touches that include repurposing formwork shoring in a wall sculpture.
The headquarters was designed by Salt Lake City's VCBO Architecture with an eye to putting the general contractor's employees in the same kind of inspiring, impeccably built surroundings that they have made possible for clients since 1922. Jacobsen Construction President Gary Ellis presents it as "a milestone we have looked forward to with great anticipation. A new company home, built by our own hands. A tangible way for our company to chart its own course and put present-day and future generations of employees in a position to succeed. Creating our own home meant that we were able to emphasize a workplace that reflects the values, priorities, and skills of Jacobsen's people."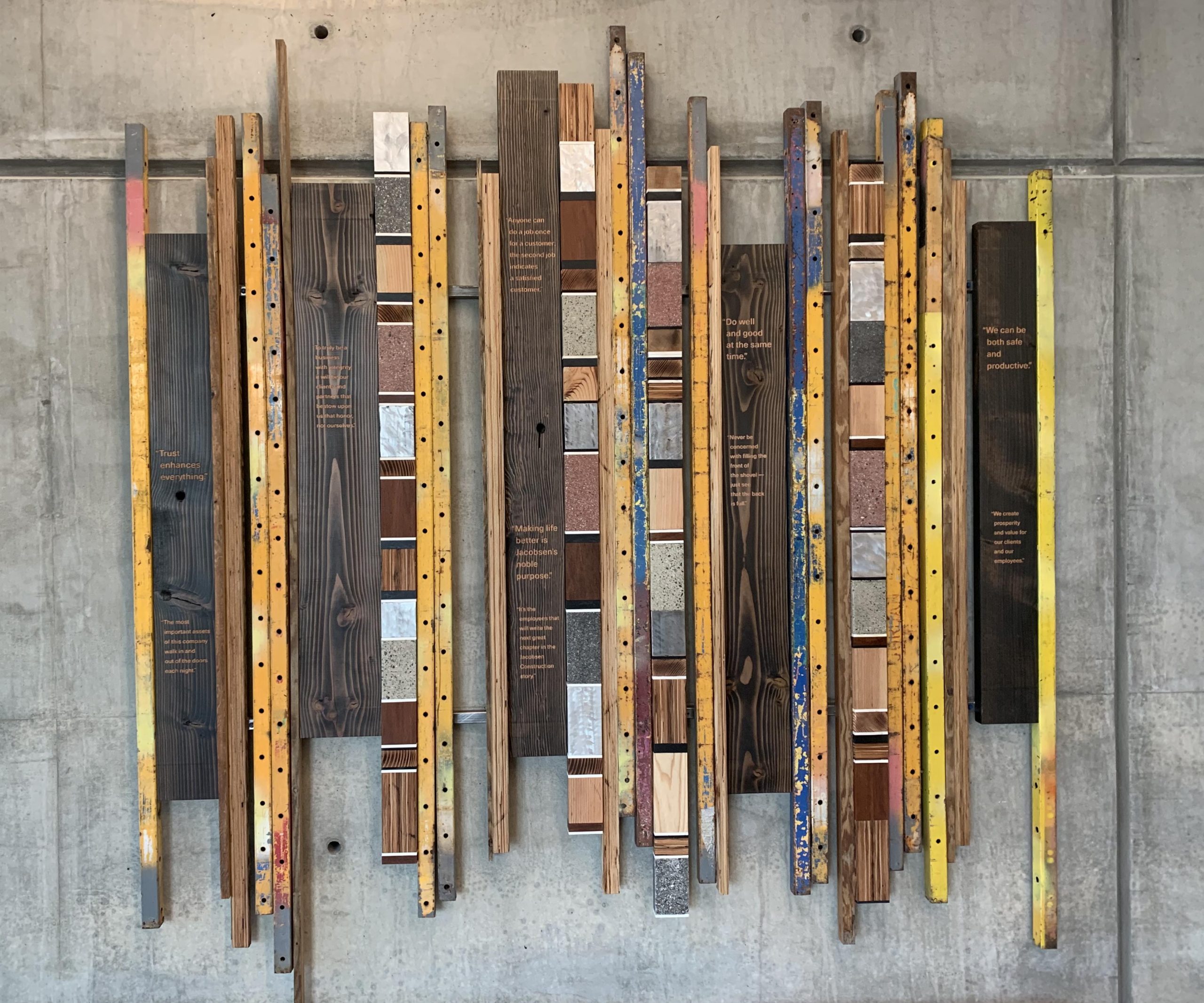 The three-story, 63,000 sq.-ft. facility encompasses modern workplace amenities and top-notch features throughout, including superb gym, yoga and meditation spaces; "living rooms" designed for informal collaborations; electric vehicle charging accommodations; inspiring offices with floor-to-ceiling windows; spacious conference rooms; training room with sophisticated presentation technology; and, a café space designed for comfort and connection. It is located in a bustling commercial neighborhood at the convergence of industry, travel and hospitality.
"This headquarters connects pride in our past with our vision for the future—and it's simply a great place to go to work in every day," observes Jacobsen Project Manager Stan Burke, who oversaw construction. "This building is a stake in the ground. You don't construct a headquarters like this unless you're planning on being around for the long haul."