As information technology and batch plant improvements continue to usher concrete producers to new efficiency thresholds, control panel and dispatch software provider Marcotte Systems challenges the industry to imagine a ready mixed operation in which robust, high-performance programs enable each workpiece to direct itself through the appropriate production stations. Further, a concrete plant that instructs various autonomous materials handling carriers to complete the batch and mixing cycle for a specific mix design and order, plus a continuous production line that self-tunes in real-time based on the characteristics of the incoming materials or feeds forward the needed process changes to increase production yield. In other words, imagine a fully autonomous batch plant.
PLANT SET UP CHALLENGES
An efficient autonomous batch plant in the concrete industry entails the automation of many sub-systems: Incoming material handling systems and various electro-mechanical equipment such as conveyors, elevators, control panels, and interfaces linked to the master control panel. Bin gates and diverters are to be used to draw materials from storage and to regulate material flow. The automated feeding sub-system must be able to control coarse, fine, and superfine feeders that aid in material flow quantum as fine and superfine feeders are used to ensure speed accuracy and higher throughput without compromising raw material accuracy.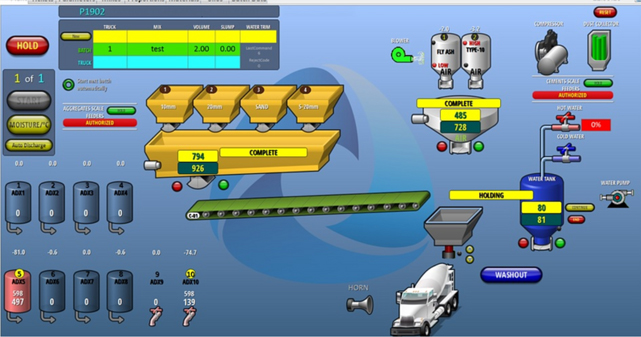 AUTOMATION
Automatic batching is at the core of an autonomous batch plant. It is tasked to combine the concrete ingredients volumetrically into the required proportions. The automated mixing process ensures that all parameters are closely monitored. Throughput can be increased with the use of multiple weigh hoppers, which enable preparation of multiple, parallel batches. 
The autonomous system enhances real-time visualization as it relays the actual state of any concrete plant hardware. The system entails a touch screen with an integrated keyboard and mouse, various electrical installations, devices, and sensors. All production processes are visible on the touchscreen. The remote station is equipped with input and output. Advanced error control algorithms and a PLC program ensure high sensitivity in weighing and dosage regulation at maximum capacity.
RUNNING REMOTE
Remote control in the concrete industry is the result of modest technical advancements and has led to improved cost efficiency. It enhances the monitoring and operation of various concrete plants in different geographical locations from one central location. The system is designed to allow operators to undertake corrective actions with the local workers to minimize deviations from productivity, environmental, safety, and product quality standards. Remote monitoring aims at presenting information regarding each production stage and equipment performance. The advent of remote control is a unique milestone in the concrete plant industry, making production more efficient.
FUTURE PERSPECTIVE
As construction continues to evolve, the changing technological know-how and business models will impact the concrete industry's future, a key element of which is digitization. Efficiency will be enhanced through advances in automation features such as sensors. Big Data Analytics plus real-time process control will enable tunable manufacturing at each step of production. Automation will also help alleviate safety concerns with drones and augmented reality to better understand operating environments with activity-based information playing a role in enhancing accuracy in data gathering and reducing human presence on site.
Batch plant sustainability will go beyond compliance to rules and modular standards using software features to decrease concrete carbon footprint. Prefabricated concepts will enhance compatibility among infrastructure and building projects, elevate productivity, and accelerate batch plant industrialization. While the industry can be proud of the road traveled to this day, the best is yet to come. — Marcotte Systems, Montreal, 855/652-6520; www.marcottesystems.com