By Don Marsh
New ready mixed concrete plants bordering the top two U.S. population centers' urban cores have common threads: Remediated brownfield siting; twin alley, transit mixed design; 350-450 yd./hour, new capacity ratings absent their city limits for generations; and, proximity (< 5 miles) to new reinforced concrete buildings reaching local- or national-record heights thanks to mixes in the 10,000-plus psi design strength class.
Concrete Products led off 2019 with a visit to the National Ready Mixed Concrete Co. Vernon plant on the edge of downtown Los Angeles, where a five-acre parcel affords ample room for a 50-mixer fleet plus dump and tanker traffic supporting 1,100 tons and 5,000 tons of live cement and aggregate storage. On the other side of the country, Gotham Ready Mix LLC has opened a comparably impressive plant, but on a scale reflecting New York City land values that make Los Angeles real estate appear a relative bargain.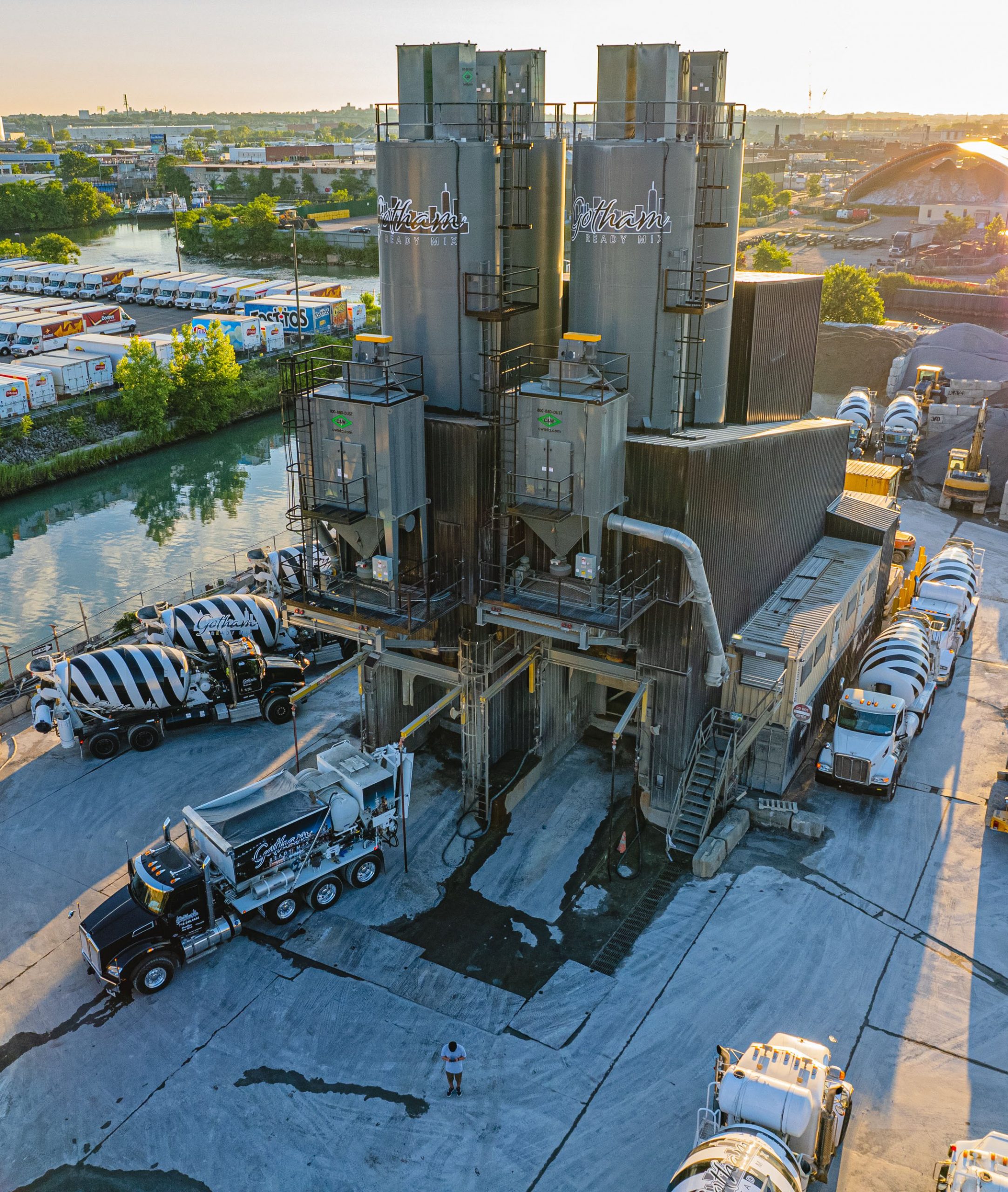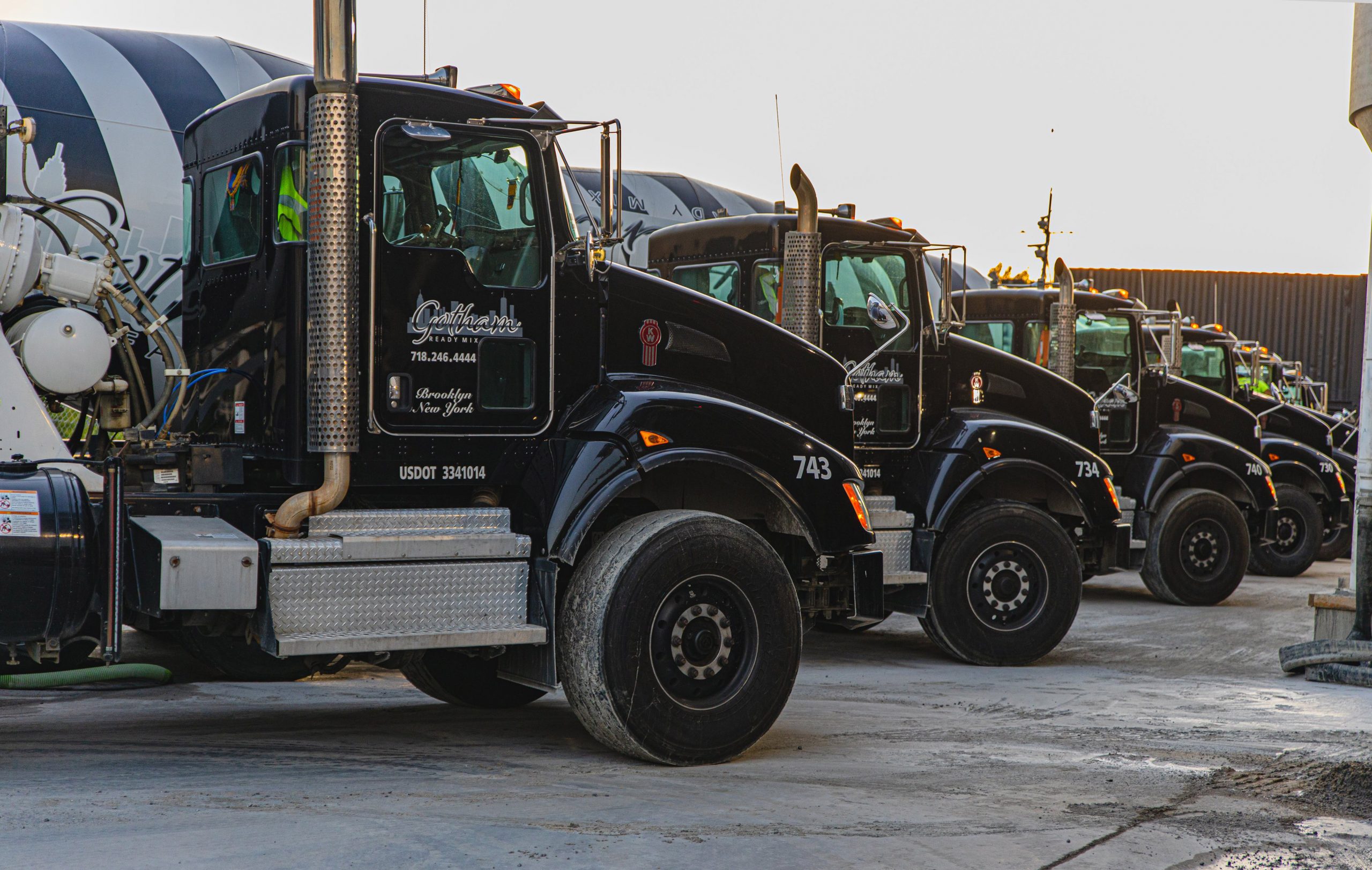 Gotham RM operates on a Brooklyn plot harboring two-thirds the fleet, one-quarter the acreage and a fraction of the material storage volume at Vernon. "No one thought we could put a plant on this site. It is the fastest loading in New York City," says President Philip Mazzone, who started as a driver in 1996 with Kings Building Material, based in The Bronx, Brooklyn's neighboring borough to the north. "We designed it after years of learning with other configurations." They include yard layouts of three Kings Ready Mix sites he ran during a 22-year management tenure—the last three years under U.S. Concrete Inc., which acquired the business in 2016.
A drone or ground level view of the 57,000-sq.-ft. Gotham RM Brooklyn operation confirms a veteran's hand in traffic planning and placement of washout station, settled process water tank, slump racks, returned concrete pad, stockpiles and twin batch plants. The site is an elongated rectangle, framed on the east (rear) and north by a manmade East River inlet; 10 mixer trucks tightly parked side to side might fit the widest points.
Six shipping containers—one adjacent and two stacked pairs—house offices immediately to the right of the main entry, which lies along a secondary Brooklyn thoroughfare on the parcel's west border. A mixer, dump and tanker traffic loop around centrally located batch plants varies in 25- to 35-ft. widths. One of the few points where vehicle clearance to fixed equipment or site obstacles is of least concern is beneath two main conveyors running from the northeast corner to aggregate bins feeding Stephens Falcon models.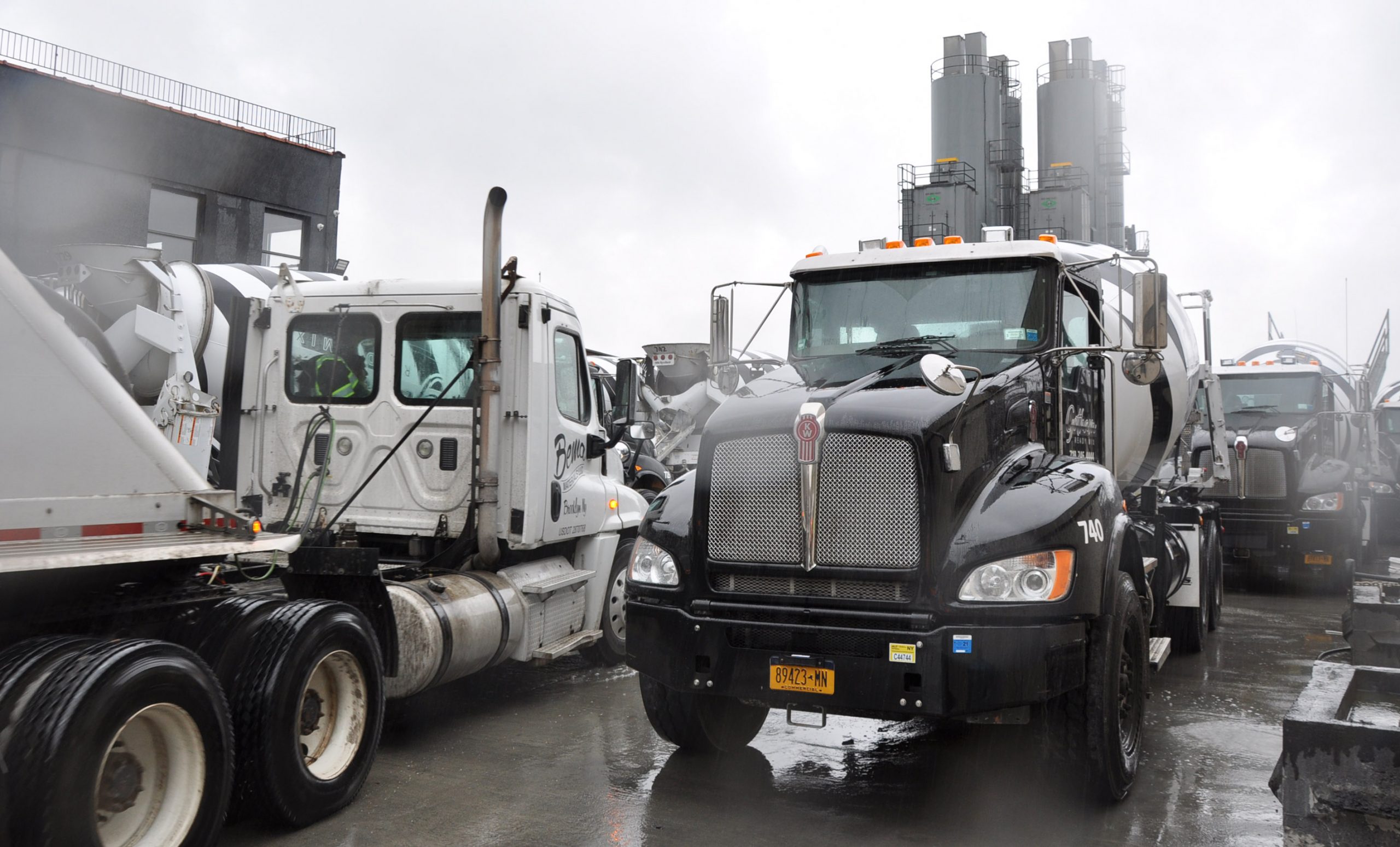 RELATIONSHIPS, NOT EXCUSES
The Gotham RM workhorse is located toward the center of Brooklyn and close to the Brooklyn-Queens Expressway. The BQE traverses the Big Apple's largest land expanse, linking the two boroughs to three East River bridges and two tunnels to construction-fertile Manhattan (population 1.6 million, commercial ready mixed capacity, 0 yd.).
Regardless of plant siting, New York City contractors rarely entertain excuses for delayed deliveries. "Relationships are what drives business in this market," affirms Operations Manager Antonio Romano, a charter Gotham RM team member who grew through the Kings Ready Mix dispatcher, customer service and operations ranks. "Contractors don't need to hear about traffic problems or difficulty navigating narrow streets. They expect to start pouring when you tell them trucks will arrive."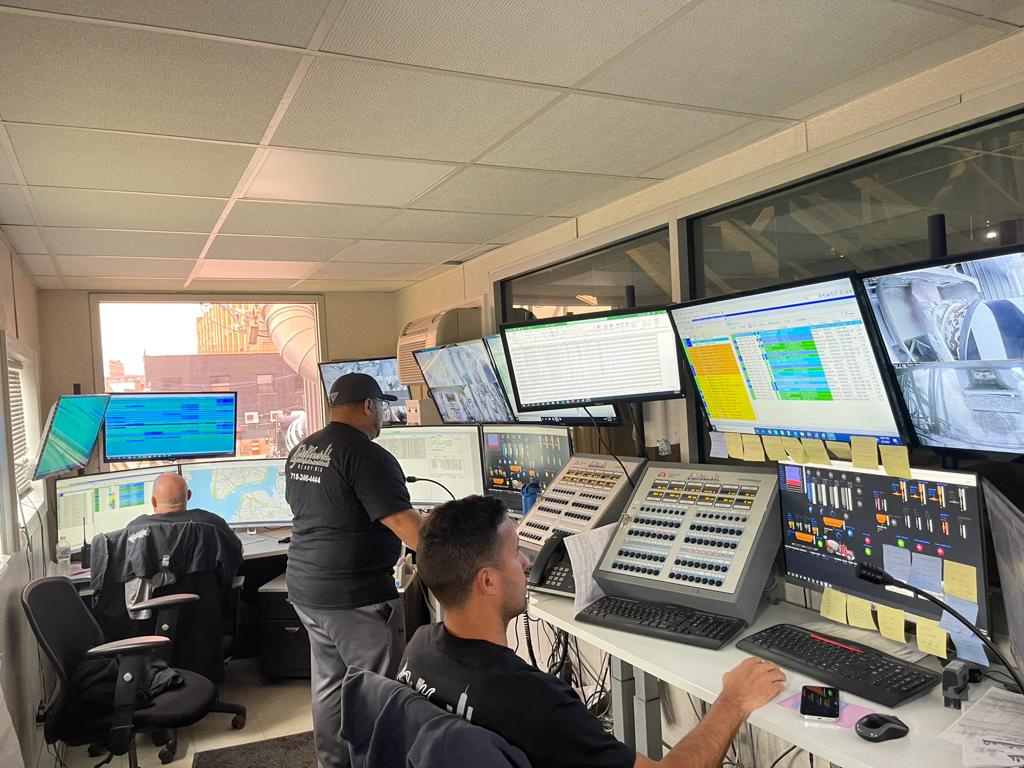 A group of drivers followed him and the boss to Gotham RM, which launched in 2019 with the acquisition of a Bronx operator, NYC Ready Mix, now serving as a 15-truck satellite to the Brooklyn hub. Construction of the latter proceeded through a bruising, Spring 2020 interval that made New York the North American epicenter of pandemic loss and response measures.
The new plant warrants seasoned drivers. Plant Manager Fred Manzola, short on chit chat but long on traffic safety and split second load routing, commands a 40-ft. wide sliding entry gate and assertively guides inbound or outbound mixers, dumps and tankers. Drivers know their route to the washout station, next load or parking—or stockpiles or silo ports—might have passages with lateral clearances measured in inches.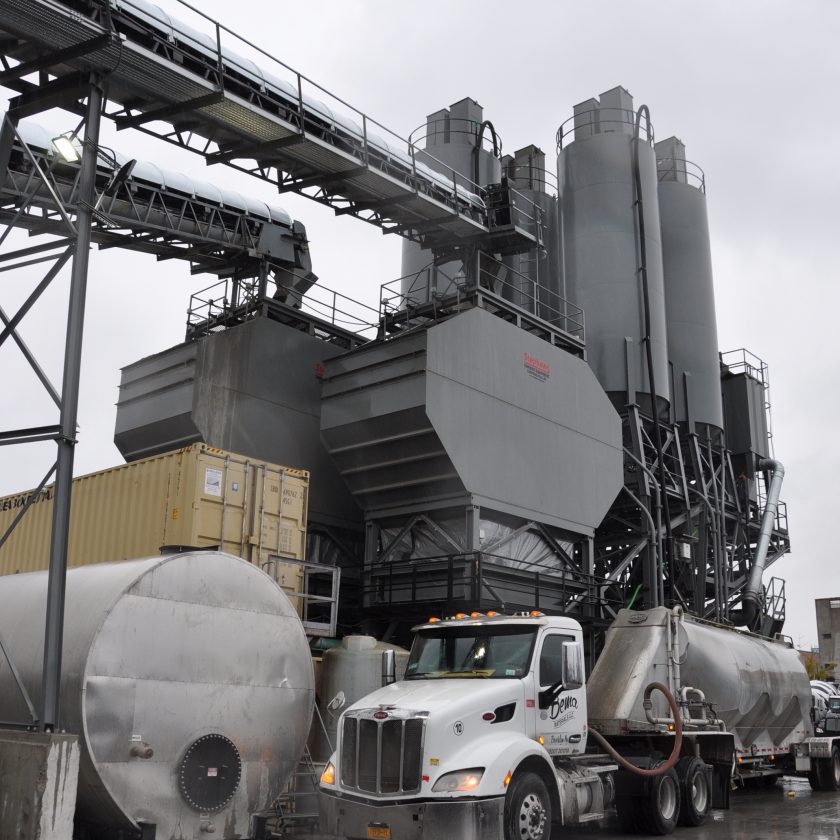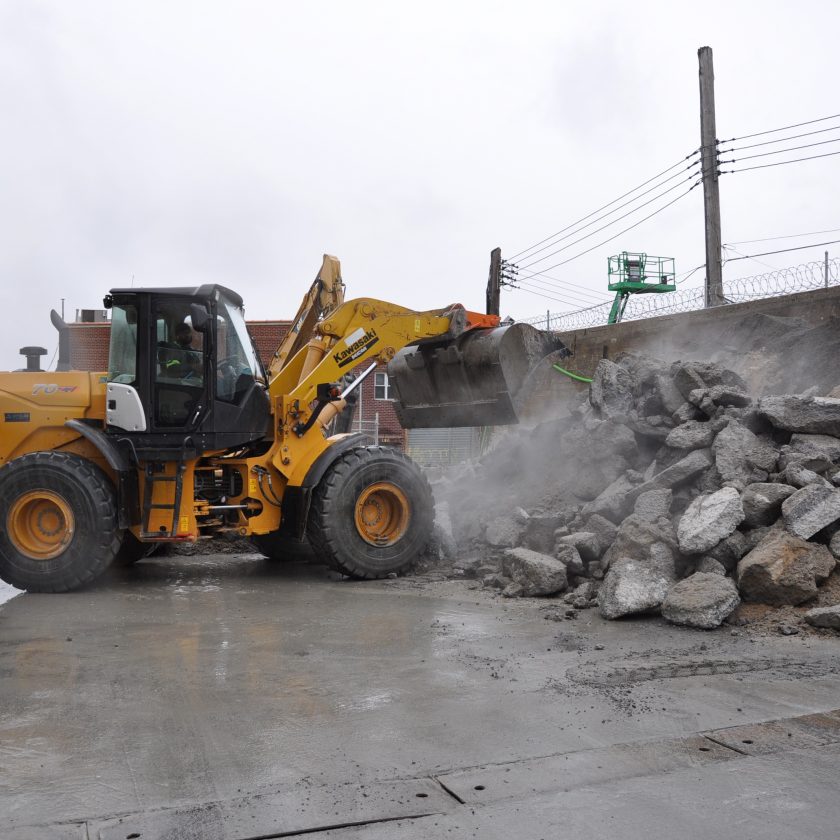 PERFORMANCE COUNTS
Few current New York City practitioners had started in the concrete business the last time the market saw a plant on par with the Gotham RM flagship. Philip Mazzone built it to serve a familiar, diverse customer base. "I like to work on all types of jobs, from small orders to high rise buildings. I don't ignore the little guys," he says. "Work has been available throughout the pandemic. We have been bidding day in and day out, and headed in the same direction as we did with the former business—approaching up to 450,000 yards per year."
At his prior venue, he helped grow a volumetric mixer operator to a mainline ready mixed producer running four plants on three sites and a 60-mixer fleet. In a nod to contractors on small jobs or working thorny sites that competitors shun, Gotham RM rounded out its Brooklyn fleet this summer with two Kenworth T880-mounted specialty mixers: A Zimmerman Industries Zim-Mixer volumetric, loaded with fiber or liquid color dispensing and other options; and, McNeilus 12-yd. Standard mixer with 60-ft. telescoping Theam TLD conveyor, the largest mixer-truck-mounted model in New York City. The main Brooklyn fleet is three-axle 2021 Kenworth T440-mounted McNeilus 12-yd. Standards, spec'ed for the unforgiving streets and tight turns drivers navigate on every run.
The fleet is equal to the hourly volume requirements Gotham RM might encounter on either side of the East River. Target work includes foundation or column and slab pours on slender Manhattan towers for which reinforced concrete is uniquely suited due to load bearing and high modulus properties. With testing and mix development assistance from Sika Corp., plus a National Ready Mixed Concrete Association Certificate of Conformance, Gotham RM can offer with confidence high performance concrete up to 14,000 psi design strength. Much according to plan, the producer has in short order positioned itself to make a mark on a city that National Geographic dubs "the focal point of Western Civilization."