From the Carbon Leadership Forum's July 2021 report, "Environmental Product Declaration Requirements in Procurement Policies – An analysis of EPD definitions in Buy Clean and other North American procurement policies"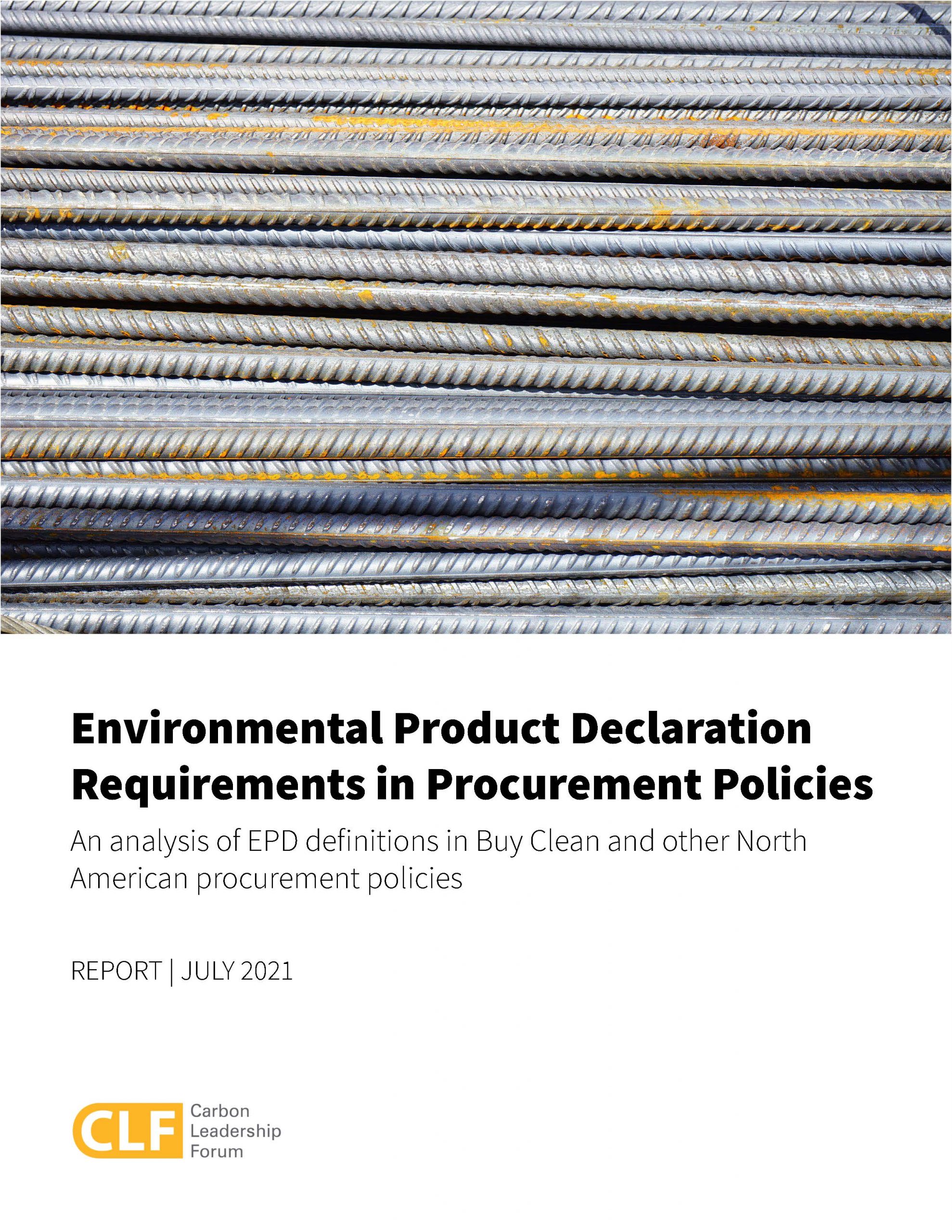 A growing number of local, state, and federal procurement policies require environmental product declarations (EPDs) for reporting the embodied carbon of eligible products. Embodied carbon refers to the greenhouse gas emissions arising from the manufacturing or production, installation, maintenance, and disposal of materials used in the construction of buildings, roads, and other infrastructure.
Procurement policies such as "Buy Clean" aim to leverage the purchasing power of government agencies to incentivize transparency and a shift toward lower-carbon options in the broader construction materials market. EPDs are appropriate for use in procurement policies because they already exist as agreed-upon resources for calculating and documenting embodied carbon. There are limitations on the use of declarations for comparison, and there is room to improve EPDs and the product category rules (PCRs) behind them. Policies aiming to compare products across categories (such as between concrete and steel) should consider a building-scale approach and use whole building life cycle assessment (LCA). EPDs and PCRs can be improved in the following ways to support the use of relevant and accurate data for comparison:
Inclusion of supply chain-specific (i.e. primary) upstream data for processes with large impacts where secondary data is currently allowed.
Inclusion of additional life cycle stages beyond A1-A3 (raw material supply, transport to plant/factory, manufacturing/production) into PCR requirements, where not already included.
Inclusion of standardized default datasets in PCRs for upstream processes, including material production and transportation impacts.
PCRs can be improved to better support the ability of producers or manufacturers to comply with policies, such as facility- and supply chain-specific EPD guidance, plus guidance on inclusion of additional data in supplemental information.
Procurement policies are not currently harmonized in terms of the type of EPD that is required; existing and proposed legislation require facility-, product- or supply chain-specific EPDs. Facility- and supply chain-specific EPD requirements were introduced by policymakers interested in upstream data that has not yet been included in the minimum requirements established by the PCR for an eligible product. Policymakers have also included requirements for additional data that can be reported in the supplemental information section of an EPD.
Policymakers may consider one of the following strategies to encourage harmonization and allow for the addition of eligible materials over time:
Request supply chain-specific EPDs with additional life cycle stages beyond A1-A3.
Require product-specific EPDs and participate in PCR development to encourage the inclusion of upstream data and additional life cycle stages in PCRs.
The Carbon Leadership Forum is based at the University of Washington, Seattle. "Environmental Product Declaration Requirements in Procurement Policies" authors are CLF Executive Director Kate Simonen; Senior Researchers Stephanie Carlisle and Meghan Lewis; and, Researchers Monica Huang and Brook Waldman.
The report is posted at www.carbonleadershipforum.org/clf-policy-toolkit.