Sources: Build With Strength Coalition, Alexandria, Va.; CP staff
Build With Strength is lining up with Habitat for Humanity International and the Association of Collegiate Schools of Architecture behind the Habitat Design Competition: Climate Positive Concrete Housing. Through April 2022, the program will challenge individuals or student teams to explore a variety of issues related to the use of concrete for a Habitat home. Along with baseline criteria, entries will be judged on successful inclusion of low or negative embodied carbon strategies in materials and construction methods.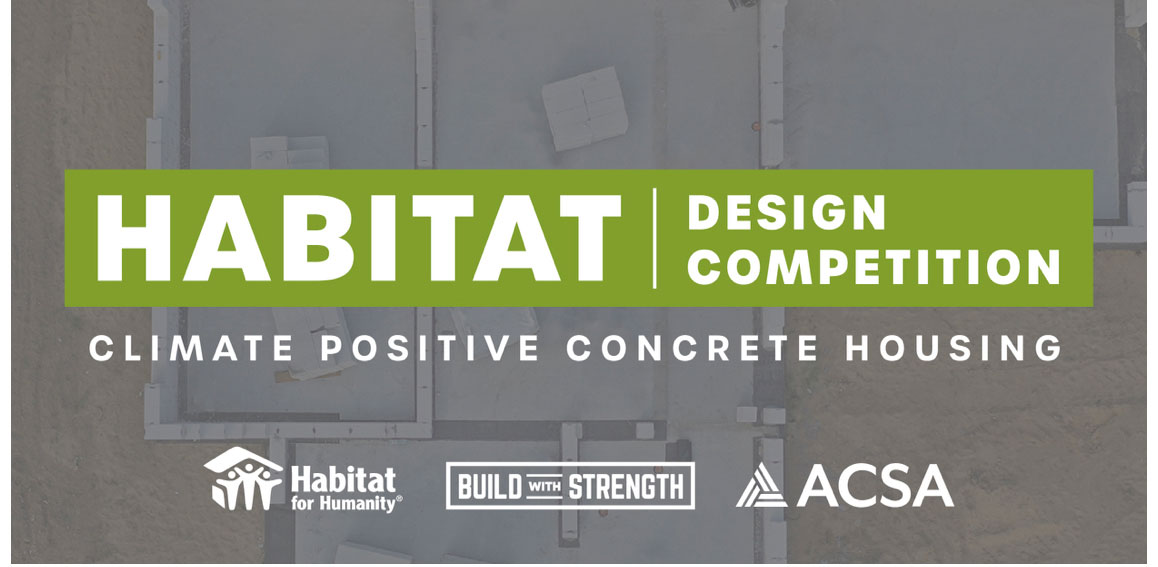 Along with faculty sponsors, architecture students will be tasked with creating a design that would best suit one of seven climate regions in North America. Students can choose from various forms of concrete construction, but must meet Habitat for Humanity U.S. construction standards. Individuals or teams will have the chance to win cash prizes and potentially see their designs further developed and realized through domestic Habitat organizations.
The National Ready Mixed Concrete Association-backed Build With Strength represents architects, builders, engineers, emergency services personnel and policymakers. The coalition is working with Habitat International to address housing design and construction issues on a large scale. "We are looking forward to the innovative designs that students are sure to create. Designing with concrete is an exciting, creative process, and it will be interesting to see the different visions for incorporating low or negative embodied carbon strategies," says NRMCA President Michael Philipps.
"We're grateful to be working with Build With Strength and the Association of Collegiate Schools of Architecture to empower students to champion innovative housing solutions," adds Habitat for Humanity International Senior Vice President, U.S. and Canada Adrienne Goolsby. "The results of this competition could greatly impact our work by providing us with tangible design ideas to build more sustainable homes and eco-friendly communities."
"We're pleased to announce this competition for faculty to incorporate in their Fall 2021 curriculum," notes Association of Collegiate Schools of Architecture President Lynne Dearborn. "Offering students the chance to design homes with actual potential to be built is an invaluable experience. Designing and building an affordable home offers a beneficial anchor for family members and significant opportunity for students and faculty." — www.acsa-arch.org/competitions