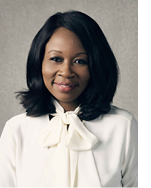 Denver-based Summit Materials Inc. has appointed Tamla Oates-Forney as an independent director and member of the board's Human Capital and Compensation Committee. The concrete, cement and aggregate producer's board now comprises nine members.
"Tamla brings a wealth of expertise in human capital management that will be a strategic asset to the Company. She is an accomplished global Human Resources Executive with over 25 years of diverse HR experience cultivated through leadership roles with Waste Management and General Electric," says Summit Chairman Howard Lance.
"Her effectiveness in providing strategic leadership through periods of accelerated growth will bring meaningful contributions as we pursue our Elevate Summit strategy," adds CEO Anne Noonan. "I committed us to improving our human capital management, with a focus on the areas of safety, talent management and recruitment. Tamla will bring valued expertise to all these areas."
Oates-Forney currently serves as Waste Management senior vice president and chief people officer, with primary responsibility for human resources operations, employee and labor relations, HR information systems, compensation, benefits, culture & engagement, learning, and leadership development. In the two decades prior to Waste Management, she held positions of increasing responsibility at General Electric.
---
Chicago-based LafargeHolcim has named Toufic Tabbara as chief executive officer of U.S. Cement operations. He arrives with more than 20 years' experience in Lafarge North America and Lafarge Group overseas ready mixed concrete, asphalt and gypsum businesses, and most recently oversaw similar operations, plus cement production, as Country CEO for Jordan, then Algeria. Tabbara holds undergraduate and graduate business administration degrees from American University in Beirut and Thunderbird School of Global Management in Arizona. He succeeds Jamie Gentoso, who has been appointed global head of the LafargeHolcim Solutions & Products Business Unit and Group Executive Committee member.
---
Separately, LafargeHolcim Ltd. obtained an A1+ Sustainability Rating from V.E, part of Moody's ESG Solutions, with an overall environmental, social, governance score of 65 out of 100. The leading sustainability rating ranks LafargeHolcim among the top 2 percent of companies in V.E's global ESG assessment universe and first out of 25 companies in the European building materials sector.
Moody's affiliate V.E is a global leader in ESG assessments, data, research, benchmarks and analytics. Sustainability Ratings provide a holistic view of an organization's exposure to ESG-related risks and opportunities from both a financial and stakeholder impact perspective.
Auditors note how the LafargeHolcim A1+ Sustainability Rating is driven by new sustainability commitments and improved reporting and communication. LafargeHolcim now also displays advanced willingness and capacity to integrate ESG factors into its strategy, operations and risk management, according to V.E.
"This is testament to our commitment to sustainability from both an environmental and social perspective. ESG metrics are at the core of our performance management and growth strategy," says Chief Financial Officer Géraldine Picaud. 
"This top Sustainability Rating recognizes the progress we have made since our net zero pledge, setting ourselves the most ambitious 2030 climate targets in our industry," adds Chief Sustainability and Innovation Officer Magali Anderson. "It is also a great recognition for the outstanding work of our teams around the world and encourages us to keep on raising the bar to accelerate the transition to sustainable building."
---
Abiding its "Beyond 2020" strategic targets, the supervisory board of Lehigh Hanson Inc. parent HeidelbergCement AG has established two new positions to further drive the cement, concrete and aggregate producer's major transformation in sustainability and digitalization. Both changes reflect ambition to be the industry leader on the road to carbon neutrality and become the first industrial technology group in the building materials industry.
Dr. Nicola Kimm will assume the newly established HeidelbergCement Managing Board position of chief sustainability officer, responsible for Environment, Social, Governance, plus Global Research & Development, and New Technologies. As a trained ecologist, chemical engineer and business engineering PhD, she has nearly 25 years of experience from sustainability roles in North America, Asia and Europe with BASF, Corbion/CSM and Philips.
Dennis Lentz will assume the newly established position of chief digital officer, responsible for an enterprise-wide transformation. He has held HeidelbergCement executive positions in Energy Purchasing and Logistics, along with serving as chief information officer. Before joining the producer in 2010, he worked as a management consultant in building materials and mining, focusing on process optimization.
"We are strengthening our Managing Board with two renowned experts [and] are convinced Dr. Nicola Kimm and Dennis Lentz will accelerate initiatives on the path to become the leading building materials company in the fields of sustainability and digitalization," says HeidelbergCement Supervisory Board Chairman Fritz-Jürgen Heckmann.
---
Cemex S.A.B. de C.V. has entered a memorandum of understanding with energy giant bp to develop solutions to decarbonize cement production and transportation—the producer's latest move toward delivering net-zero carbon dioxide concrete by 2050. Potential measures may include low-carbon power or transport, energy efficiency, natural carbon offsets or carbon capture utilization and storage technologies.
"Concrete plays an integral role in society, and there are no substitutes for its key attributes, strength, and resilience. We believe it will continue to have a critical role in a low carbon economy, and the challenge for the industry is to find solutions in process emissions," says Cemex Executive Vice President Sustainability, Commercial, and Operations Development Juan Romero. "This initiative with bp is another example of the work we are doing with partners across industries, academia, and startups to tap into the latest innovation and disruptive technology to achieve our ambition of delivering net-zero CO2 concrete globally to all of our customers."
"We want to help 'greening companies' meet their sustainability aims just as we are trying to do in our own company," notes bp Executive Vice President, Regions, Cities & Solutions (RC&S) William Lin. "We know that 70 percent of global emissions come from transport, industry and energy and that cement making is energy intensive. Teaming up with progressive companies like Cemex that share a net-zero ambition and have complementary capabilities will help speed up decarbonization of the industry and energy system. Now is the time to work together on the path to net-zero and along the way generate mutual value." The RC&S team aims to build enduring relationships with corporations around the world to offer bespoke, integrated and decarbonized solutions to complex needs, he adds, while providing energy that is clean, reliable and affordable.
"Cemex is taking a leading role in decarbonizing the global cement industry, setting a fast pace of progress in all regions, including Mexico and Latin America," observes bp Senior Vice President for Latin America Angelica Ruiz. "Our collaboration with Cemex is another step towards our ambition to be a net-zero company by 2050 or sooner and help the world to get to net-zero."
---
Easi-Set Worldwide, the licensing subsidiary of Virginia's Smith-Midland Corp., has signed an agreement under which Nevada-based Jensen Precast will produce the patented J-J Hooks highway barrier system. The California Department of Transportation (Caltrans) recent gave full approval for MASH tested J-J Hooks portable concrete barrier in 12.5- and 20-foot lengths, for all widely used applications, including free-standing, pinned for asphalt surfaces, bolted for concrete surfaces, and bridge decks.
The potential market is massive, notes Smith-Midland: Caltrans has advertised over 10,000,000 linear feet of project bids on highway safety barrier in the past four years. J-J Hooks are currently the only MASH-tested, multi-functional precast concrete safety barrier approved for use in California, home to the second largest highway system in the country. "With the sunsetting of the current California K-Rail barrier system by Caltrans, and the many large upcoming roadway projects like Riverside and San Bernadino, Jensen Precast is poised to make a huge and immediate impact on the growth of our J-J Hooks brand," says Easi-Set President Art Miles. Thanks to production at plants in northern and southern California, he adds, Jensen Precast will be able to provide the barrier to contractors across the state.
---
BRICKWORKS IOWA DESIGN CENTER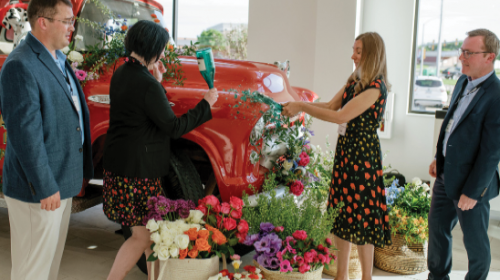 Brickworks North America, parent company of Pennsylvania-based Glen-Gery, has opened a masonry showroom and supply center in the greater Des Moines metropolitan area. The modern, 25,000-sq.-ft. facility has been carefully designed to foster creativity, maximize project efficiency and promote education among trade professionals and homeowners.
"Glen-Gery has always been committed to providing customized, end-to-end solutions to meet every customer's unique needs," says Brickworks NA President Mark Ellenor. "Whether you're an experienced builder, architect or a homeowner, the new supply center in Des Moines is a premium one-stop shop where customers can not only collaborate and leverage our expertise, but also compare, select, and purchase everything they need for their projects."
The Iowa Design Center includes a consultation area where a team of experienced staff offers expert advice, reviews plans and guides customers through the product selection process; 7,000-sq.-ft. showroom displaying a brick, stone and paver portfolio; and, a fully-equipped training and education center for trade professionals to expand their knowledge and technical skills through a forthcoming series of seminars and classes. Des Moines becomes home to the 10th Glen-Gery masonry supply center in the U.S.