Registration continues for Hardscape North America, October 20-22 at the Kentucky Exposition Center in Louisville, as the Interlocking Concrete Pavement Institute plans to bring the industry back together for a live gathering and resume an annual networking opportunity that was preempted in 2020 amid pandemic response measures.
"It is something we've all been waiting for, a chance to do those things best done in person—find solutions, get a first look at new technologies, gain hands-on training, and network with friends and industry leaders," says ICPI Executive Director Charles McGrath. "A growing number of industry pros have come to rely on HNA as the one place they can go each year to see and do it all."
Exhibitors and attendees alike are eager to come together this year in Louisville, he adds, as 82 percent of respondents to a survey of past show participants indicated they are likely or very likely to attend HNA 2021. Highlighting this year's exhibit and meeting program:
Hands-on Drone Zone. Attendees can test their ability on a flight simulator, then step into The Drone Zone—located on the exhibit floor—and fly a drone with an expert trainer. Hourly sessions will range from basic regulations to using drones for marketing, thermal imaging, multi-spectral analytics, GIS mapping and more. Attendees who visit The Zone will be entered to win a daily drone giveaway.
UTV Test Track. For the first time, HNA attendees will have the opportunity to drive and compare the latest UTVs. A test track in the Outdoor Demonstration Area will allow attendees with a valid driver's license to put vehicles through their paces on curves, hills, rocks, bumps and maybe even a little water and mud.
Hardscape House. The 42,000-sq.-ft. pavilion, under roof and adjacent to the 20-acre Outdoor Demonstration Area, will include exhibitor displays for hands-on testing; six Hardscape Now sessions led by award-winning hardscape consultant Frank Bourque; and, the HNA 2021 National Installer Championship.
Additional highlights of HNA 2021 include: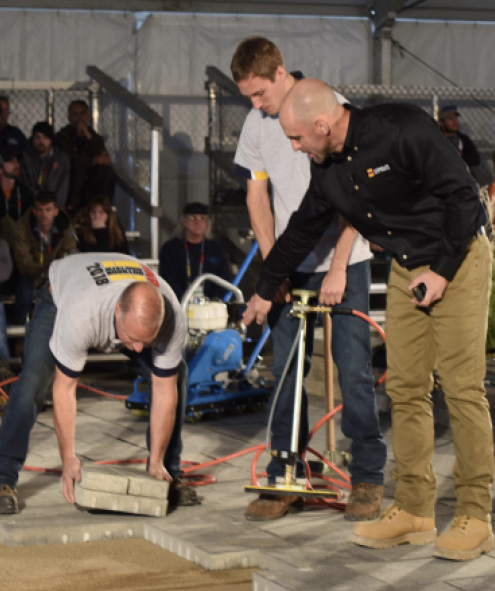 Opening Keynote address. Leadership and a New World Order: The Need for Resilience features James Stavridis, retired United States Navy 4-star Admiral and USEUCOM, 16th Supreme Allied Commander, NATO.
Eight conference sessions. Features expert presenters and hot industry topics, including improving efficiency, impactful marketing, and building company culture.
Dealer education. A networking breakfast and four dealer-specific sessions focused on how to be an "Undercover Boss," selling on value rather than price, and how to boost your marketing with the help of contractors and manufacturers.
Hardscape North America Installer Championship. Top contractors will compete for a prize package valued at approximately $10,000.
HNA Hardscape Awards presentation. Open to all attendees, the event recognizes outstanding hardscape projects by contractors in commercial and residential applications in 18 categories (see sidebar to learn more).
ICPI and NCMA Pre-Show Installer Courses. Approved for CE hours for ICPI-certified concrete paver installers.
Concerts. Three nights of free performances will be staged at downtown Louisville's Fourth Street Live! with Resurrection – A Journey Tribute on Tuesday; Granger Smith featuring Earl Dibbles Jr. on Wednesday; and The Crashers on Thursday.
Attendees interested in the education at HNA can save money by purchasing VIP Passes. Available to both contractors and dealers, this admission upgrade gives the attendee a discount of up to 50 percent off purchasing sessions individually. All passes include open access to eight conference sessions, six Hardscape Now sessions, four dealer sessions, two hardscape workshops and the dealer networking breakfast (dealers only).
Additional information and registration can be obtained at www.HardscapeNA.com.

CALL FOR HNA AWARDS ENTRIES
Entries for the 2021 Hardscape North America Awards, which recognizes outstanding hardscape projects such as residential and commercial walkways, patios, driveways, and commercial plazas and parking lots, are now being accepted through September 3 with an early bird deadline of August 6. Award winners will be recognized during a presentation on October 21 in conjunction with the 2021 Hardscape North America tradeshow, October 20-22 at the Kentucky Exposition Center in Louisville.
New for this year's program, the Concrete Paver – Municipality category will highlight city, county, state, or federal projects. Submissions must feature interlocking concrete pavement and/or permeable interlocking concrete pavement installations.
All entries, except the Outdoor Living Features and Vintage Installation categories, must have been completed between Nov. 1, 2017 and June 30, 2021. Projects in the Outdoor Living Features category must have been installed before 2011. Projects are juried by industry experts for their excellence in design, quality, compatibility and construction.
Online entries and rules can be found at https://hna.secure-platform.com/a.